Date: 7/11/22
Miles: 17.0
Total Miles: 121.2
Evolution is a very very slow process. We need only look at ourselves to know how true that is. How long does it take for us to change even the smallest of things—a habit, perhaps? Real change, it seems, requires a patience that does not come naturally to a species whose lifespan is but a fraction of the earth's.
Without a pass to clamber up and over, and with a destination named Evolution Valley, it felt only natural to ponder the idea of evolution. And not in the Charles Darwin, The Origin of Species, kind of way. But the more relatable way: how, exactly, does any of us change anything about who we are?
The often overlooked curse of thru-hiking is that to achieve such a large goal requires a careful plan, along with the ability to improvise. Now that I type those words, it sounds pretty much like the rest of life.
But the problem with such big picture thinking and planning is that the execution of the plan can so easily feel like nothing more than that: everything done is done in service of a plan. How many miles today? Consult the plan. Where do we resupply next? Consult the plan. Somewhere, the journey gets lost in strict adherence to the blueprint.
None of this is to say you shouldn't prepare and plan for things like a multi-month thru-hike, and in great detail, at that. But it's a cautionary tale that once the plans are made, it can be a challenge to be truly present in the moment and to know when to break free from the constraints of the grand plan.
Case in point, my brain often casts itself adrift from the rest of my body while hiking hour after hour, and one of its favorite pastimes (read: neuroses) is the habit of something called dead reckoning, a skill whereby one estimates location based on nothing more than time and speed of travel.
It goes something like this. We leave camp at 7am knowing we'll need to collect water at a source 4 miles ahead. Estimating that we're currently hiking at 3 miles per hour, I expect we'll arrive at the water in an hour and twenty minutes.
Simple enough. But play that out dozens of times a day, and you can see how easy it is to get lost in your own head. Calculations of time, distance, and speed, dominating your brain space. And, most importantly, how the results of those mental calculations match up with "the plan."
How much time has passed and what sights and sounds have I missed by burning such mental energy on past trails? It's anyone's guess. But I imagine all of us has our own version of habits that distract us from the present moment.
Which is why I love this quote from John Muir, when asked what he thought about the idea of "hiking":
I don't like either the word or the thing. People ought to saunter in the mountains – not hike! Do you know the origin of that word 'saunter?' It's a beautiful word. Away back in the Middle Ages people used to go on pilgrimages to the Holy Land, and when people in the villages through which they passed asked where they were going, they would reply, "A la sainte terre,' 'To the Holy Land.' And so they became known as sainte-terre-ers or saunterers. Now these mountains are our Holy Land, and we ought to saunter through them reverently, not 'hike' through them.

—John Muir
I referenced that quote in a talk that was, in part, about the John Muir Trail because it cuts to the heart of the challenge of thru-hiking. Covering long distances over weeks or months requires planning, discipline, and to some extent, speed. But somewhere amid those practicalities, the heart of the trail experience is to experience the present moment with unusual acuteness. To saunter, rather than simply to hike.
Marching our way along the South Fork of the San Joaquin River, up Evolution Creek, and into the paradise that is Evolution Valley, my own personal evolution was what floated through my mind. To take more care to be present. To favor sights, sounds, and observations over mere thoughts. To acknowledge the plan and then let it drift away. To saunter more, and hike less.
Had I not been sauntering, I may not have noticed the creature thrashing violently in its journey against gravity. In hardly two or three inches of water, a beautiful cutthroat trout exhausting itself in its journey up a small stream that crossed the trail. Not a foot away from where my foot had landed, there it was. As beautiful as it was rare to photograph.
Shortly after, we ended our sauntering the only way that seemed fitting—by hanging our hammocks on a perch overlooking the upper reaches of Evolution Valley…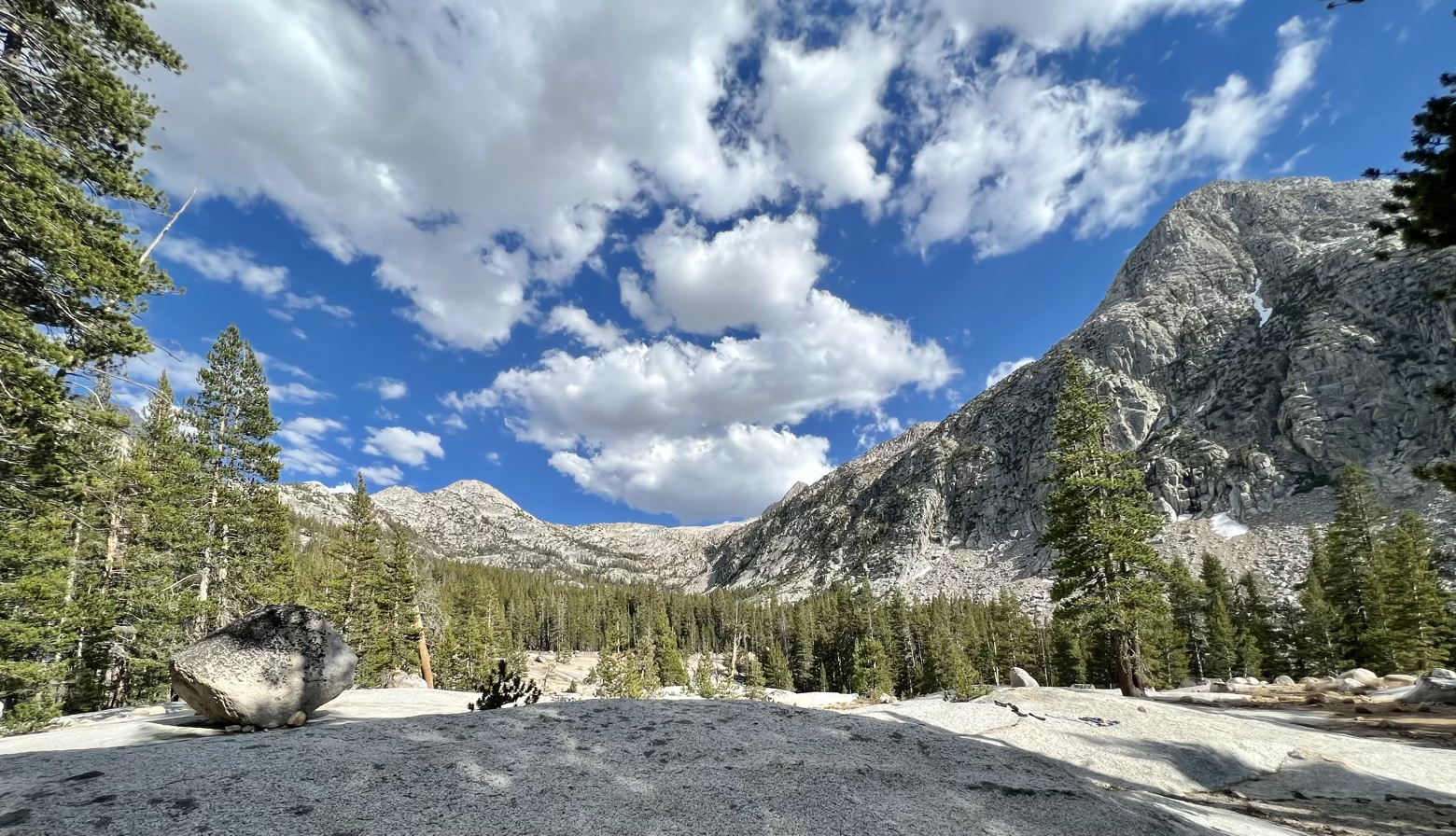 …and setting the dinner table for a perfect Sierra evening.
Latitude/Longitude: 37.17435,-118.7149