Date: 8/19/04
Starting Location: The Birches Campsite
Destination: Mt. Katahdin
Miles: 5.2
Total Miles: 2182.9
After a night of restless anticipation, morning came early. I strolled away from The Birches for an early reunion with my Mom and Dad who'd driven all the way from home to meet me, but even before I made it to the parking lot my hometown friend Shauna, herself having travelled to meet her brother NY Mule, came running down the trail towards me. Seeing the first familiar face from home reminded me that in a few all-too-short hours, I'd be settled into the backseat of a car on my way towards that very place.
Moments later, my Mom and Dad were waiting with open arms, and two bottles of champagne. I haven't seen them since Vermont and I was so happy to have them here to celebrate with, not to mention that my Mom would be climbing to the summit with me to be there for the big moment.
My third trip to Katahdin's summit was apparently not going to be the charm, the perfect weather of the last few days having come to an unceremonious end, but there was no raining on this parade. Climbing up the single biggest ascent of the entire trail, Mom and I clambered over the giant boulders of the Hunt Spur, making slow and steady progress with the aid of strategically placed pieces of iron rebar bolted into the granite.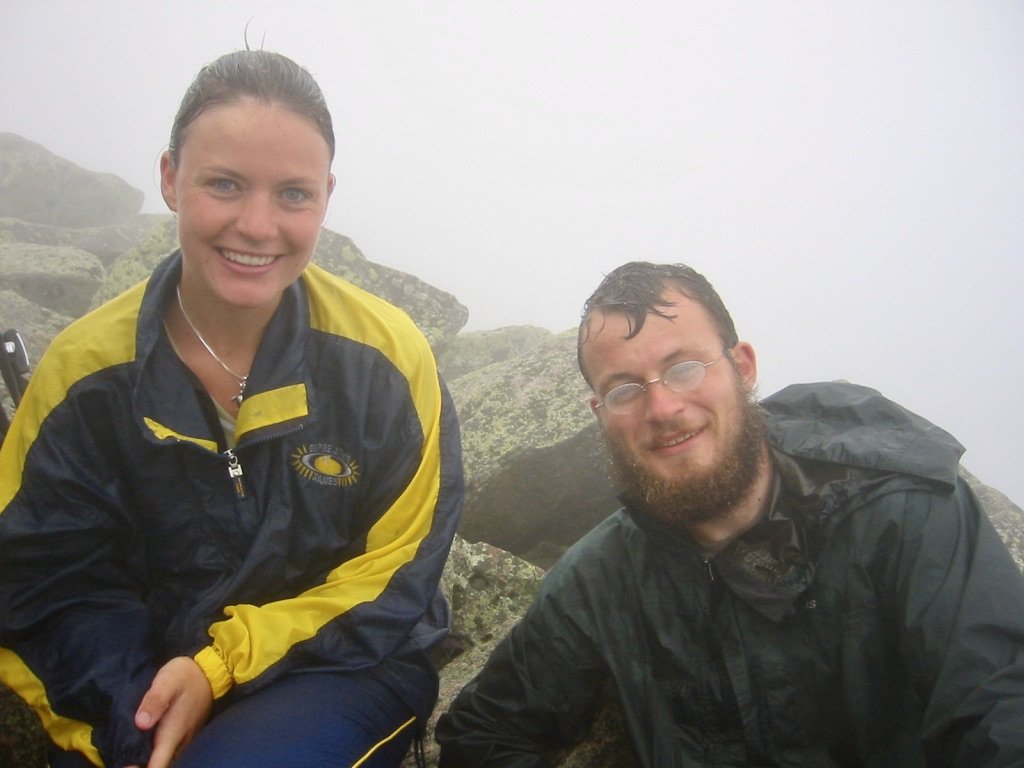 By the time we reached the plateaued tableland that stretches from the top of the spur and slowly rises towards the summit, there was nothing but cloud. It was a carbon copy of my previous two visits to the mountain, and all I could do was laugh at the stroke of bad luck.
The cluster of dark shapes growing larger through the thicket of cloud meant only one thing. The famous sign that had lived on in my dreams ever since I had first seen it as a teenager grew ever closer and flashes of all that this hike has been came flooding from my memory. The compulsion to hike ever north these past 5 months and 9 days had finally led me here, and somewhere in the more than 2000 miles between that day in March on Springer Mt. and here, what for so long had been a dream had gradually morphed into reality. Snapping the obligatory summit photo, toasting champagne straight from the bottle, celebrating with my Mom and trail friends, there was nothing left but to start on the next dream.