Date: 10/20/21
Miles: 20.8
Total Miles: 335.8
One highway dividing two starkly different trails. That was the realization that was coming clear to us as we surveyed field upon field of rock leading off toward distant waves of low lying clouds.
But as much as the trail seemed to be undergoing its own surprising change, the real surprise began 36 hours earlier when we had arrived at the Pine post office only to learn that our resupply box was nowhere to be found. Just like improvising first aid on trail, it was time to improvise a 5-day resupply from whatever we could drum up between the local market and gas station.
Open your average 7-year-old's lunch box, and you're destined to find at least an item or two that does not seem destined to fulfill their daily serving of fruits and vegetables. Now add 40 years to that kid, swap their lunch box for a backpack, turn them loose in the aisle of the grocery store where Little Debby reigns supreme and you have a pretty good idea of how our improvised resupply turned out. At least we managed to toss in a couple of token apples, so that we could claim some shred of healthiness while Ace could live up to her trail name: Apple Core Eater.
Our day off in Pine having raced by as quickly as ever, we were excited to venture further south and into uncharted territory, to see firsthand how the character of the trail would change beneath the Mogollon Rim. It didn't take long for the trail to set an entirely new tone.
Gone were the textured swirls of red sandstone, gone were the ponderosa. Rocks ranging from the size of marbles to bowling balls were suddenly the new surface of the trail, while deeply eroded sections were testament to the severity of the summer monsoons. Prickly pears with their lobes shaped like Mickey Mouse ears sprawled beneath junipers and fledgling catclaw sprouted from the dusty soil between the rocks, waiting to snag anything that might brush past.
For years, the trail through the Mazatzal—oddly enough, pronounced "mad as hell"—Wilderness has earned a reputation for being a bit rough around the edges. Overgrown in places, rocky, and filled with the usual suspects of desert sharps waiting to poke you just in case the other challenges weren't enough. On the flip side, the newfound absence of pines meant expansive views into the distance where we could see something that—aside from the San Francisco Peaks—has been conspicuously absent from the trail thus far: mountains.
It didn't take long for the newly rocky and eroded path to claim its first unfortunate victim. While descending an especially loose and gravelly section, Ace slipped as her feet went skating out from beneath her. With only a small scrape on her arm to show for it, one of her trekking poles wasn't so lucky. Having snapped clean through, its lower third hung permanently limp like a fractured forearm.
Not long after the untimely demise of the trekking pole and a brief funeral service to commemorate its passing, we arrived at the East Verde River and the foot of a lengthy climb. Despite being only 4:30pm, the topography of the climb ahead showed little promise for the prospect of level ground for our tent before dark so we set about finding a suitably flat spot near the river to call home for the night. Watching peacocks scurry about while the sun dove into the west, pulling a curtain of pink and blue color behind it, all that was left to do was begin eating our way out of the food bags that would be the envy of children everywhere.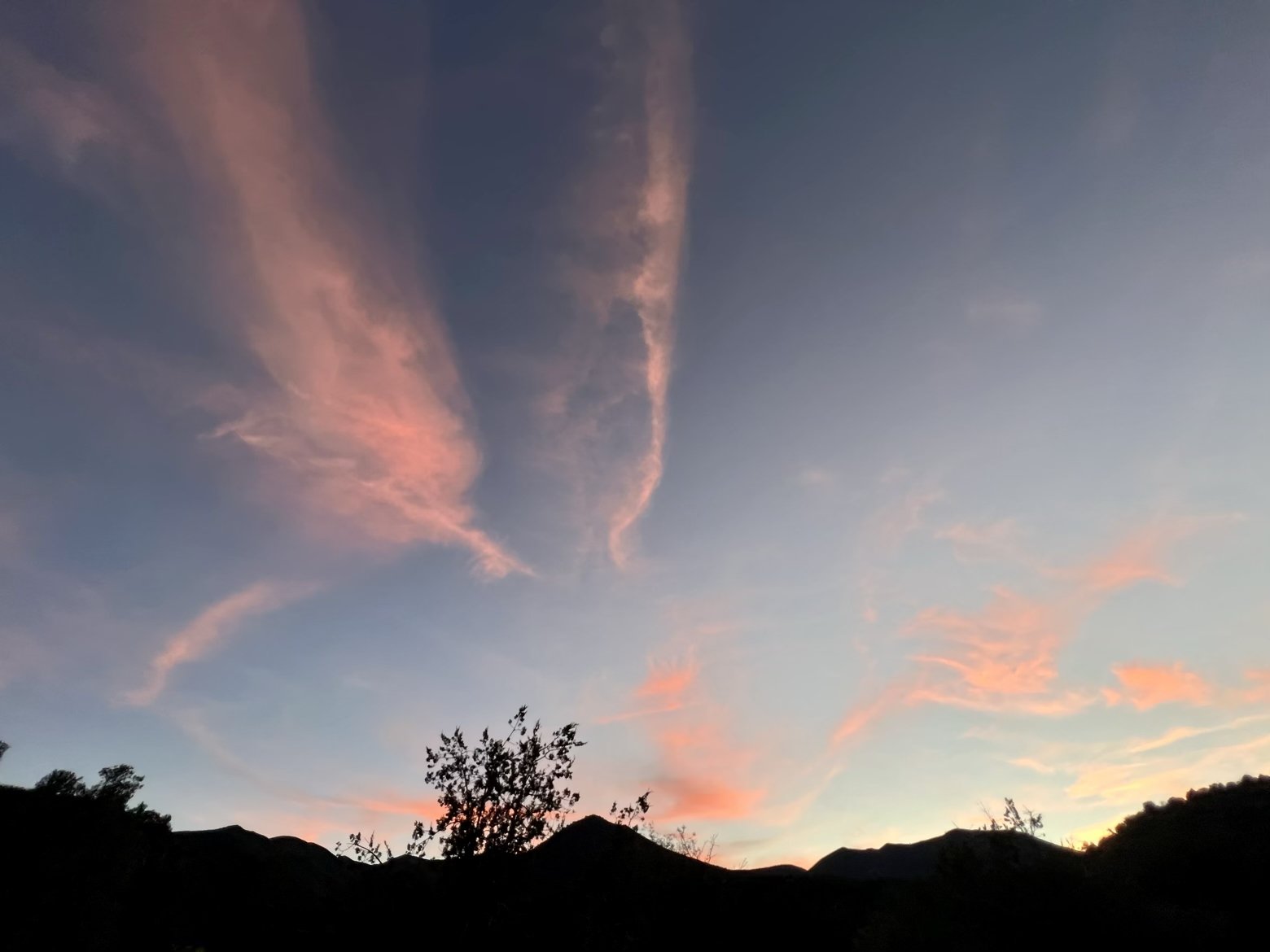 Latitude/Longitude: 34.22405,-111.51494