Date: 11/6/21
Miles: 21.3
Total Miles: 649.1
I told myself to file away the morning's chill into my memory bank for safe keeping. Like a mental block of ice, I had a feeling I would soon be in need of opening the mental freezer to find some measure of relief from the oven we'd soon be descending into. For the time being, we traipsed the first creaky steps away from Manning Camp decked out in all of our warm layers, pausing only to admire yet another beautiful sunrise casting shades of coral and copper onto nearby clouds.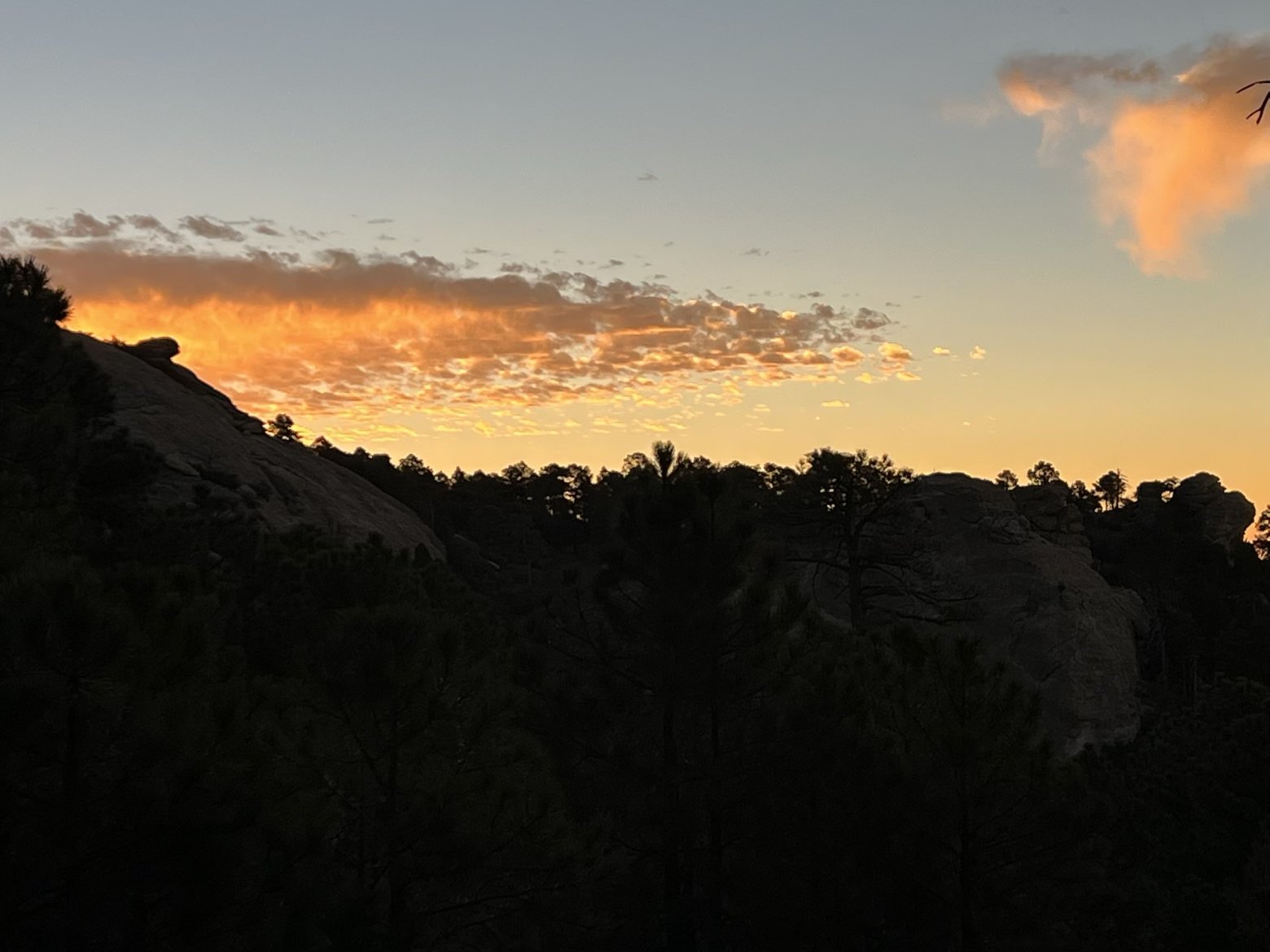 It didn't take long to be reminded that our trip into the high elevation refrigerator was hardly more than a brief vacation from reality. Shoving off from the latest sky island, that reality came crashing back into focus, as the desert floor brought with it a daytime high some 50 degrees warmer than it had been last night. Far in the distance, across a desert that looked very much like an inland sea whose water had vanished, our next sky island lie waiting.
Until then, we have the saguaro to keep us company and what shreds of shade they're able to muster. It may have taken more than 12 hours after entering Saguaro National Park until we finally saw its namesake but they now appeared in droves.
Growing nowhere else in the world but here in the Sonoran Desert, what strikes you is how much larger they are than anything else around and that size didn't just happen overnight. Like most things in the desert where resources are scarce and precious, the saguaro grows at a glacial pace, only sprouting its first arm and reaching maturity around the time it celebrates its 100th birthday. But grow it does, reaching as much as 60 feet in height.
The armies of saguaro—nearly 2 million of them, in total, across the entire park—grew thicker the further we descended, their arms configured in an infinite number of permutations that were easy to anthropomorphize. That one looked like a traffic cop giving directions. This one seemed to bow as if making a formal greeting. Another pair whose arms twisted together in preparation for the tango.
Any distraction from the 90-degree heat that baked us evenly on all sides without even the barest suggestion of a breeze was a welcome one, but imagining the saguaro as people could only do so much. Which is what made the unexpected sign announcing nearby trail magic so exciting. The promise of shade and a cold drink was almost too much for our sun drenched brains to comprehend.
But the reality of it was even better. The sign hadn't been a mirage after all, nor was the ice cold soda we enjoyed while sitting in the shade of a massive RV. Jim Hugo, aka Gate Keeper, and his wife were just beginning a weeklong renewal of what has become somewhat of a trailside institution each spring and fall. Mere steps from the AZT, everything a hiker could dream of was in abundance—cold drinks, grilled food, snacks, fruit, water, shade, breakfast and dinner served daily, a solar shower, and plenty of space to hang out for as long as you like.
With an upcoming day off of our own just around the corner, we stayed long enough only to cool ourselves in the shade with a soda or two while chatting away with the both of them at what felt like our very own oasis in the desert. It was trail magic at its finest.
We walked away into the lengthening shadows of late afternoon, our eyes slowly adjusting to walking in the near dark while a warm glow backlit forests of saguaro. A wide, flat wash seemed like just the right place to lay our heads—and the rest of our weary bodies—down for a night's rest, a mobile of stars dangling from above.
Latitude/Longitude: 32.05068,-110.63123