Date: 11/3/21
Miles: 18.2
Total Miles: 588.5
When she pulled up in her 30-year-old pickup truck, honking jubilantly as she did, I had a feeling we were in for quite a time on our resupply stopover. DD, our trail angel host for the rest of the day and night, was a spitfire force of nature. Alternately with a joint, chewing tobbaco, or a beer in her mouth—sometimes all three—she'd launch into a boisterous retelling of one chapter of her life or another, often taking no notice that it was a story she'd already told us once—or twice—before.
Listening to DD's raucous stories that were always told with a smile, you got the distinct feeling that—much like the town of Oracle in which she lived—she was someone whom the world has cruelly passed over. And yet here she was—along with her adorable pup, Manny—happy and energetic, holding court in the grassy shade beneath the oaks beside the trailer in which she would graciously host us for the night.
Sitting with her as the sun disappeared below the horizon and the soft glow of its passing melted into starlight, I thumbed through the Rolodex of memory, stopping on each of the countless times perfect strangers have doled out their generosity to me on past hikes. Who it comes from very often surprises you.
Take Jack, for example, another trail angel—though he would neither have known nor accepted the title—I'd met on the Appalachian Trail 17 years ago. On an especially wet and miserable day, he saw 7 of us hikers decked in sopping rain gear at a road crossing. On the spot, he offered to put us up at an unused trailer home for the night where we could not only be out of the rain, but could also take advantage of a hot shower and a dryer to reset our wet clothes. There was no reason to do it—hell, most people wouldn't have given us a second look, not that I'd blame them—but he did it just the same. Why exactly he did, I'll never know, but it's the kind of gesture that stays with you.
When our time with DD drew to an end, we thanked her for the roof above our head and for the ride back to the trail before starting the 14-mile climb up Mount Lemmon and to our very first sky island. Connecting the Sierra Madre of Mexico with the Rocky Mountains like a string of dots, each sky island is a mountain isolated from any neighboring peak and thus rising thousands of feet directly from the desert floor. As it rises, different climate zones ranging from desert all the way to high alpine encircle the mountain like concentric bands. Owing to its geographic isolation and its diversity of climate zones, climbing a sky island can feel like the equivalent of hiking hundreds of miles north to the nearest place where some species would otherwise live.
Take the ponderosa pine, for example. Despite not seeing one for perhaps 200 trail miles, there they were as we crested nearly to 8,000 feet as if they'd been marooned there. In fact, that's precisely what did happen eons ago as the desert rapidly became dryer and warmer, isolating species that had made themselves at home at the cooler, higher elevations of the sky islands.
Getting there required a climb through yet another burn area where grasses and several new entrants in the daggers of the desert competition competed to reclaim the trail for themselves. 5,000 feet below, the vastly different world of the Sonoran desert ran off seemingly into infinity.
Upon reaching the top, the trail exited first onto gravel and then onto blacktop that curved towards the tiny town of Summerhaven. Dotted with chalets you'd expect to find in snowy, mountain towns, Summerhaven is even home to Mount Lemmon Ski Valley, the southernmost ski area in the continental U.S.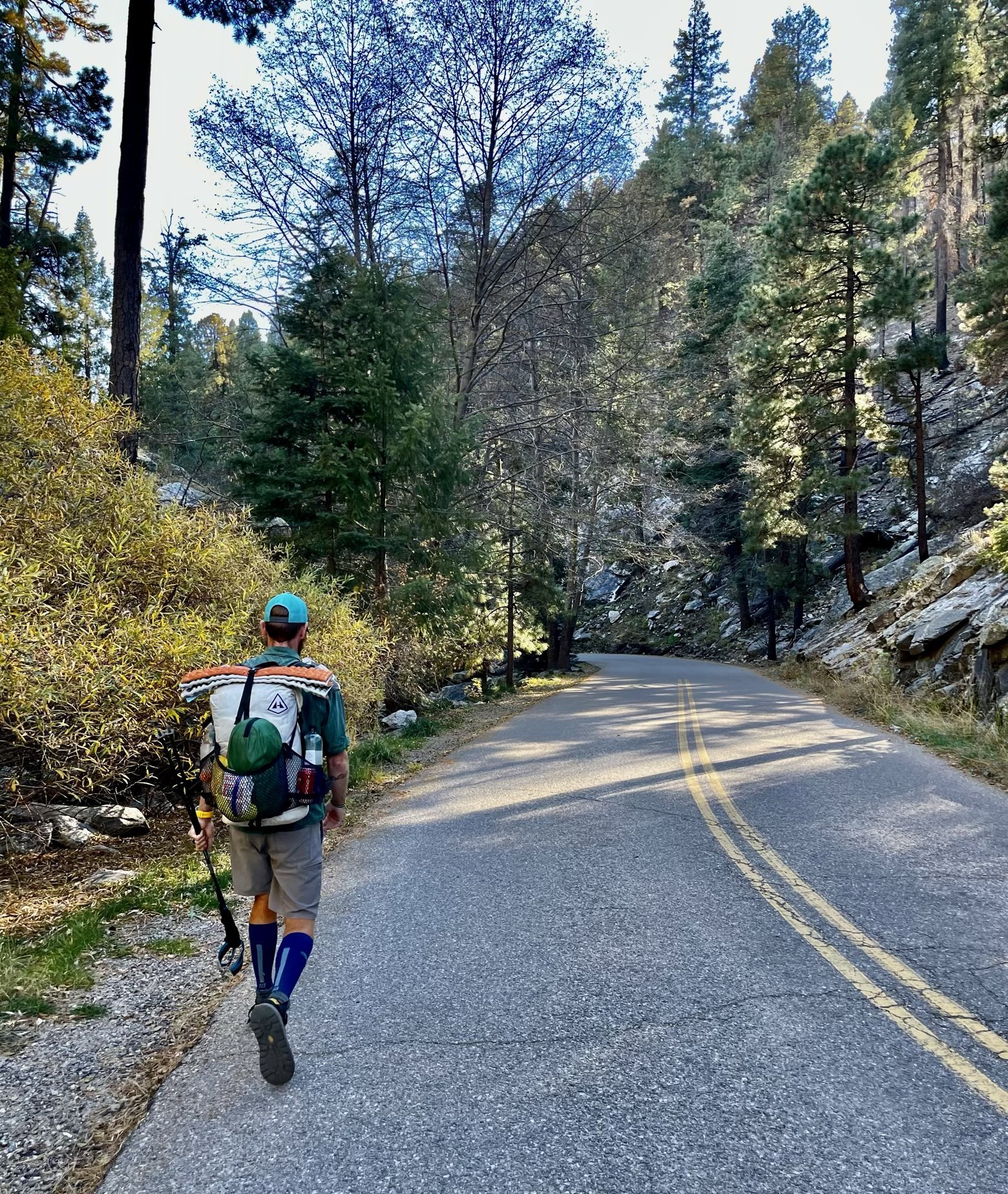 Between the lengthy climb from the arid warmth of the desert to the cool of a mountaintop—my trail name isn't Desert Man, after all—and the return of crystal clear water flowing beneath soaring pines, I was officially back in my happy place. More energized and more at peace, it felt like coming home as much as anything ever could.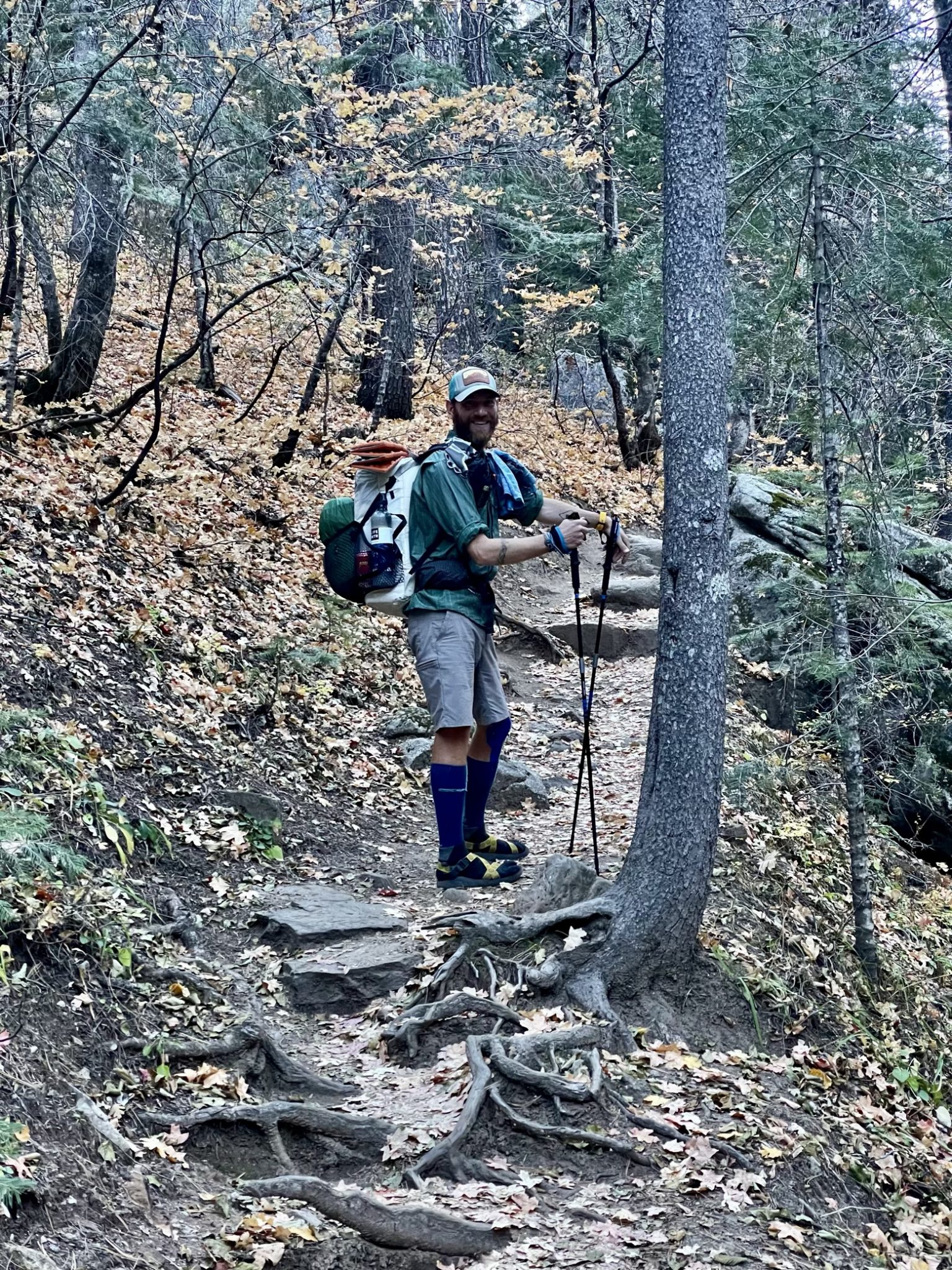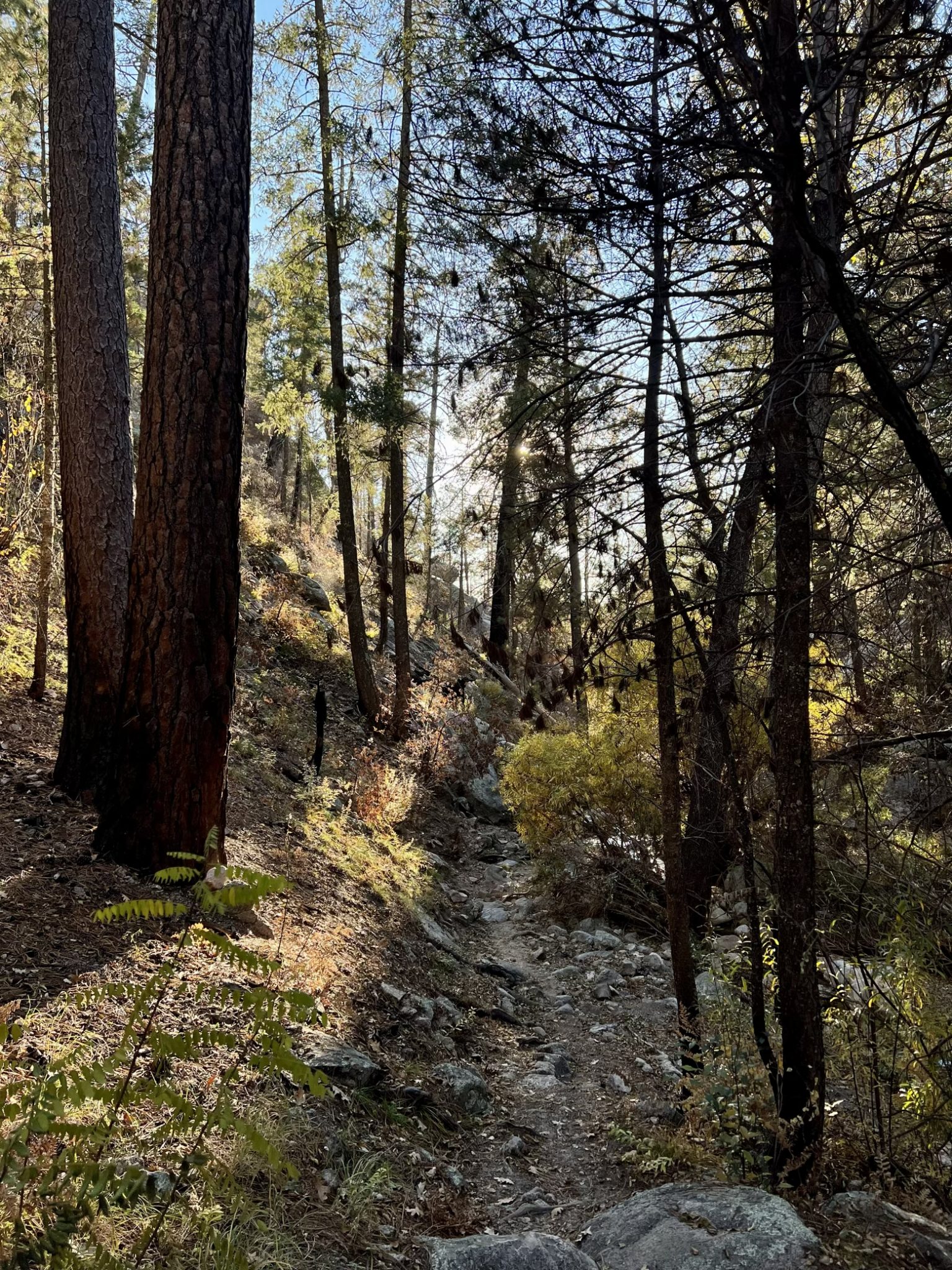 Latitude/Longitude: 32.42177,-110.78939