Date: 8/15/20
Miles: 22.6
Total Miles: 942.8
Fire, as it turns out, respects no boundary. Early in the morning, we entered into the Anaconda-Pintler Wilderness, marking a new range of peaks that I'd been looking forward to since our return to Montana. Passing by the wilderness boundary, it's almost reflexive to think that there's some imaginary dividing line beyond which the landscape will instantaneously change into an idyllic wilderness. At least that's the thought I often have right before I laugh to myself at its silliness.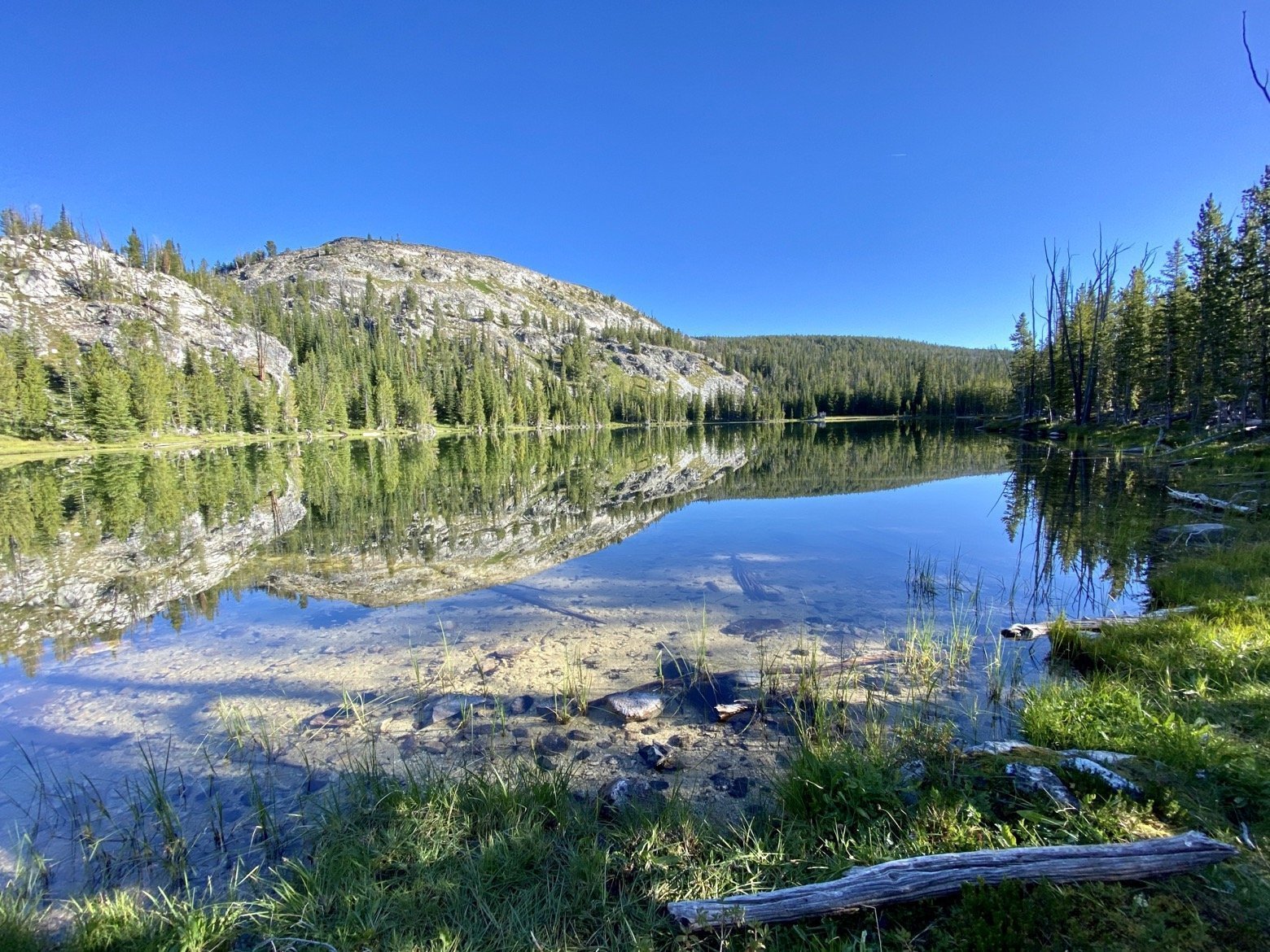 The fantasy was oh-so-quickly upended, the spell broken, not long after pausing to admire the mirror-like reflection of a trailside lake. The burn we'd meandered across nearly all of yesterday was back, having spared only minute pockets like the one we'd just passed through.
Sprawling for miles in every direction, the devastation was complete and no matter which way we looked, It was the same view of charred skeletons of lodgepole pine. Wending through the wreckage was what I imagine walking on the skin of a porcupine would be like, the dead trees like quills pointing skyward.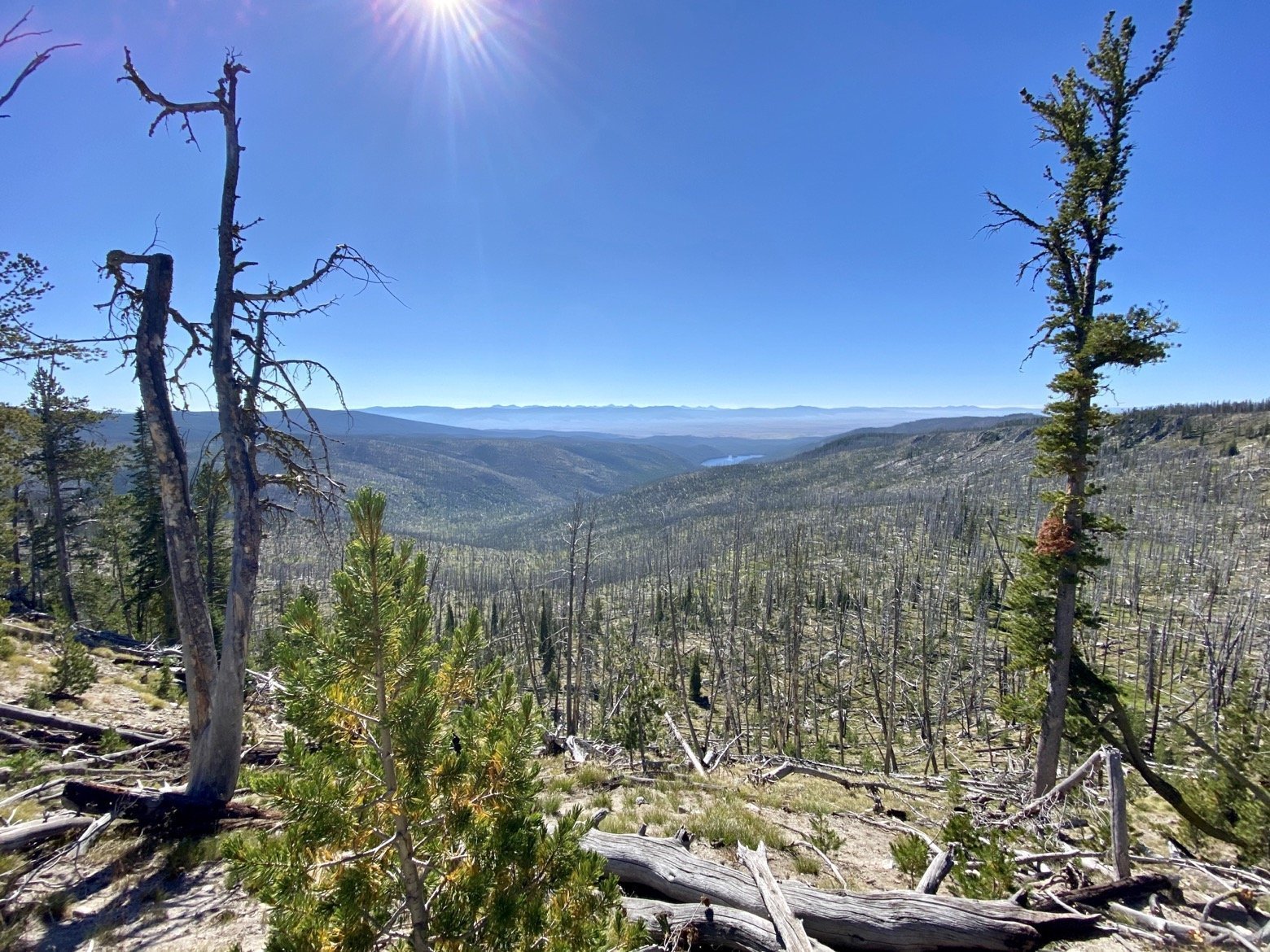 With no shade to be found, even this modestly warm day slowly began to feel oppressive, the dry, dusty soil beneath us reflecting back yet more heat. What struck me most was, aside from lodgepole saplings, how lifeless the entire landscape was. No birds, no scurrying chipmunks, no water. Nothing.
I began to think of nothing but shade as the lifeless land exacted a small mental toll—the constant sensory barrage of dead sameness giving the impression that we weren't making progress at all.
Just before reaching our final water stop for the afternoon, we rounded a bend and entered into an even more forbidding section of the burn. Clearly affected by fire even more recently, this section was devoid even of the small saplings and of the sense that the forest was at least on the cusp of a new beginning. Here, it was dust, char, and a few token flecks of green grass. Some of the trees had even managed to burn only partially, leaving behind trunks with strange curved shapes, almost as though a giant melon baller had come along and excised random chunks from them.
If you'd been blindfolded and dropped into where we now stood, the devastation would of course be obvious but you might wonder briefly about the cause. Not unlike the small city of Pripyat, Ukraine, where if you were to stand today you'd look out at the surrounding land and be struck by a sense that something is quite clearly not right. What, exactly, might not be obvious. At least until someone were to point out that the structure not far in the distance is a former power plant—a little place called: Chernobyl. Perhaps you've heard of it.
Fortunately, there's no such intrigue here, but the extent of the damage is enough to wonder: what could possibly have done this, and what must it have looked like to an observer on the ground when it happened? Fire, volcanic eruption, even nuclear accidents, all unleashing awesome forces with the same effect—to wipe clean the earth around them, and start a clock on the life that will spring forth in their aftermath.
It was nearly 45 miles from where we started yesterday morning—a mere 30 minutes before the end of our day—when the burn area was at last behind us. For how long is anyone's guess. Descending into a lush, dark forest of arrow-straight and dense firs, suddenly water was coursing everywhere. Birds chirped, wildflowers bloomed, and a thundering of hooves raced deeper into the forest as elk bounded across the trail. The study in contrasts was complete. This would be our home.
Latitude/Longitude: 45.92665, -113.49217