Date: 6/19/20
Miles: 16.0
Total Miles: 110.2
Winter Storm Warning. Not quite the weather headline we had in mind when we made it into town for our zero day, nor quite what you expect when it's nearly the summer solstice. But there you have it. It made for a fairly easy decision, one day off became two with the hope that the foot of snow that had been forecasted for higher elevations would quickly melt the following day as sun and warmer weather were finally scheduled to make their return.
Both days came and went in their usual blur. It always seems that there's an endless number of small tasks that need to be done while we're in town, and what ought to be unstructured relaxation time morphs into a checklist of todos, punctuated by eating.
Back out to the trail at last, sunny blue skies were overhead and it felt as though the mountain beating we had received just three days earlier was at last in the rear view mirror. As it turns out, we needed every bit of those two days of rest.
With a late start, up we climbed into new terrain: completely open, green grassy mountains that looked as though you'd taken the rolling hills of the Midwest and pumped them with steroids. Beyond them in the distance loomed taller peaks, still dusted with snow from the storm that had blown through. Fence lines became our new friend, as the trail often followed their course up one steep climb only to fall to another saddle before repeating the cycle. Again. And again. And again. On the Appalachian Trail, we would've lovingly called these PUDs, or, pointless ups and downs, for lack of providing any new or interesting view than could be found on the previous crest.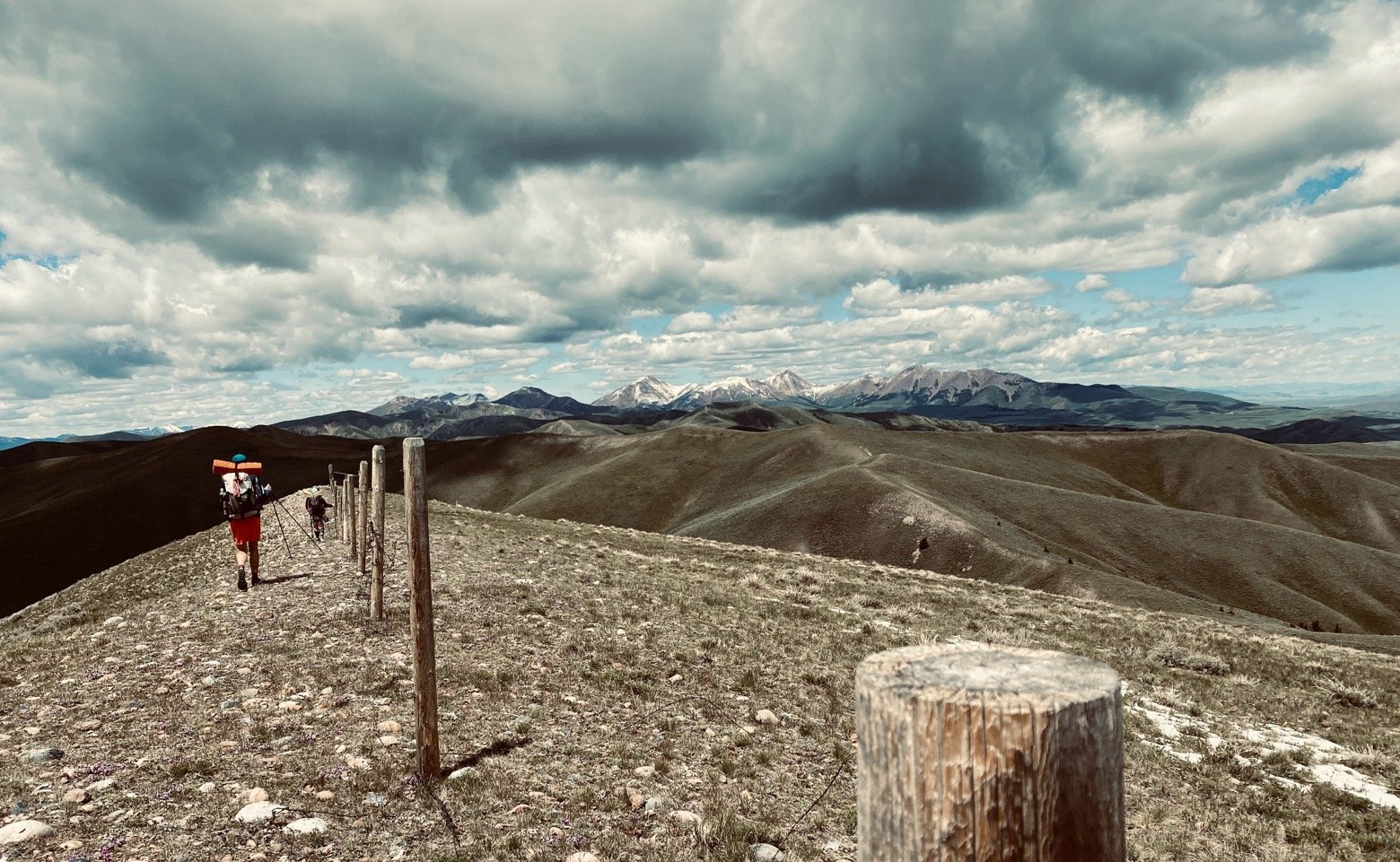 Periodically, we'd pass by metal posts along the route that demarcated the border between Montana and Idaho. For most of the day, in fact, you could quite easily sit down for a break right in the middle of the trail and have one foot in either state.
Scattered throughout the afternoon were sun-bleached bones of various animals, strewn about haphazardly. One that was of particular interest, however, was the one that pointed the way to a nearby spring. High up on this treeless landscape, it's easy to forget that water can be difficult to come by. Not surprisingly, this one required a brief bushwhack down off the divide, each of us painfully aware that every step down would need to be matched by an equal step back up.
After at last descending from the divide we stopped to renew our daily dinner ritual by cooking in the early evening. This gives us the ability to separate the cooking smells from where we'll camp for the night but also allows us to put the calories from dinner to good use by walking for another hour or two afterwards.
The real highlight, however, was celebrating Beardoh & Sweet Pea's 21st wedding anniversary. Nothing like freeze dried Pad Thai and some caramel sea salt chocolate to do the occasion justice. Sure beats a cold brick of ramen noodles.