Date: 8/7/20
Miles: 5.7
Total Miles: 846.0
New Mexico at last! A few short miles delivered us to Cumbres Pass and another hitch in the backup of a pickup truck to the nearby town of Chama. After being turned away by the miles of snow slogging in Montana, spending the month of July traversing the state of Colorado was a redemption of sorts.
With time to kill on this short near-o into town and without further ado, the final installment of Trailside Chats as Beardoh and I sat down for a conversation...(lightly edited for clarity).
Mt. Man: You've hiked close to 13,000 miles on long distance trails—what keeps pulling you to continue hiking year after year?
Beardoh: I was gonna make a joke and say forget about the pain (laughs).
Mt. Man: You can make a joke—this can be funny!
Beardoh: The extended time outside, easily the extended time outside. Experiencing a lot of a summer in its actuality and not in some climate controlled space.
Mt. Man: You just answered the follow-up question I was gonna ask: what makes the outside time more attractive than time inside?
Beardoh: Yeah, the air's fresher. It's full of exercise. We usually see things that we don't normally see in terms of landscapes.
Mt. Man: Thinking back on all those trails, are there any that stand out to you as being particularly special?
Beardoh: I think the PCT (Pacific Crest Trail) in 2012 was particularly special because I hadn't hiked in the West before. Yeah. And so the realization that the landscape that exists in the Sierra, around Tahoe, and up in Washington—that it exists in the US was a real surprise to me.
Especially the Sierra, that landscape I associate with the Alps and Europe. I think that was a big thing for me and also the weather of the West Coast, where it can be dry for so long. I had never experienced that and we had such an amazing year. I loved it.
Mt. Man: You've been a hammocker for nearly every single one of those trail miles. Tell me about your evolution from "ground dweller" to hammocker and why that's been such an important aspect of your enjoyment of long distance hiking.
Beardoh: The evolution was really really quick. In fact, we had done a few trips where we slept on the ground in a tent and experienced much of the nonsense that every tenter or "ground dweller" deals with: condensation, wet sleeping bags, trying to find a level spot, trying to find non-bumpy spots. And before we started the AT (Appalachian Trail), I can't even tell you how we happened upon hammockforums.net, which was kind of a key thing. And then we saw some videos from a professor from the University of Minnesota named Shug. This was back in the winter of 2010-2011. He and Hammock Forums were really helpful in deconstructing all the aspects of hammocking. Period.
Hammocking is more technical than tenting, in general. Although there are some challenges with non-freestanding tents, hammocking has more pieces to keep warm and to keep dry. But the reason we keep going back to it—and there are a whole pile of them—but the key one for me is comfort. I think I could literally lay in a hammock for two weeks and not have lower or middle back pain. But I'd struggle to get through eight hours on a pad whether it's two inches thick or a Z-lite.
Mt. Man: It's hard to do this in retrospect, but had you not transitioned to hammocking, do you think you guys would have hiked as many miles as you have?
Beardoh: Oh, yeah. Yeah. We just would have not known that we could sleep in comfort. I think we get used to a lack of comfort. So the longest stretch that either of us has done sleeping on the ground would be the Grand Enchantment Trail. That was 800 miles. We slept on the short NeoAir, which is odd because I'm 6'5". And so, on a trail like that, I would stand up to process photos at the end of the day, just because I'm putting it off as late as possible to get on the ground. So yeah, we still would have done it. It just wouldn't have been as nice.
Mt. Man: On every trail we've hiked together—and I'm sure the ones we haven't—people have a habit of recognizing you. At 6'5" and with a giant beard, that's probably no surprise. Do you enjoy that or sometimes miss the anonymity?
Beardoh: I think I always enjoy it. There's only been a couple times when it's been uncomfortable and it wasn't the simple act of recognizing that made it uncomfortable. It's just that they kind of took it a little far with questions. I'm thinking about one time on the JMT (John Muir Trail) and it was all because we had some weird packs made of chicken feed sacks. On the whole and in almost every situation, I actually enjoy it.
Mt. Man: We've talked in the past about how you've been surprised, as an introvert, how much you value the social experience of hiking long trails. Has that been a challenge on this particular hike, given how few hikers are on the CDT, in part due to the coronavirus?
Beardoh: No, it hasn't been a challenge because I think my evolution in terms of desiring the social aspect has waned. Since 2016 or 2017, it's waned but it's not like it's went away. I do love some of the interactions we've had when they've been few and far between, but I think in 2011, on the AT, it was a big realization of like, "Oh, I'm way more social than I thought I was."
I think the PCT in 2016 felt a little crowded to me and so it kind of ate into that desire for the social aspect. Even though we haven't had a lot of interactions with people on this hike, we have our group which provides a bit of that or all of it, in this case. And then we ran into a couple people on the Colorado Trail, like Maverick and Skippy Baptista, who just happened to know of us as well.
I still do value it, but it's more that I value particularly interesting people, like One Gallon (the only person to have completed the entire Triple Crown four, yes four, times).
Mt. Man: Oh, sure. Of course, if he's the bar, I think you're gonna be disappointed most of the time!
Beardoh: Ha, yeah, I think so. He's the kind of guy that I want to run into once a month for all of life, and you do kind of run into those folks on the quieter trails like the Grand Enchantment, but in general my desire for a social experience has changed a lot after the PCT just because of the type of trails we do.
Mt. Man: This is something you and I plan to delve into more deeply on a future website project, but people often ask how you're able to spend so much of your time each year hiking. What's your secret?
Beardoh: The key is not living beyond your means as the first step. And then the second step is realizing how cheaply one can live. The third is realizing that most of the things that you spend a lot of money on—and repeated money—don't really bring you a lot of joy.
Mt. Man: How implicit is it then, for those things, to take a hard assessment of your own priorities?
Beardoh: It's necessary. It's completely necessary, in my opinion, to ask oneself, "what do I want to get out of life?" There's a quote by a female poet or author where she says, "What will you do with this one precious life?" It's a great, thought provoking question. I think that for us, there's a few things that have contributed to this.
When we were in Peace Corps, we lived on a very small amount of money in a very poor place so we couldn't access things to blow money on. That was key. If it's not there to spend money on, you can't really do it. So even if you don't have a lot of money, which we didn't, we couldn't spend it.
Years later, we were in a situation where after we sold a business, we looked at what our annual expenditures were and could see that we would fall under this number. And that was a pretty small number, very significantly smaller than what most people's salary is per year. And because of that we figured we could live under that number. And we did. And the number keeps going down.
But the key is making a priority about what you want out of life, realizing what you don't really need, having some things that you splurge on so you don't feel impoverished because that's often what keeps people on the treadmill is they feel impoverished. They're trying to make themselves keep up. And that's just the hamster wheel that never ever stops.
Mt. Man: You've been an entrepreneur and small business owner for a long time. How do you manage those interests while on trail and out of touch for such long periods of time?
Beardoh: So, selling the first business in 2010 gave us some flexibility for some time where we didn't really want to bite into the nut that we made from selling that through just living expenses. But the key to that was that we thought we needed to sell the business to regain an adventurous lifestyle. That wasn't true, but we didn't know it at the time.
As we got into other endeavors—one was selling on Amazon, another one was an electronics wiring business—both of those, we knew that we could run them completely but not have as much flexibility, or we could take on an employee or a subcontractor to do the stuff that requires someone to be around all the time. So we did that. So for us, we take that financial hit of doing something that in normal life we actually have time for, and certainly have the wherewithal to do, but we'd rather employ someone to do that kind of stuff and have a little bit more freedom.
Mt. Man: That's a freeing up time kind of play.
Beardoh: Yeah, it really is. And so with the latest endeavor, which is a little bit larger of a project—it's the largest project we've had in a decade—we took on a third partner. That has its own challenges because we like running the show and we like having final say on business matters, but this partner happens to be quite flexible and quite knowledgeable, and so we've found a good fit for our lifestyle and he's understanding of what we want out of our side of life.
Mt. Man: You're constantly tinkering with and evolving your gear setup. Is that a critical part of your enjoyment out here, and in keeping each journey fresh and interesting?
Beardoh: I don't know that it is a critical part at all. It's very non-critical. I'm pretty okay to go down a path that nobody else is interested in and know that I might find out that there is no gain to be there. To me it's worth doing because there's something else that comes along the way. This is a little bit of a life philosophy thing, that I feel like it's often worth going down a bit of a road that isn't a direct path to your goal to change your perspective a little bit and just experience something a little bit different.
My friend Cam said one day to me, "Well, one thing I'll say about you guys is you'll never die wondering," and that feels fairly accurate with me.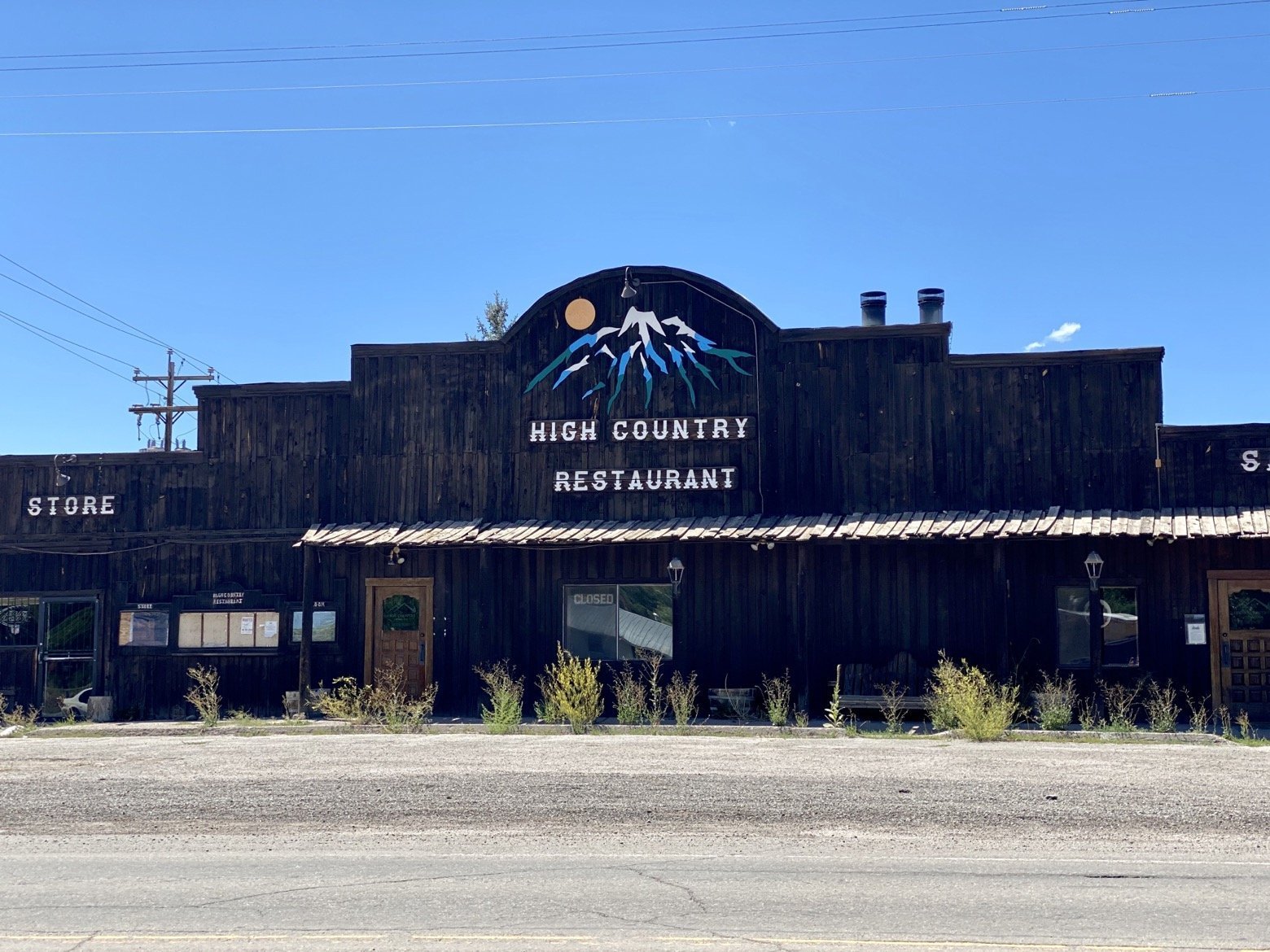 Mt. Man: Not surprisingly, that tinkering led you to start making your own gear years ago. What's your next gear project, and what advice would you give to someone looking to try their hand at making a piece of gear for the first time?
Beardoh: Maybe a travel pack—something for lightweight travel. If cuben fiber were less expensive, making another poncho would be a great next project. There's some lighter weight silnylon stuff that has come out in recent years that I haven't investigated too much but I'm curious about it because I do like a poncho as our upper body rain wear. It's gonna take some research to understand how good silnylon really is when it lays against your skin, which is a different application than being a tarp or a regular shelter. That would be something I'd be interested in investigating. Otherwise, I sewed a new hammock for myself this year, both Sweet Pea and I sewed new packs, and I guess I would like both of them to last.
As far as advice to someone looking to sew, I think finding someone who's somewhat experienced in sewing, if you're not already, even if they don't have an interest in building gear is probably the place that you'd want to start. They can help you learn how to do certain kinds of stitches, back stitching and securing your stitches and just kind of understanding how to set your sewing machine up for success.
Then I'd say to pick up a sub-$150 sewing machine. There's a Singer heavy duty one for around $140 that's quite good. If you're not able to borrow one, I would not go to Goodwill and buy one because what generally flows through Goodwill or Salvation Army is going to be in pretty rough shape and you'll be fighting problems that you might think you are creating, but you're not. It's the machine. And so, if you're going to do it, just spend a little bit of money.
I also think making something like a tarp is a really good first project. Stuff sacks are a good first project and even taking on something big like a pack, which is probably one of the more complex pieces of gear you can sew, is still an okay first project. The key to any of these but particularly with a pack is that you really need to think in terms of each piece of the pack, whether it's a side panel or a pocket or a shoulder strap, being just one item you're working with and that's all you need to finish at that moment. Don't be concerned with the whole pack, just take it step by step like any complex problem.
Don't spend a lot on material for your first project either. You can use Oxford cloth for a first pack, for example. We used bird feed bags, and those are free if you have a friend who has chickens. It's really easy to sew and they're actually usable but there's no reason to buy, you know, $20-a-yard Dyneema or $35-a-yard DCF (Dyneema Composite Fabric, aka cuben fiber) for your first project.
Mt. Man: After the CDT, what's next either on trail or off?
Beardoh: If we can get into Mexico, we'll go to Mexico and try to have a relaxing several months, if not a year, there. This past year was stressful with the construction at our home there and starting a new business and getting ready for the CDT. I think we're not gonna plan on jack shit because we don't know what countries in the world will let us in and what the world will feel like in 2021. And this is saying this after learning that in the last month, the total number of COVID cases (in the U.S.) has doubled.
As far as hiking, I think I'm with Sweet Pea in that we really want to get out of North America. I'm particularly interested in three places I guess, and in no particular order, South America, the Himalayas, and Europe. Like the the big highlights outside the US. I think South America is probably pretty high on my list just because our Spanish is getting better and it'd be fun to experience some hiking in South America.
Mt. Man: Sounds great. When do we leave?
You can read more about Beardoh and Sweet Pea's adventures on their website, longdistancehiker.com