Date: 9/21/20
Miles: 23.5
Total Miles: 1544.7
Remember this post? Yeah, me neither. Aside from navigation, it's true that questions (read: fears) about bears seem to be at the top of most people's minds, but the reality is I'd be sorely disappointed to hike a long trail without seeing them. Having seen bears perhaps a hundred times in the wild, I can say with certainty that it never gets old. Watching a 500-pound animal race away at a speed that would seem impossible for something of its size never fails to be exhilarating.
I imagine that many people's fear of bears emanates from a completely different perception of what a bear encounter would be like. Something akin to imminent death and dismemberment taken from some amalgamation of real-life worst case scenarios, horror films, and a healthy sense of imagination. Much like anything else in life, there are always exceptions to the rule but the simple fact remains that the likelihood of a bear encounter becoming dangerous is infinitesimally small, especially if you take a few simple precautions.
For starters, properly hanging food and any items that have an odor—toothpaste, sunscreen, etc—a good distance from your camp and with enough height from the ground, the trunk, and the limb. In highly visited backcountry locations—Yosemite and the Adirondacks come to my mind—some bears have become habituated enough to human food that they've even learned to defeat such hangs. Enter: hard-sided bear-proof canisters. Nearly twenty years ago, this happened to me with one of the most textbook hangs I'd ever done. Waking to find my food bag that formerly had been 15 feet in the air, 10 feet below the limb it hung from and at least as far from the trunk of the tree shredded on the ground was like having witnessed nothing short of a real life magic trick. A magic trick that abruptly ended my trip.
Fortunately, the further we get from the frontcountry and even frequently visited backcountry areas, the less likely we are to find bears that have developed a palate for our Snickers bars. Aside from separating food smells from our sleeping area by stopping to cook dinner well before making camp for the night, another thing we carry are "odor-proof" food sacks to put all of our food and smell-able items into whether we're rigging a bear bag hang or not. I put "odor-proof" in quotes because I'm not convinced of their efficacy but it's somewhat of a do-no-harm tactic that's hard to argue against.
Last but not least, we've carried bear spray on this hike throughout the areas of grizzly bear habitat, namely everything from here in the Wind River Range of Wyoming north to Canada. It's a tool of last resort, but an effective one, and far more so than a firearm that would frankly require an inhuman level of control over one's adrenaline response to be able to deploy with accuracy at a charging bear. Whenever we see weekend hikers who happen to be carrying a firearm for "protection" from bears, I have only one thought: delusion is a powerful drug.
With bear tracks having been more frequent than human footprints for a long stretch of the trail in Wyoming through Yellowstone and south, their complete absence these past few days has been somewhat of a disappointment. Knowing that we'll soon be out of their range means knowing that the likelihood of another encounter like those we had in northern Montana is dwindling fast.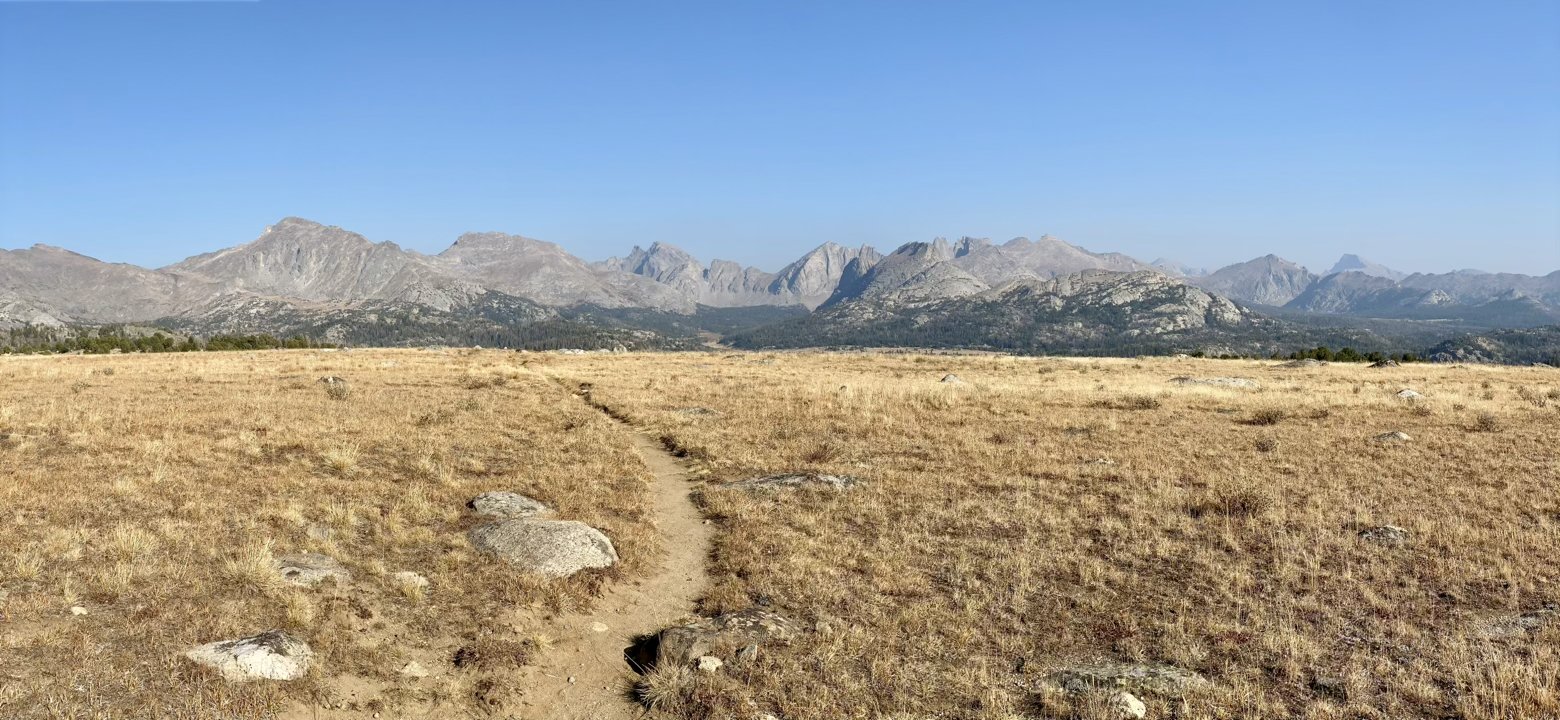 The scenery, however, has been more than enough to assuage the disappointment. Marching our way towards the southern end of the range, one more highlight lies in wait for tomorrow: an alternate that will take us through the Cirque of the Towers. Approaching the back of the Towers in the fading light of a dusk, it was easy to see that something special was in store for us.....bear sighting or not.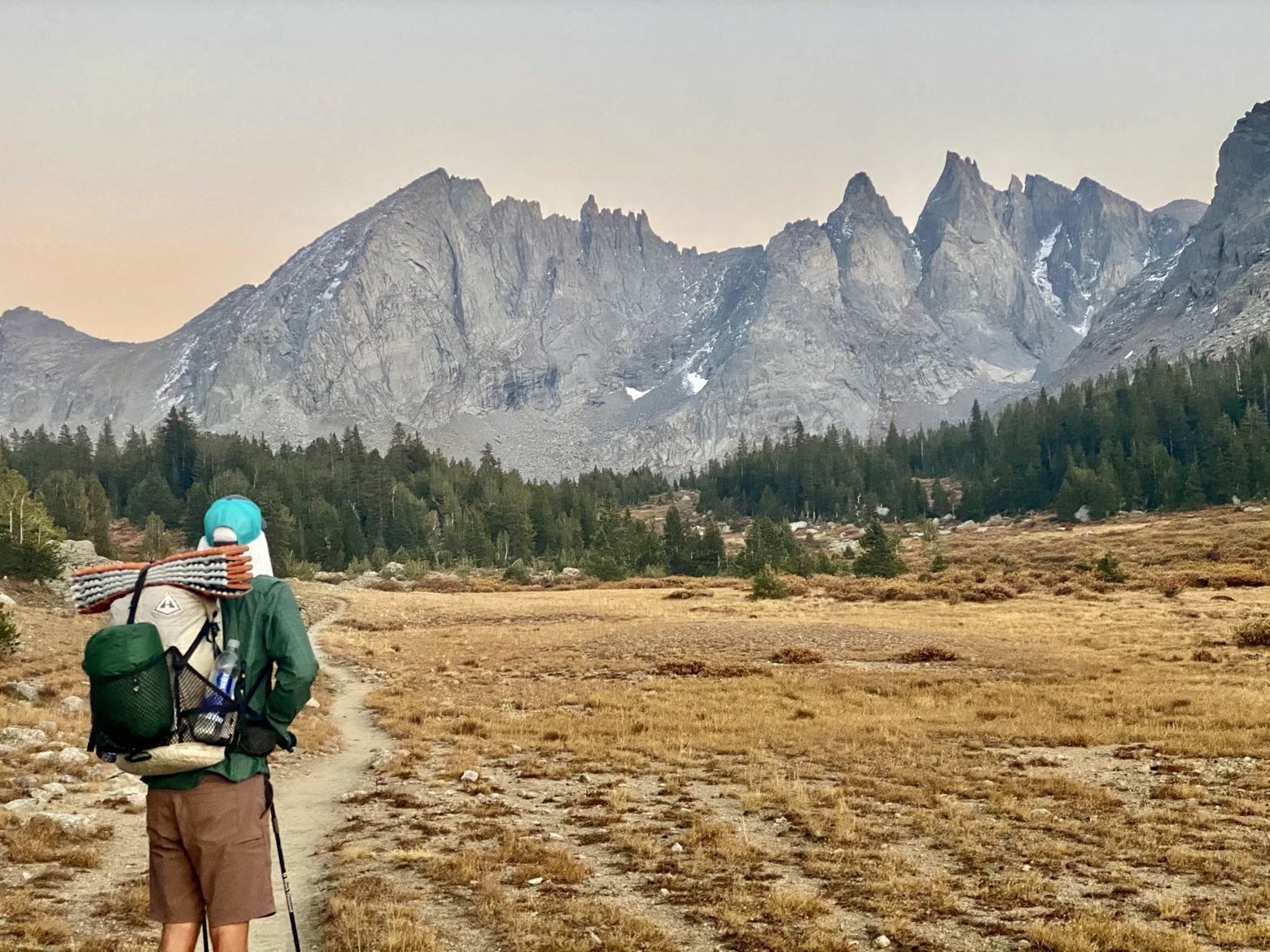 Latitude/Longitude: 42.79114,-109.25127