Date: 9/24/20
Miles: 10.0
Total Miles: 1594.4
As if bemused by the accelerating pace of our hectic lives, the natural rhythm of the world moves ever onward, inexorably slowly, one season slipping into another almost without our notice. It's one of the many small joys of trail life—the rare attentiveness to even subtle changes in the world around us that might otherwise go unnoticed.
How did summer suddenly become Christmas? At home, I could've blinked and autumn would have come and gone. Here, I could tell you how the shade of the aspen leaves has gone from bright yellow to dull brown in the span of only a few days. Or how the same end-of-day rituals that didn't require a headlamp last week suddenly do today. Or how the warmth of the sun on my face feels ever so perceptibly less intense with each passing day.
These little observations about the world around us are things that would have escaped me in our normal lives. Presence. That's the real gift of thru-hiking.
Waking up to our first sunrise on the edge of the Great Divide Basin was far from a disappointment. Across the sea of sage, the first colors of morning cast themselves out upon the land, intense reds and oranges quickly unraveling into lighter pinks and yellows. The sound of cows mooing not far away was like a personal alarm clock, though the cows responsible for the sound were nowhere in sight.
Only 10 miles separated us from our resupply destination of Atlantic City (not that Atlantic City!), and although our time in the Wind River Range had only recently come to an end, their diminutive size on the skyline behind us betrayed how quickly one landscape had been traded for another. Not 48 hours ago, we were surrounded by a crown of peaks and scenery that would be impossible to erase from my memory. What was now in front of us was quite simply a different world—a dry, rolling expanse that seems endless to the eye.
A slight tailwind pleasantly pushed us along and as it accelerated, I thought not only of how often this land must howl with wind, but of how it was almost sweeping us from one contrasting landscape to another. It also reminded me of a podcast I'd listened to recently whose title alone—Wind of Change—would've made for appropriate listening right about now. (Incidentally, if you're in need of some good escapism that delves into whether the CIA might have covertly written a rock and roll hit as part of a culture war effort to end the Cold War, I highly recommend it).
A few miles before Atlantic City, the trail wandered directly through the even smaller hamlet of South Pass City. Nothing more than a small huddle of buildings along a narrow creek, it's a relic of a mining past highlighted by the promise of gold emanating from the veins of quartz that run clear up into the Winds.
And in spite of its humble size and relative insignificance it's somehow a place of personal importance. After Covid had changed the world and changed our plans for the CDT, I wrote this post reflecting on where I should have been had our original plans gone off without a hitch. That place was South Pass City. Finally getting there felt like a milestone that I can't quite fully describe.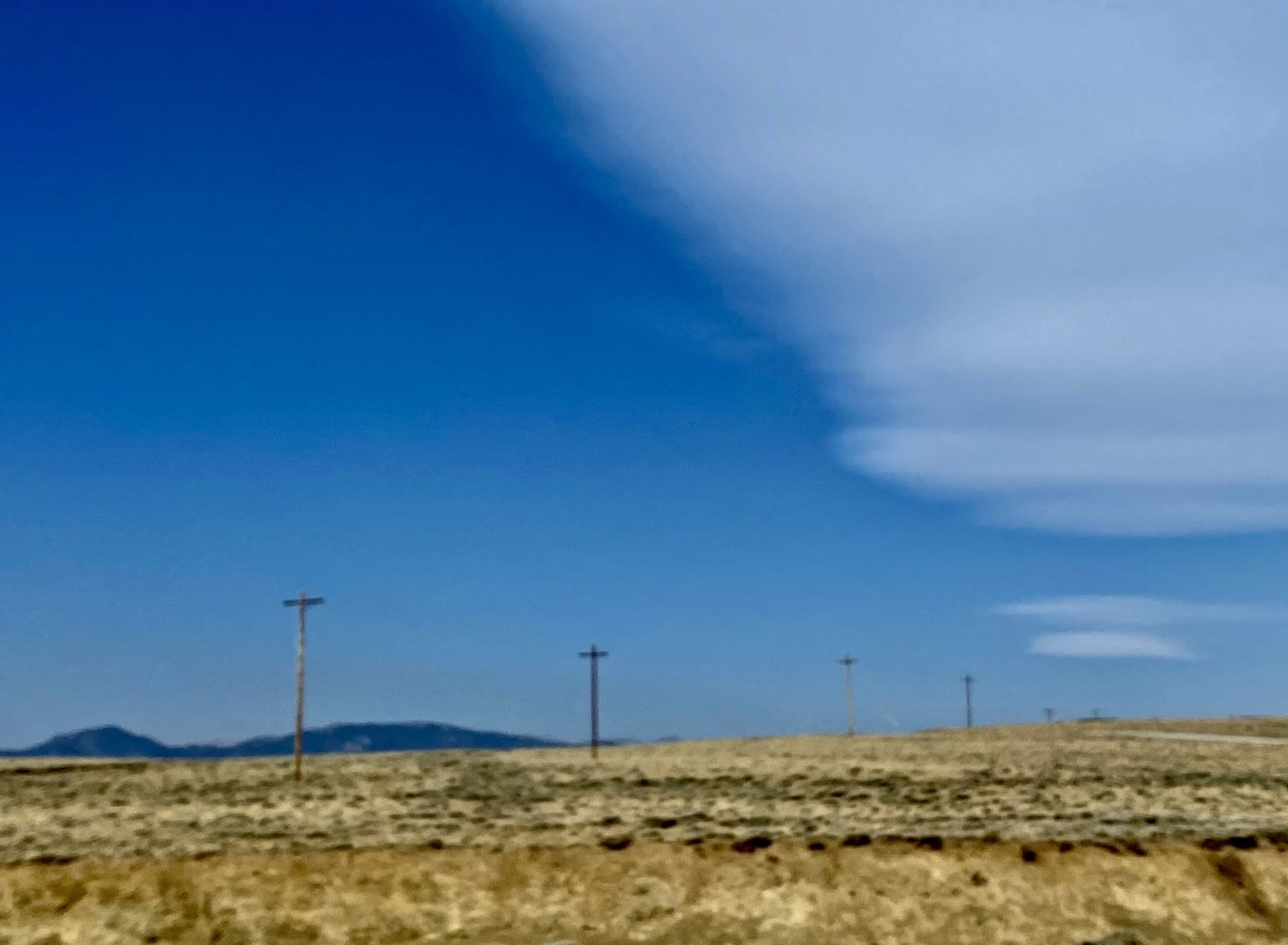 The four miles that divide South Pass City from Atlantic City give you plenty to ponder. Why do either of these places have "city" in their name? What really is the dividing line between village, town, and city anyway? Why are there so many roads of various kinds cross-crossing what appears to be a vast nothingness out here? What history explains their existence? Why does this one spot in the bone of my foot hurt with every step? And people worry that there's nothing to occupy your mind with on the trail...
My first thought upon seeing the comparatively large collection of homes in Atlantic City—at least relative to South Pass City—was that its population of 57 didn't even qualify it as the least populous resupply stop on the trail thus far (I'm looking at you, Jackson, Montana, and all 36 of your residents). But by the time we'd settled in for our second meal at the lone local watering hole and eased our way into another beer, laughing alongside the folks who call this home at the corner of the bar made it easy to understand the attraction of living in a place like this, where just like Cheers, everybody knows your name.
Latitude/Longitude: 42.49476,-108.73276