Date: 10/16/21
Miles: 25.5
Total Miles: 275.0
Bang. Silence. Another bang. The gunshots reporting in the not-so-distance were all the reminder we needed that hunting season was in full effect. Exiting our camp site that was nestled into a cozy thicket of pines, we turned down the trail and passed a succession of pickup trucks, presumably belonging to nearby hunters out stalking their prey on another chilly autumn morning.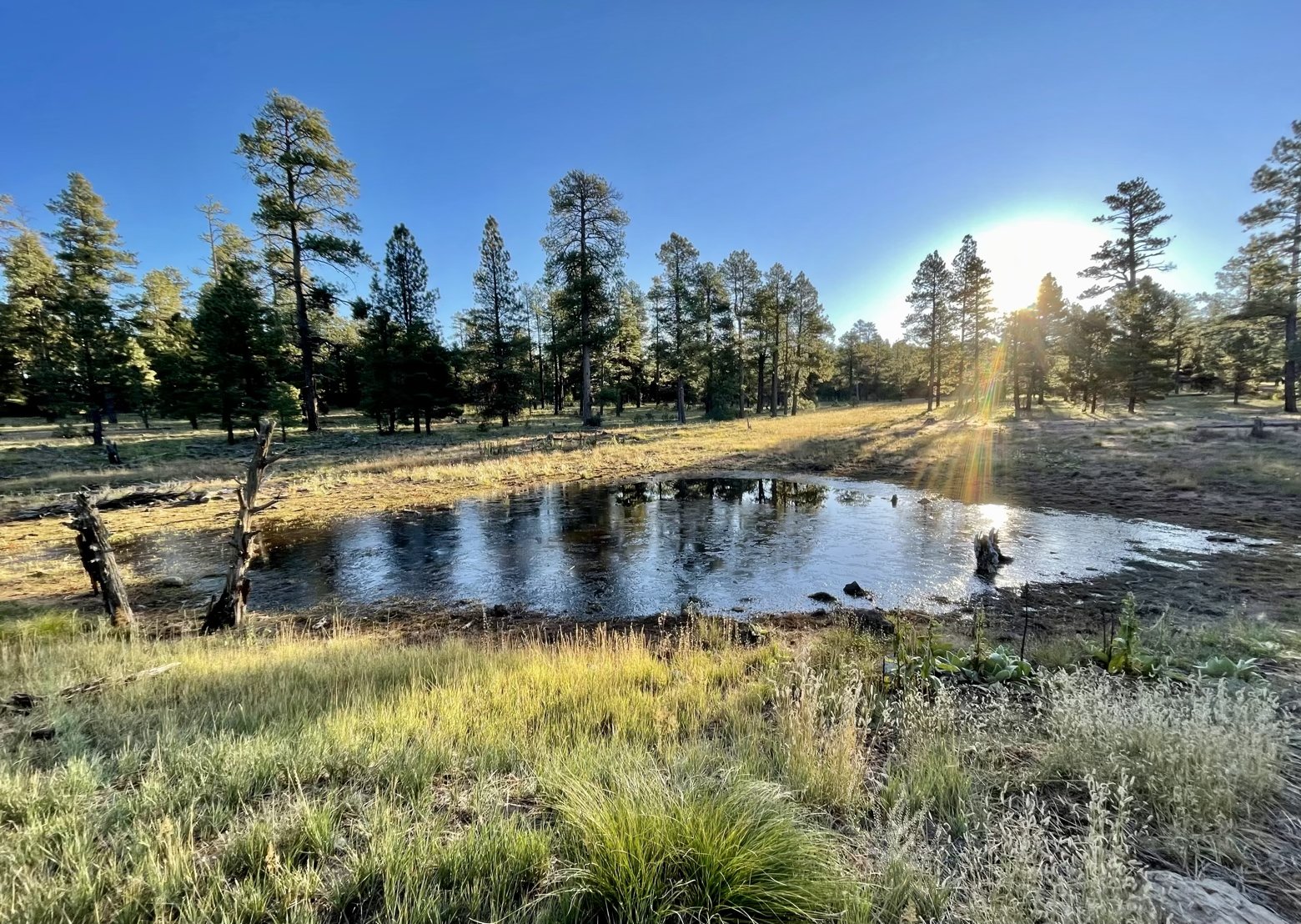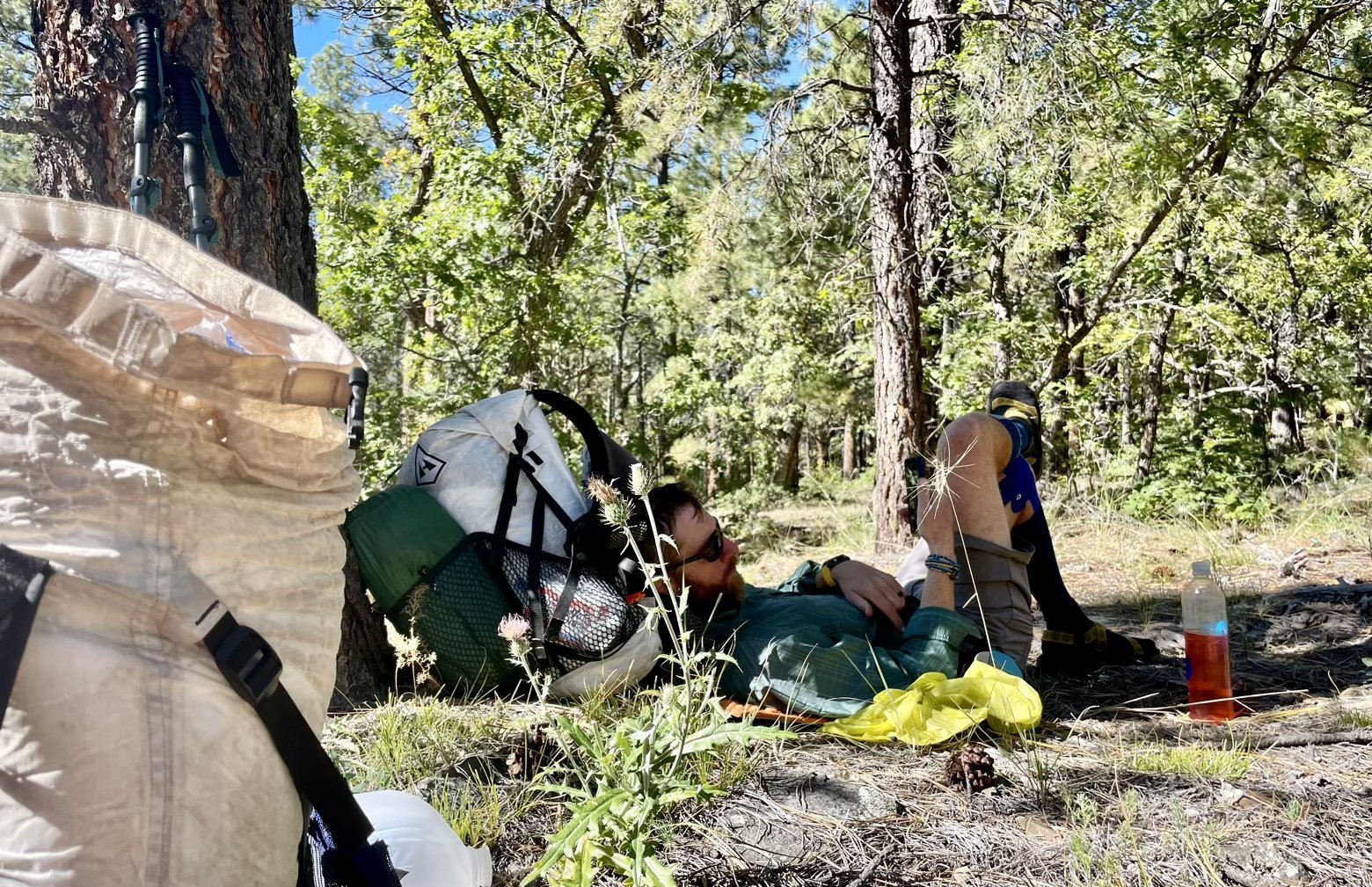 Hours passed by silently before the sun had finally warmed the day enough for us to shed our outer layers. A steady string of cow tanks—meant to slake the thirst of grazing cattle—came and went, each with its trademark ring of muddy hoof prints surrounding a small pond of water that looks far more like chocolate milk. Connecting them, stretches of trail covered in small volcanic stones alternated with dirt stretches lined by grasses, great mullein, and dried thistle, some with a fading glint of color from their long since past bloom.
Many times on this hike thus far, we've had the luxury of passing by these less-than-tasty looking water sources because our bottles were already full of clean, clear water poured directly from gallon jugs of spring water. Sprinkled liberally from here all the way back to the Utah border at road crossings and trail junctions, a network of local trail angels has given generously of their time to provide better water than nature can around these parts by stocking both official and improvised caches.
Nearly without exception, hikers are thrilled to happen upon these caches, saving both the time and effort of treating natural water sources, while for some, also mitigating the yuck factor of actually consuming water that is shared with cattle. I can't say I blame them, considering cows don't seem to have qualms about using their own water source as a toilet as well. As for those naturally flowing streams you might picture being in abundance on hikes like this? Outside of the Grand Canyon, the past nearly 300 miles have had exactly: one.
But as much as a surplus of stocked water caches is a luxury we thru-hikers aren't likely to thumb our noses at any time soon, there's a problem. More than one, actually. Back in the early miles of my Pacific Crest Trail thru-hike, I wrote about the paradox of water caches and it goes something like this: being cautious is to assume that a water cache up ahead might be empty, in which case it's wise to pack enough water to account for that possibility. However, doing so means planning as though the cache doesn't exist at all, in which case even if the cache is full, you won't have any need for the water it promises.
Such is the circular logic of water caches. Crowd-sourced information about the status of caches like that of the ubiquitous Guthook Guides can help, but given the time lag—often measured in days—between previous comments and your own encounter with a water cache, making plans to carry a certain amount based on the information found there can be very risky indeed.
But there's another problem. Far from the Mojave desert environs of the Pacific Crest Trail, where caches exist because naturally occurring water does not, easing the burden of 40+ mile water carries, they seem to exist on the northern miles of the AZT not because of unmanageably long dry stretches but because the sources that do exist are of less than desirable quality.
Don't get me wrong—I'll gladly take bottled water over a muddy cow tank any day, but you have to wonder: if it's water quality driving the proliferation of caches here—and perhaps the appeal of carrying less water weight—who decides which water sources are of poor enough quality to merit a cache, and what prevents a bevy of plastic jugs appearing at every crossing of a forest road accessible by motorized vehicles?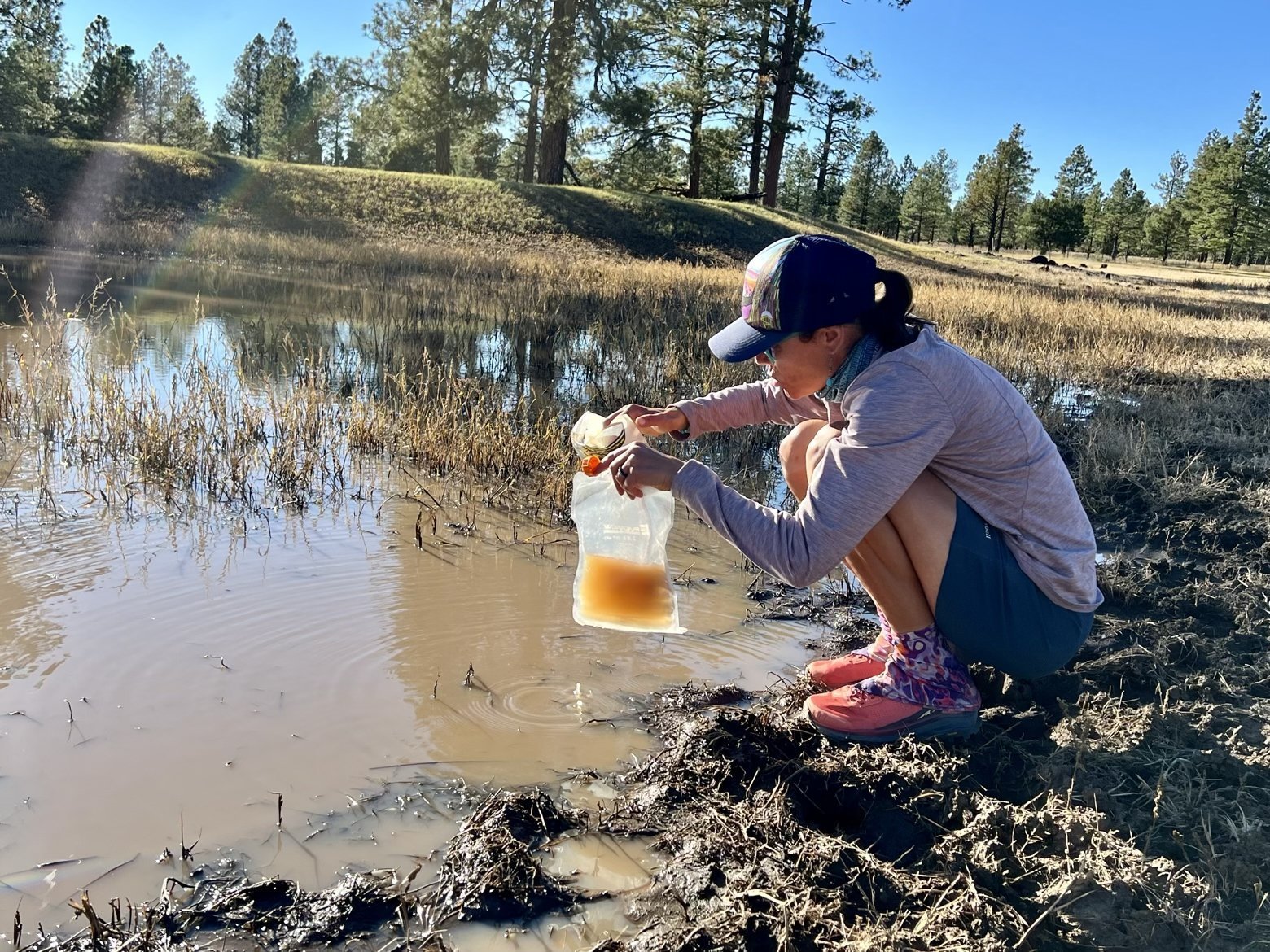 Which brings us to how we arrived at a lovely pond filled with what looked like naturally occurring chocolate milk late this afternoon. A reported cache miles earlier having been dry, this was our planned backup. Resembling sources we encountered not far from here while hiking a portion of the Mogollon Rim Trail in 2019, muddy hoof prints encircled a shallow, completely opaque pool surrounded by a barbed wire fence. The perfect proving ground to test the mettle of a water filter.
Let's just say this isn't the optimal moment to wonder whether your gear is capable of safely transforming what your eyes see into the clear liquid we all mostly take for granted each day. Clear, potable, delicious: water. What passed into our filters sitting near the shore of that cow tank may have been none of those things, but what came out was all of them. Our little feat of alchemy, complete.
Latitude/Longitude: 34.6515,-111.23187