Date: 7/26/20
Miles: 16.1
Total Miles: 655.4
Hike your own hike. It's a mantra you hear often on nearly any long distance trail. In real world terms, its meaning is simple: you do you. Hike at your pace, linger when you want to, and take the detours that most captivate your sense of adventure. Answer to no one's whims but your own.
Occasionally, the idea becomes perverted, twisted to rationalize all manner of bad hiker behavior. Think: the "if I'm doing it, it can't be wrong" kind of self-entitlement. Fortunately, we've seen none of that here.
On the CDT most especially, "Hike your own hike" takes on a particular meaning. Having only graduated in recent years from an ill-defined "route" to an actual signed trail, there remain many of the alternates, cutoffs, and detours that have been its trademark since the route itself was conceived. Unique among the triple crown trails, it's this network of alternates that underscores the notion that no two thru-hikes of the CDT are alike. While there may now be an "official" trail, many of those alternates still become attractive for any number of reasons: snowpack, weather conditions, water availability, ease of getting to a resupply, or even simply to maximize scenic beauty. To make matters slightly more confusing, you'll even find CDT markers on some of them.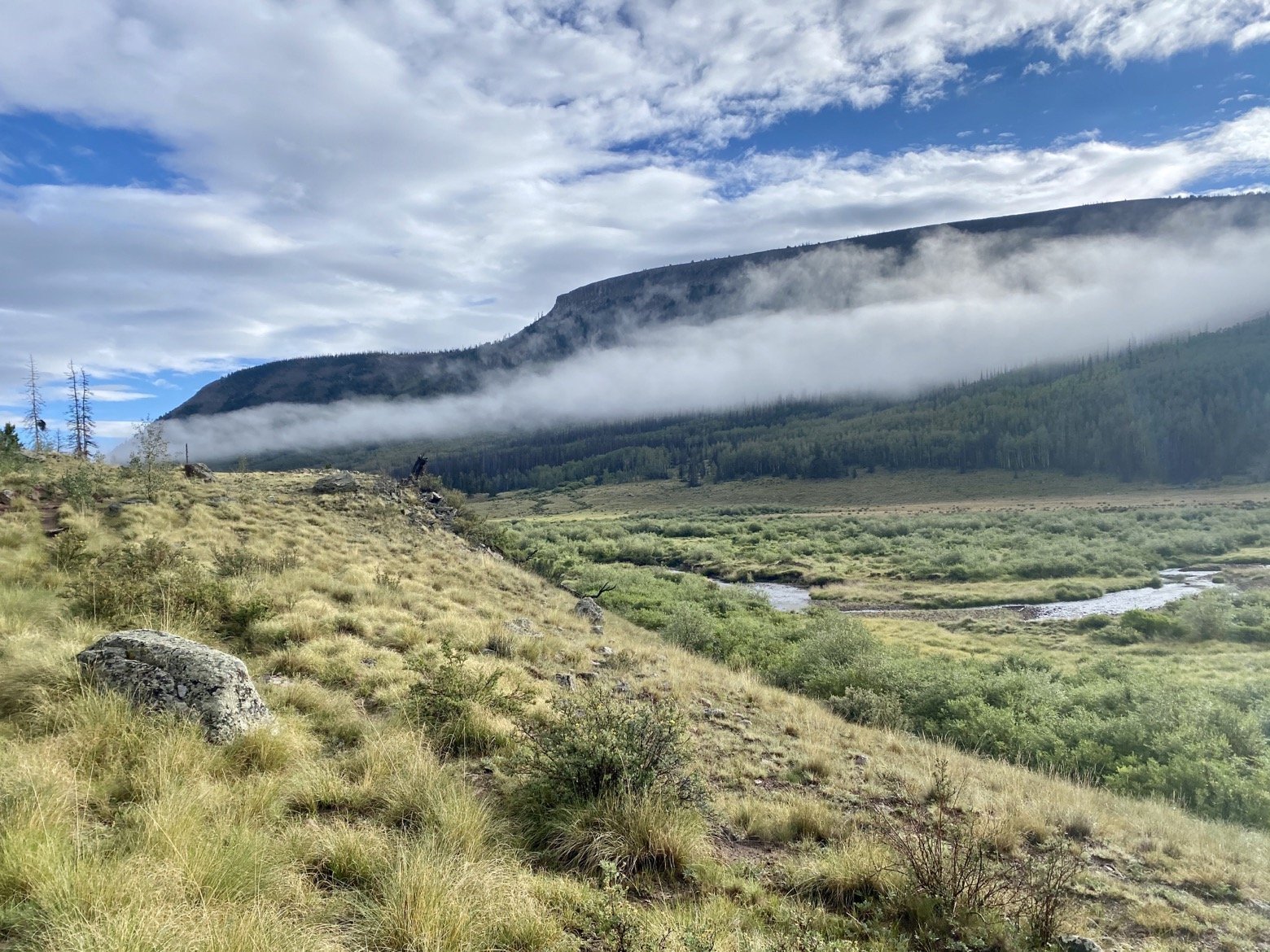 Both yesterday and today, we passed two such alternates as they parted ways from the official trail. One in particular—the Creede Cutoff alternate—comes in particularly handy for early spring northbounders and late fall southbounders concerned about snowpack in the San Juan range, either for reasons of safety or time. Shaving 77 miles and thousands of feet of climbing, it's an attractive option in those scenarios albeit at the expense of bypassing a range that is one of the highlights of the entire trail. We may have passed these ones by, but other alternates ahead will surely be part of our plan.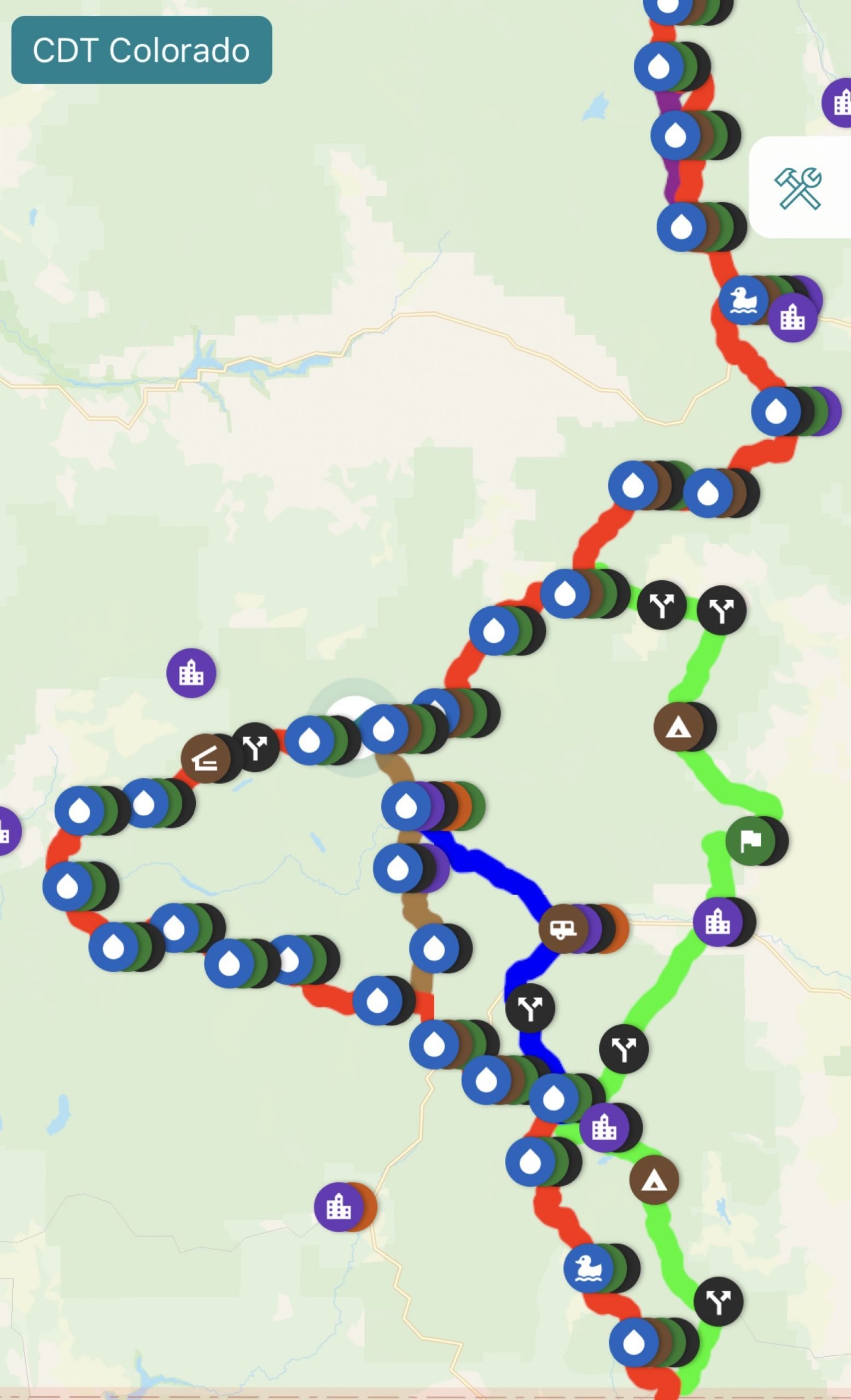 After such a lengthy day and late finish yesterday, we'd slept in to the late hour of 6:30am before packing up and hitting the trail with the intent of hiking only 16 miles. There, the last stand of trees suitable for hammocking would be our home before a short day tomorrow up and over a stretch entirely above tree line to our next resupply stop in Lake City.
The glimmers of blue sky this morning were fleeting, as the weather system that had made itself at home these past few days continued to sit directly on top of us. Returning to alpine terrain after two days where the divide had flattened to elevations below 10,000 feet, we'd have to thread the needle of weather to avoid lightning storms so far above tree line.
Not that we were entirely successful, mind you. Hunkering down under a tarp only once to let a rumbling front blow last, we weren't spared the steady afternoon showers that have been a mainstay this week. However, with reasonably mild temperatures and a civil wind, it made the rains as tolerable as you could hope for, especially at elevations in excess of 12,000 feet.
Up and down, up and down until we found our home among the dead Engelmann spruce. Dry under our tarps, wet gear is littered beneath each of them, dreaming of the laundry that awaits them tomorrow afternoon.
Latitude/Longitude: 37.95751, -107.01852