Date: 10/6/21
Miles: 15.0
Total Miles: 90.1
When you take your first step off the North Rim and onto the North Kaibab Trail, it is your first step into a different world. Gone are the ponderosa pine, traded for pinyons and eventually catclaw acacia, yucca, and all manner of cacti. The white Kaibab limestone yields to red sandstone which gives way to band upon band of other rock formations of varying colors and textures.
The world around you becomes drier and hotter—some 30 degrees warmer than at the rim—and what was a chilly autumn day in a pine forest is suddenly a pleasant summer's day under an intense desert sun. But perhaps most importantly, this world is different because it is—in the truest sense—from a different time. Somewhere in those interlaced strata of limestone and sandstone, the story of the last several hundred million years of our planet's history is locked away, preserved for any who care to examine it. A living history book that need only be opened.
Of course, to "read" this particular history book requires a number of steps beyond that first one down the North Kaibab. Along with throngs of others making the journey part way down into the canyon, we slipped past a train of donkeys as they took a break in the shade, plunging ever further into earlier chapters of the canyon's history.
What isn't lost on you at every turn, every switchback, and every traverse that has been buttressed into an otherwise sheer rock face is that making this journey at all wouldn't have even been possible if not for an incredible feat of trail building ingenuity. Charting a course nearly 6,000 feet down into the heart of the Grand Canyon would be one thing, but doing so in a way that is also resilient to the erosive forces of both nature and the volume of foot traffic this trail sees each year is quite another.
The further we dropped, the quieter the trail became. Two thousand feet below the North Rim, it was as though we'd made a private reservation to have the trail all to ourselves.
Prior to today, I'd never set foot in the Grand Canyon. Having seen it countless times in photographs, there's a lifetime of hype it's faced with living up to, but by the time the day was over, there was no denying that, if anything, the hype had been an understatement.
Roaring Springs, flush from yesterday's storms, produced a fury of water directly from a wall of rock that joined with Bright Angel Creek on its race toward the Colorado. Yucca stalks shot 20 feet in the air, and desert lizards subtly colored in shades of green, blue, and black skittered under rocks at the vibrations of our footsteps.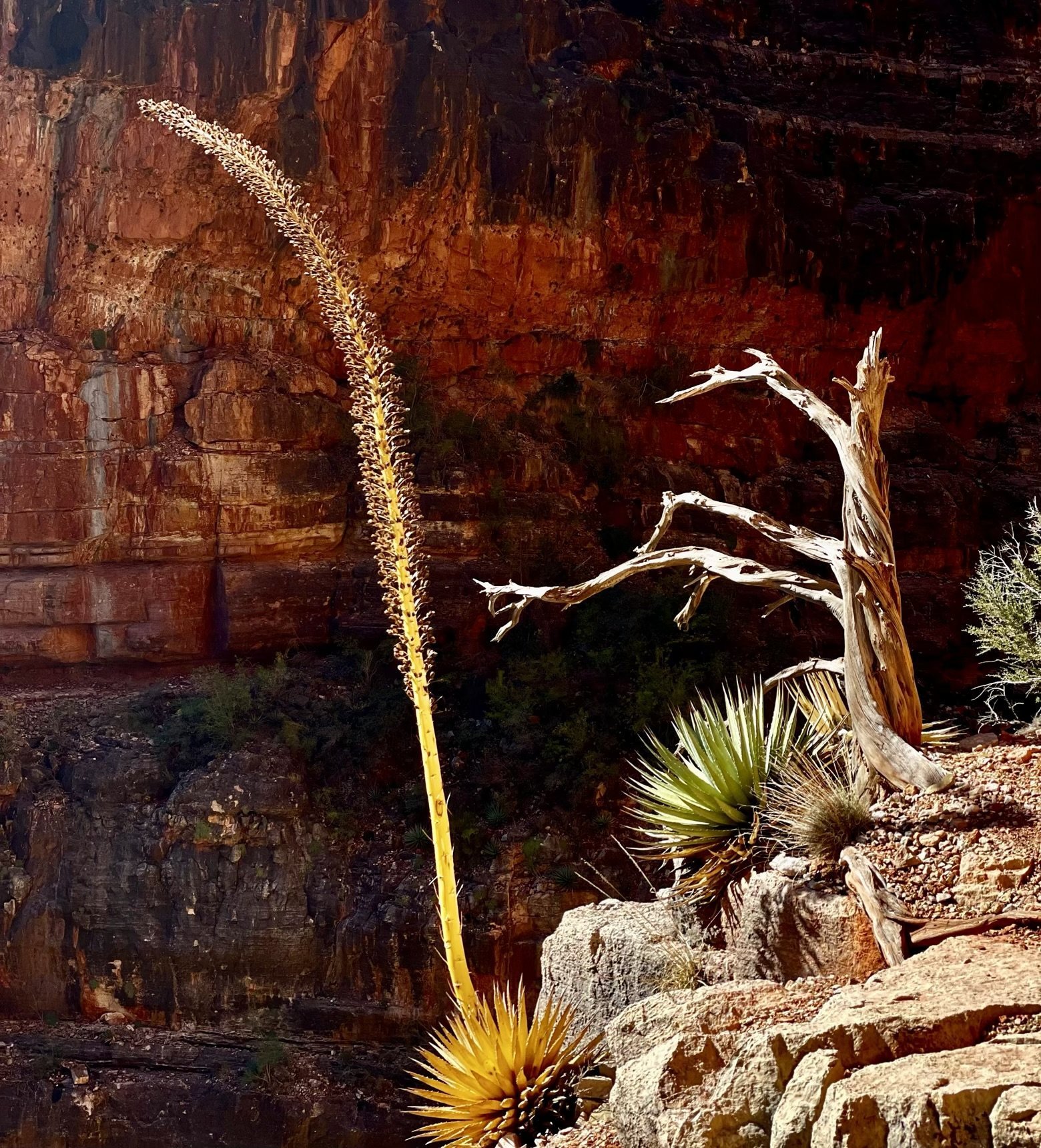 When it was time to find some shade for lunch, we took a short detour leaving the North Kaibab trail in search of Ribbon Falls. Tucked into a side canyon and hiding only a half mile away, it was a little slice of riparian paradise. Scarlet Monkeyflowers and lush greenery next to the sheeting cascade made the whole thing seem like it had been mistakenly cast off from one of the Hawaiian islands. We could even climb behind the falls as if taking a backstage tour, looking out through the veil of water as it tumbled down. Best of all, we had it all to ourselves. Our own quiet, idyllic corner of this massive place.
With only a few miles further until our destination for the night, we pried ourselves away from the falls and back to the trail under the heat of the afternoon sun. The closer we came to the Colorado River, the narrower the canyon became, with each bend of trail casting down a temporary blanket of shade courtesy of the walls rising thousands of feet skyward.
Rounding each bend until the fabled Phantom Ranch came into view, the trail clung to a narrow ledge built into the rock reinforced by walls of stone that must have taken painstaking work to construct. Taken as a whole with all of the trail we'd been fortunate enough to walk along since leaving the North Rim, it's hard not to wonder: if it did not already exist, would we have the collective will and vision to build such a thing today? To put a shared desire to enable access to a natural treasure such as this, the history book of the world, above all other divisive and petty interests? To think grandly in the spirit of the America we so often wax nostalgic for? I'm a natural optimist, but even I have my doubts.
Having today been the beneficiary of that vision when it did exist, not to mention the labor it took to bring that vision to fruition, I hope that the answer to each of these questions is "yes". These parks, these places, and the trails that deliver us to them are the best of us.
Latitude/Longitude: 36.09989,-112.09453