Date: 11/12/21
Miles: 21.6
Total Miles: 736.7
Open at 5am. That's what the hand-written sign hanging from the door had promised, though the lady inside insisted it was wrong: they actually open at 4.
A short pre-dawn stroll across what long ago was a set of railroad tracks, Patagonia was still fast asleep with one exception: the little corner market whose promise of coffee was too much to resist before returning to the trail.
An hour later, we'd dragged our feet long enough to know it was time to cast off from this final port of call and set ourselves adrift on the current of the trail one last time.
We left town the same way we'd arrived: following the white lines of a paved road. Staring into the low hanging sun, I wondered to myself how many more hikers would have the luxury of walking these steps through Patagonia—albeit on a road—given that the trail is in the process of being relocated off this very road.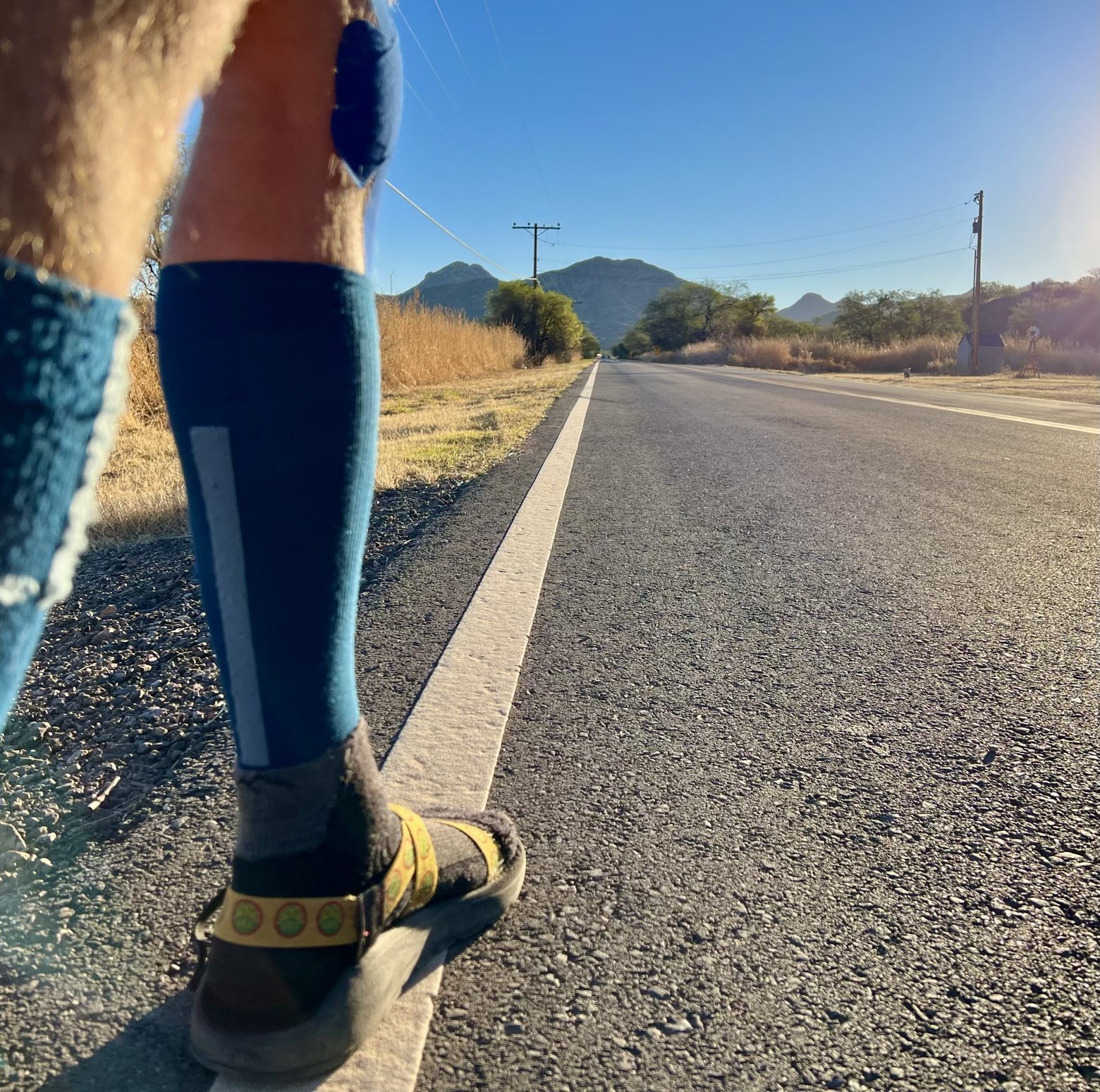 Soon enough, a sign announced our turn off of the road and onto trail once again. Rolling gently along, up and down, were it not for the tunnel of trail boring through them, the dry, stiff grasses and thickets of catclaw would have long ago consumed it. One bend of trail seemed indistinguishable from the next, the mountains rising before us seemingly a carbon copy of those that we'd left behind.
It's moments like these when I'm reminded that appreciation takes effort—at least sometimes—especially when enjoyment slowly falls victim to monotony. Or put another way, I know it's time to dig deeper into finding the silver lining when bends of trail come and go, views appear and vanish just as quickly, without so much as tacit acknowledgement that they were ever even there.
As it turns out, being present is hard work. To truly enjoy something you have to appreciate it for what it is. Not what it isn't or what you wish it to be. Free from the confines of comparison to those things grander, more dramatic, more bursting with color than the ones right in front of you.
Like standing up straight, presence isn't one of those skills you learn once, master, and never have to think about again. It's a perpetual state of learning, a high wire act where even the slightest distraction threatens to throw you off balance. But it's precisely that exercise that I come here for, the trail my master and I its student. To cultivate a better version of myself by trail's end than the one that arrived at the trail's beginning.
Recreation: a word hardly anyone gives a second thought to. It conjures up images of playing sports, relaxation, getting away from the daily grind. But the banality of those images belies the true definition of recreation: quite literally, the act of re-creating oneself. What better place then to explore the slow and winding path to presence and to re-creation than on a slow and winding path in the wilderness?
Latitude/Longitude: 31.47632,-110.51472