Date: 8/1/21
Miles: 18.8
Total Miles: 18.8
"What is that?" The words posed one question while simultaneously answering another, namely, "are you sure you're prepared?" That was 5 days ago now while Ace and I were in the midst of finishing her 13-year quest to become an Adirondack 46er. But the question still makes me cringe a little.
It came from a man who was at the helm of a troop of Boy Scouts and had led them to the open-sided lean-to that we had decided to call home for the night. The question was a simple one, as was the answer: "It's a bear canister." On the heels of arriving in the rain with a group of boys weary from a rain soaked forced march on a trail that—unbeknownst to them—hadn't received maintenance in years, the question tugged at the distant memory banks of my youth spent becoming an Eagle Scout, and the motto that was at the center of it: "Be Prepared."
Between the lack of pre-trip planning, the wet gear being exhumed from backpacks, and now the surprise at learning that bear canisters were required for food storage, it had become clear that the notion of "Be Prepared" may have become misplaced at some point along the way.
It was that recent memory mixed with those of my own Boy Scout adventures that came flooding back when Ace noticed me looking around at all of the leafy green trees while strolling along our first miles of the Long Trail and said: "You're like a Boy Scout in the woods, all over again." Enamored with the natural world around me, she couldn't have been more right.
Yesterday evening, we'd arrived at a nondescript trail that would lead us 4 miles under a setting sun to a lowly patch of rock and mud in the middle of a deep green hardwood forest. Next to the mud stood a sign announcing that we had now crossed from Massachusetts into Vermont and had arrived at the southern terminus of the Long Trail. It was a spot I'd not seen in 17 years.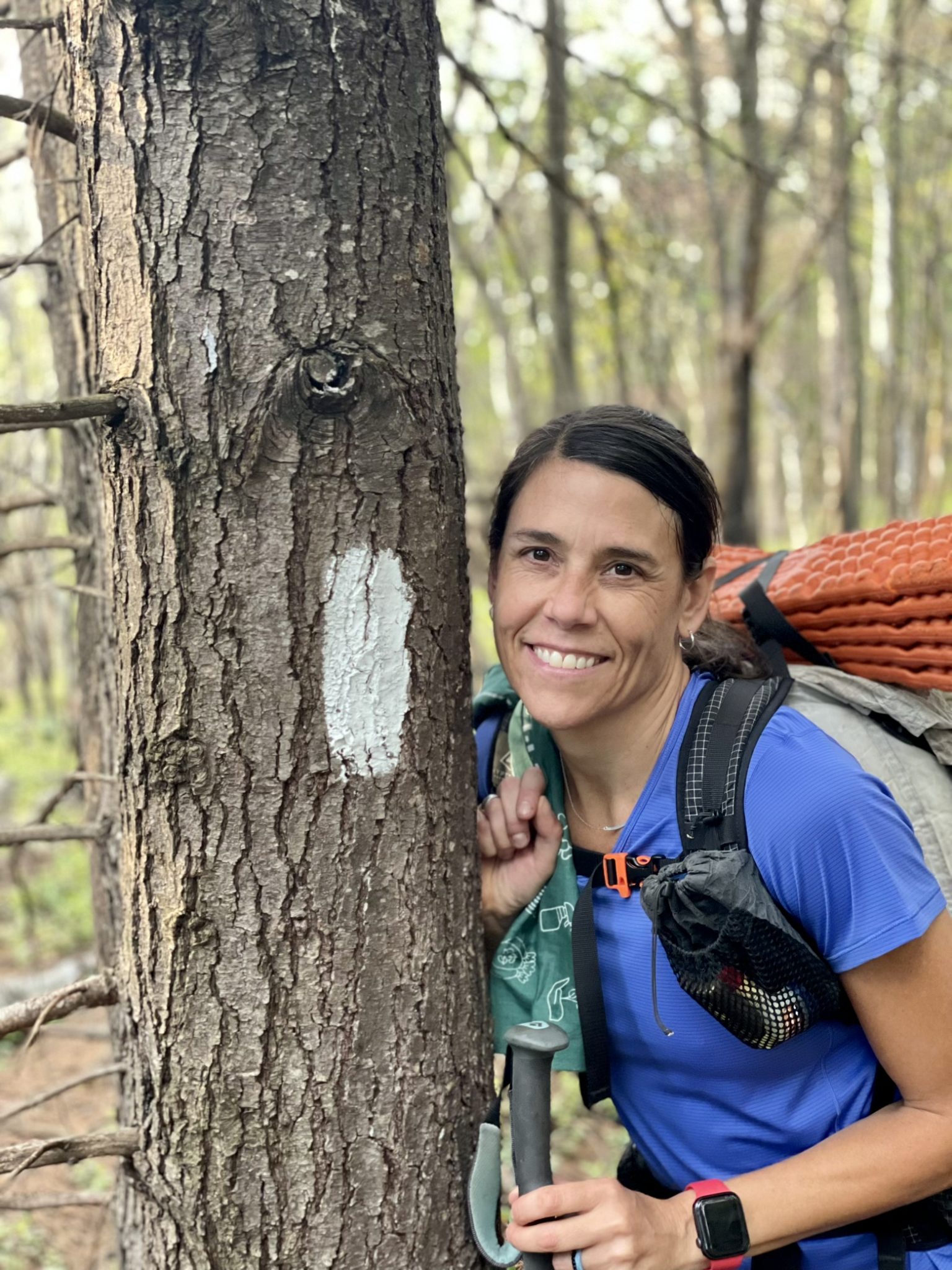 Marked with white blazes of paint and stretching 273 miles from Massachusetts to Canada along the spine of Vermont's Green Mountains, the Long Trail is the oldest long distance hiking trail in the United States. It's also an especially rugged old beast of a trail, climbing up and over everything in its path, with an impressive skeleton of rocks and roots to navigate with each step.
But this particular place holds a special meaning for two reasons. 17 years earlier, I'd arrived here after 1600 miles of hiking the Appalachian Trail all the way from Georgia. Sharing tread for a bit more than 100 miles from this point north, the Long Trail and Appalachian Trail briefly become one.
Go back 2 years further, though, and it was this very same place that launched my friend Ian and I headlong into our very first long distance hike. 19 years removed from that hike, Ace and I had come to rekindle some of that Vermont hiking magic for ourselves.

Waking a few hundred yards from the terminus, we set off into a sea of green forest and watched our footprints sink into the mud, courtesy of the rain that has been so unrelenting here in July. 8 inches above the monthly average, in fact.
But the sun would manage to filter its way through the leaves just as we managed to find our way through the rocks and mud.
Despite not being especially hot, the humidity came in waves so intense that drips of sweat would roll off my face even while strolling downhill. Surely the air would burst at the seams from all the moisture it was hoarding, and like a giant exhale after holding one's breath, eventually it did.
We'd hoped to make it to camp for the night before the skies opened, but we lost the race by 20 minutes. It was enough time to ensure our shirts were good and saturated with rain—rather than sweat, for a change—before we had arrived at a decent spot to pitch our tent for the night. Hopefully the temper tantrum of the clouds is a distant memory by morning.
Latitude/Longitude: 42.91902,-73.07811