Date: 5/20/16

Miles: 12.1
Total Miles: 369.4
Midway through the night, it began. From our protected camp site on the leeward side of the mountain just 20 feet below a small saddle in the ridge, we could hear the wind begin to howl. The wind warning we saw in yesterday's weather report was coming to fruition and it would mean that our plans for the next 24 hours were about to change.
We had hoped to put in a full day today and then camp high on the shoulder of Mt. Baden Powell so we could wake up early the following day to catch the sunrise before continuing on to a road crossing and hitching a ride into Wrightwood for resupply. But with 40 mph winds, gusts to 50, and overnight lows below freezing way down in the valley, a night at 9000 feet would probably have meant wind chills in the single digits—not exactly the recipe for a pleasant night. Instead, we opted to get into town for resupply today and climb over the mountain and continue on tomorrow once the worst of the cold front had passed.
The arrival of the front made for some incredible cloud lakes during the morning as the wind constantly reshaped the wisps that wrapped over the ridge we climbed.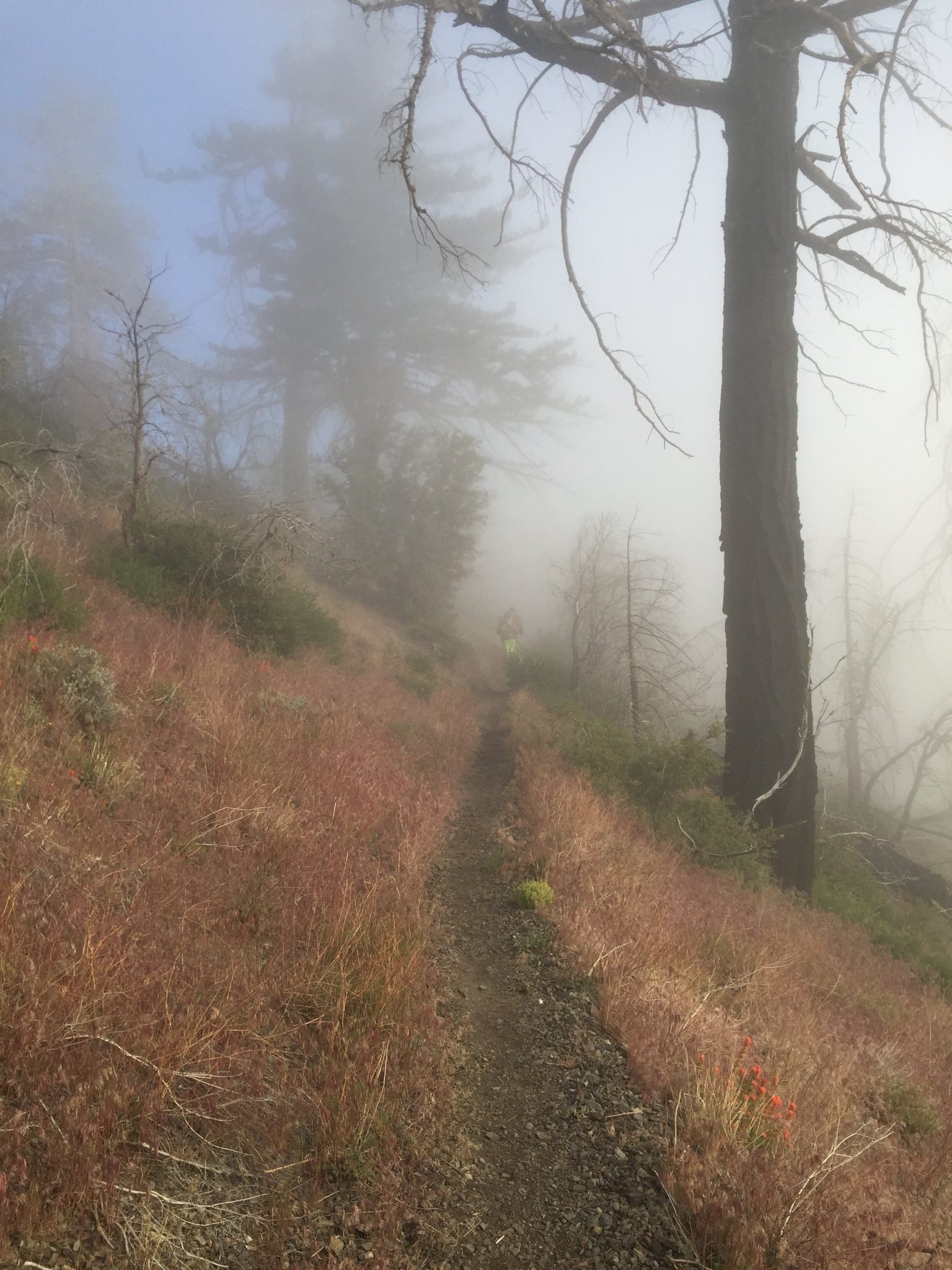 It was nearly impossible to hear anything over the din of the wind, and window views to surrounding peaks would vanish as quickly as they appeared.
We got a hitch into town in the first car that passed, and it was completely in keeping with the reputation that Wrightwood has for being incredibly hiker friendly. From then on, every person we met in town was accommodating beyond belief, and none more so than our gracious trail angel hosts, Sue & Mike.
This past week since Big Bear was a bit of a stress test for my shin, but it seems to be healing pretty well at this point. With another 100 miles behind me, the pain has gradually dissipated and steps that were once agonizing now feel close to normal again. Combined with blisters that are finally callusing over, it's starting to feel like the early hike aches and pains might be drifting into the rear view mirror.