As previously published on The Guidebook—the outdoor blog for Chaco sandals
Date: 7/6/19
I wasn't always this soft. Age and a career in front of a computer has a way of doing that, slowly obscuring who we really are underneath. Some people go to church to be renewed. I come here.
For me, "here" has always been anyplace where mountains cut into the sky and I can shed the softer self I've managed to introduce the world to without ever really noticing. But if "here" was one specific place, it would be the humble peaks of upstate New York's Adirondack mountains, an elderly and eroded collection of granite that would hardly compete with the Yosemite Valleys of the world for the prize of most picturesque. That was the thought I had as I stared aimlessly down at the likeness of Half Dome woven into the webbing of my Chaco sandals while Emily, a.k.a. Ace, and I contemplated the next rocky and root-choked scramble in front of us. There was no Half Dome, Glacier Point, or El Capitan view waiting at the top of the next pitch, that much we knew. Growing up hiking in a mountain range where that is the reality taught me not to love the outdoors for whatever Instagram-worthy view that might be at the end of the rainbow but for what it is the other 99% of the time—a beautifully unremarkable expanse that is all that remains when we strip away everything comfortable and familiar about the world we build for ourselves back home.
I owe that perspective to this place. However, I'd be lying if I said it was all big, expansive thoughts at this rest break at the top of Lower Wolfjaw mountain, under a steady rain and devoid of any view. Thirty-six hours earlier, we'd hiked the pleasant miles up the Johns Brook Valley under dappled sunlight to a campsite where we pitched our hammocks and tarps in preparation for a traverse of the Great Range, a section of trail linking together the highest of the Adirondack summits. Standing in the mercifully cool rain, it's all just a blur of fatigue now.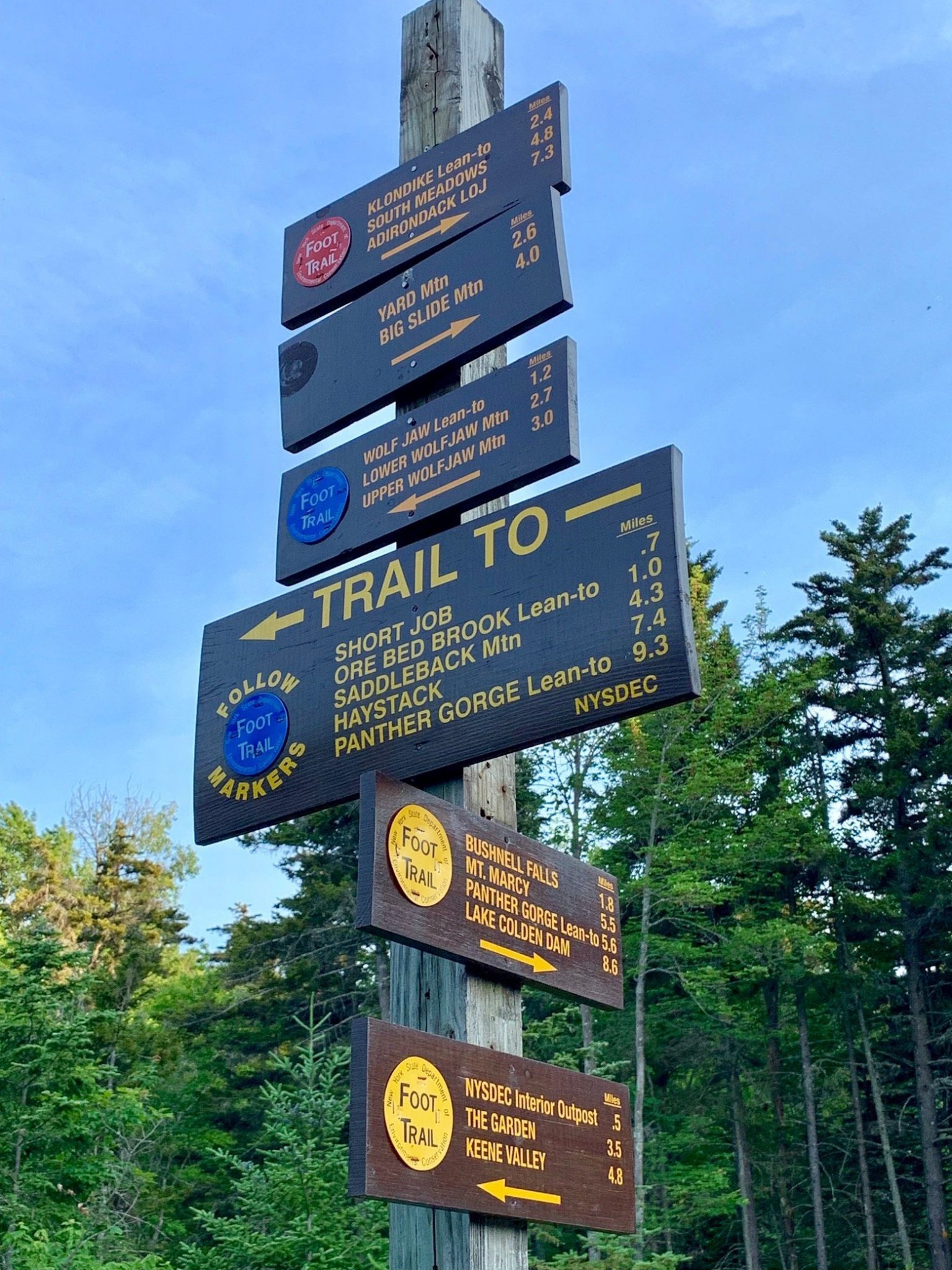 Under sunnier and more optimistic skies, the afternoon stroll past Johns Brook Lodge two days ago was like a walk into the Grand Central Station of the Adirondacks, a network of hiking trails radiating out in all directions from its front porch. Weather permitting, the plan was to tackle the 8 peaks of the Great Range over the course of the next day or two in an effort to advance Emily's goal of becoming an ADK 46er—someone who has summited all of the Adirondack peaks over 4000 feet—in time for her 46th birthday. To those of us living among the big peaks of the American west, that sounds cute enough. 4000 feet, huh? Everest, these obviously are not. That is, right until you get up close and personal with your first of the 46ers and you're met with the cold realization that standing on these lowly summits is less about walking and more about scrambling through a maze of roots, mud, close forest, and wet bedrock where a pace of one mile per hour can at times feel like a Herculean feat.
All of that was known when we crawled from our hammocks early yesterday morning and set off in the direction of Mt. Marcy and the roof of the Adirondacks. The trail was silent without a soul for miles until we gained the lower shoulder of the mountain, joining the more popular route from the Adirondack Loj and its steady parade of hikers wanting to lay claim to having set foot on the state's highest point. A quick snack and a few summit photos later, we were on our way down like fish swimming upstream against the current of oncoming hikers before veering off again onto empty trail in the direction of Mt. Haystack and its matching windswept rock.
And when the yellow blazes of paint occasionally faded into nothingness, friendly cairns of piled rock were there to guide the way. Seeing these little sentinels on such a pleasant day belies their real necessity when the weather heads south, and passing one under blue skies with nary a breeze jolted my memory back to my first attempt on this same summit nearly 20 years ago when hurricane force winds turned me back and a visibility of even 20 feet would have been a luxury.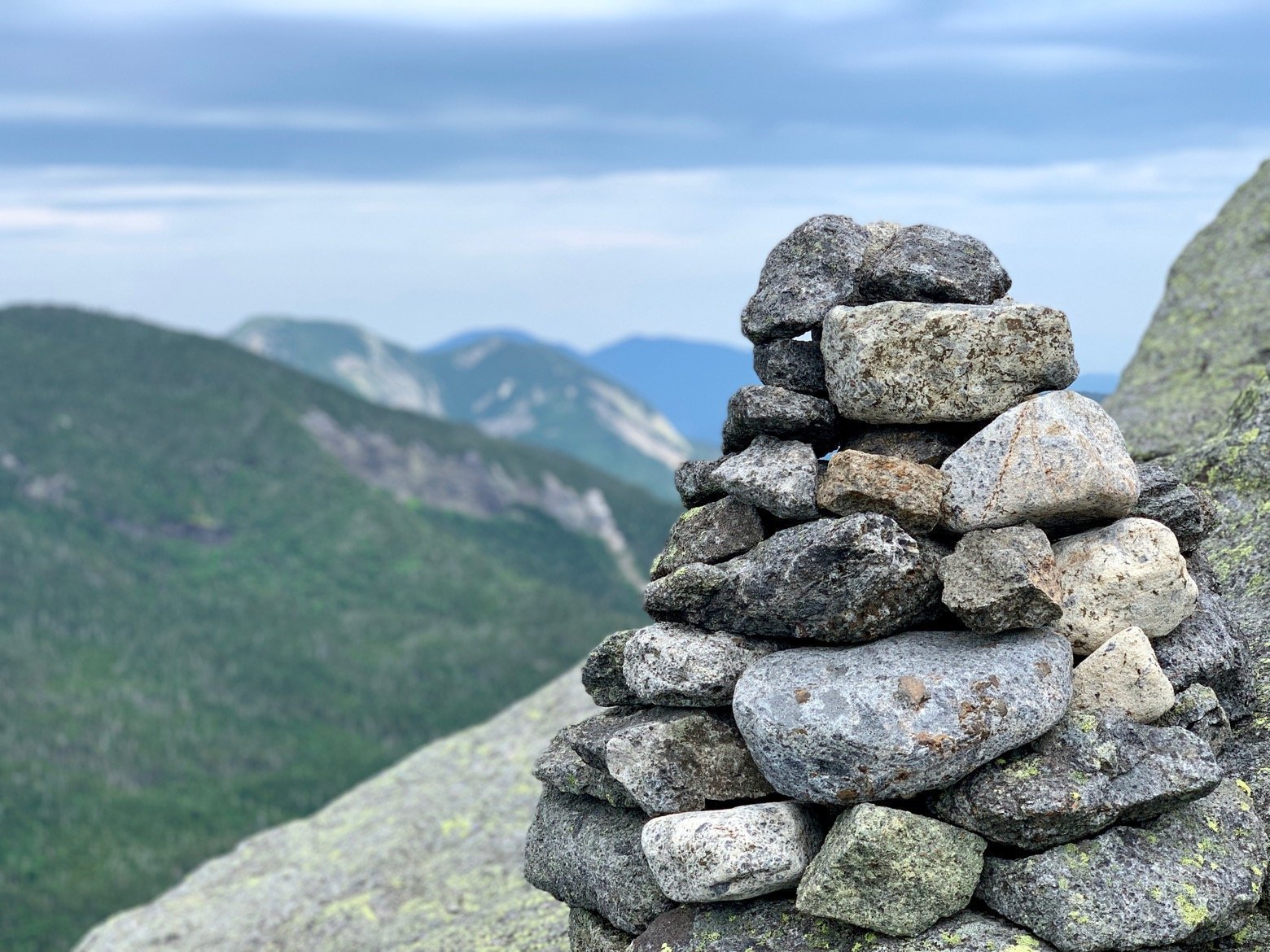 Already eight hours into the day and with only two peaks behind us, the combination of sweltering heat, humidity, and the effort already expended had pretty well dictated that the entire traverse was now going to be a two day effort, but even the sadistic fun of it all was still enough to make me smile. Is that weird?
Around the time we'd descended to the col between Mt. Haystack and Basin Mt. and started ascending once again is when we both began to feel like machines whose sole purpose (curse?) was to do lunges for a living, lactic acid be damned. And any time there are ladders involved, you know it's not the normal kind of hiking you're in for...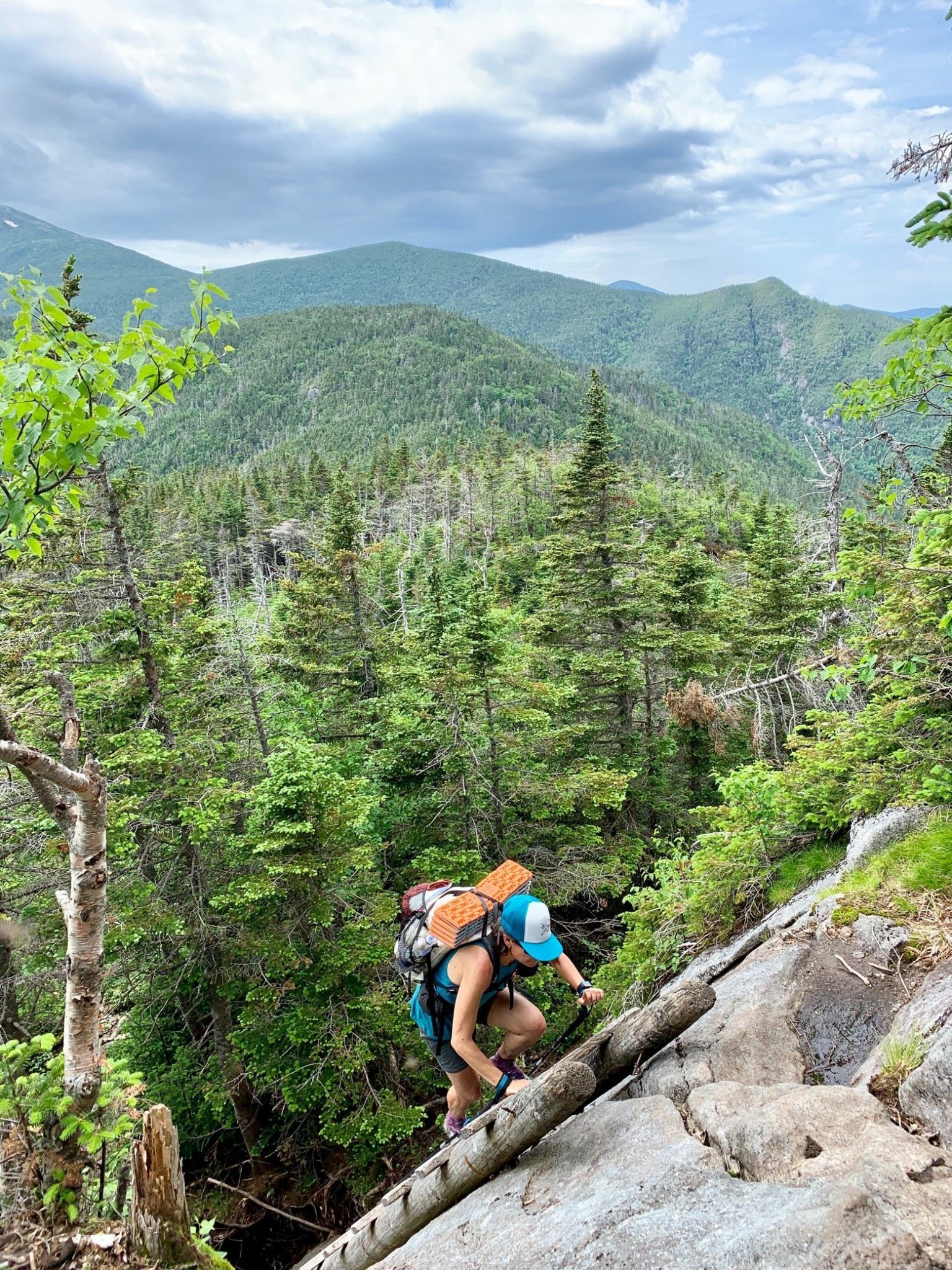 With the summit of Basin behind us, we had only one one more peak standing between us and our first opportunity to exit the range back down to the comfort of our hammocks. Choreographing the mini-bouldering moves required to ascend the west face of Saddleback Mt. slowed our pace to a crawl, but it doesn't mean it wasn't fun playing on what amounted to an adult-sized jungle gym under the sunniest of afternoon skies.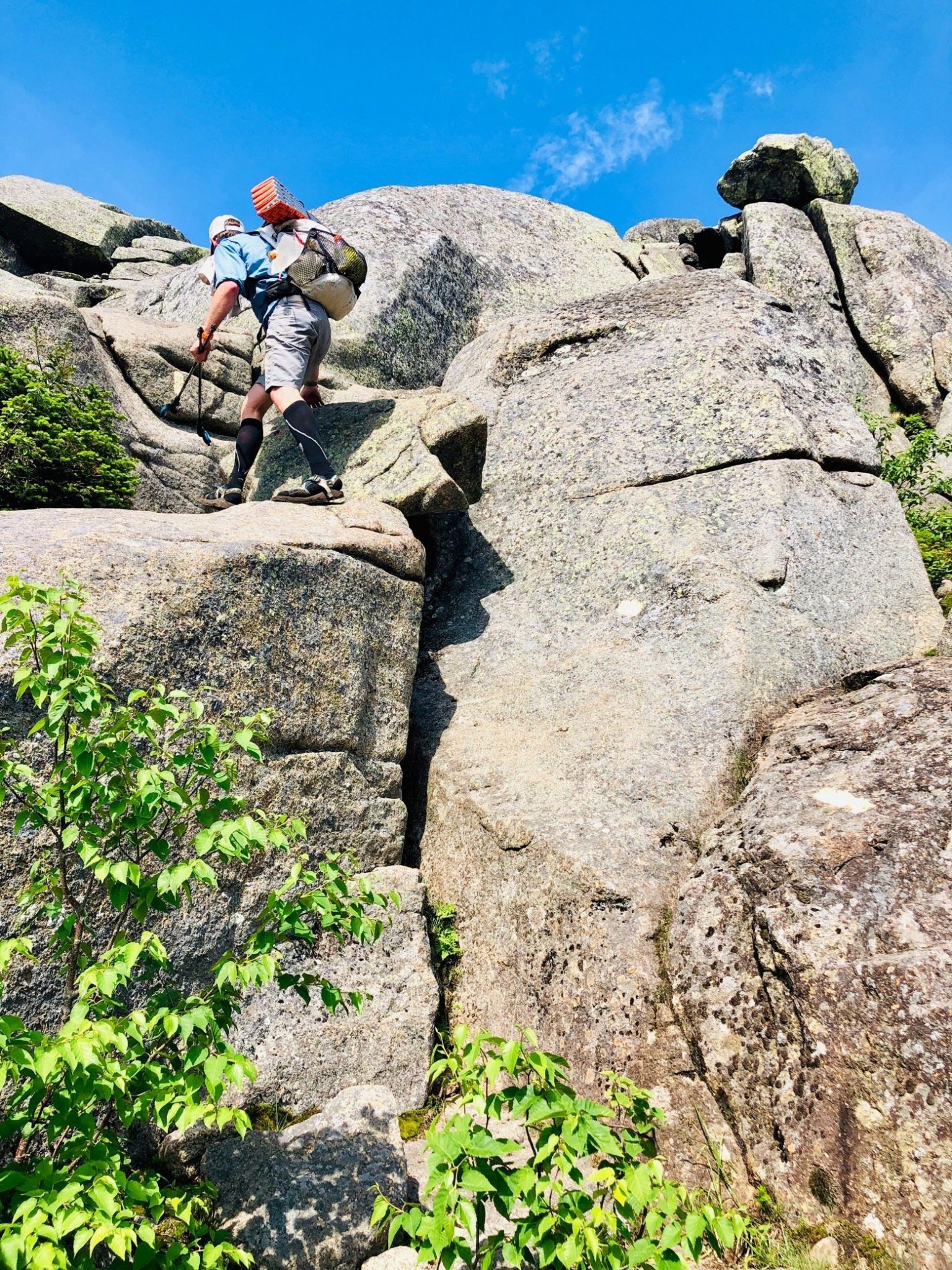 Hard work rarely goes unrewarded, and this stretch of trail is certainly no different. The pot of gold waiting on these bare Adirondack summits is a vista that, for me, is a 360-degree view into memory. Over here, the first summit I climbed as a child. Over there, the summit where Ace and I got engaged. Behind us, the summit where my Mom and I together became 46ers. These humble mountains have a way of cutting one's ego back down to proper size. Just when you think you've outgrown them, accomplished bigger things on bigger mountains, they deliver just the required dose of humility.
At last descending from the range after 12 hours of hiking, the respite of my hammock couldn't come soon enough, with the fact that every step of descent was a step we'd have to reascend being merely a twist of the knife in our tired legs. By the time we'd tucked ourselves into bed, we'd covered a distance you'd quite reasonably expect to have covered by lunch time on the Pacific Crest or Continental Divide Trails. It's all part of the bargain here.
Retracing our steps from the valley far below back up onto the range this morning was a blur of sweltering humidity, the air having an inescapable quality of closeness to it. The night's rest hadn't magically gifted me with new legs, and the struggle to propel myself up the climb served as an abject reminder that all of this is training—both mental and physical—for our Continent Divide Trail thru-hike next year, the completion of the Triple Crown a single, long adventure away.
The sound of the wind teetering between benevolent and sinister as we ascended the cables on Gothics seemed to announce that rain and thunder were close at our heels, a suspicion that would soon be laid to rest.
Safely among the hearty wind-whipped firs beyond the summit, the skies finally opened and unleashed a torrent of both welcome rain and unwelcome thunder. Combined with the unusually wet early summer weather here, it took no time at all for the trail to resemble more of a muddy obstacle course than anything else.
It's usually around this point into a hike where I pass an occasional hiker who looks down to notice with surprise that instead of the expected pair of old leather boots, there's a pair of Chaco sandals strapped to the bottom of my feet. Between the mud, the roots, and the incessant scrambling, their look of surprise morphs into courteous concern. Truth be told, I'd probably share their dismay had it not been for the past 15 years of hiking in them, having freed my toes from foot prisons for good during a thru-hike of the Appalachian Trail. Nine pairs and thousands of miles later, my Z/1 Classics and their custom Terreno hiking soles have seen me through a little of everything—from icy trail when paired with a set of neoprene socks and micro-spikes to our own wedding when paired with a three piece suit. It may not be the norm, but I can't imagine having walked this far in anything else.
Marching onward, though the mud had quickly obscured the mini Half Domes on my sandal straps it seemed a more fitting complement to the chicken pox-like pattern of welts that I now sported courtesy of the hordes of black flies that had been feasting on any exposed skin. Having clean socks and sandals just would've looked out of place after all this.
The ritual pattern of scrambling down from summit to col followed by its reverse continued anew as first Armstrong and then Upper Wolfjaw mountains came and went, the weather hastening our progress as much as ushering in a now mud-filled ribbon of trail. As the time passes in silence and solitude, you begin to notice things you hadn't noticed before, like the sizzling sound that rainfall makes as it rebounds off the thick layer of leaf litter on a forest floor in a state of permanent autumn. And just as your mind wanders ever deeper into that newfound awareness, that's when it happens. Almost without noticing, your goal is right there in front of you as you wonder how long you've been lost in thought.
Faded and dripping wet, there it was—the trail sign on the summit of Lower Wolfjaw and the end of the Great Range. Eight 46er summits and a roller coaster of mud and rock had delivered us here, cuts, scrapes, weary legs and all, along the rugged backbone of the Adirondacks I've yet to tire of even after multiple traverses. You have to love hiking to love this.