Date: 8/15/04
Starting Location: East Branch Lean-to
Destination: Mahar Tote Road
Miles: 21.9
Total Miles: 2137.0
When this day began, I had it in the back of my mind that if my luck had truly turned for the better and everything went right, there was an outside chance that I might catch up with Camel, Leki-less, and the Camera Crew by day's end. The only problem was that their likely destination was 22 miles up the trail. What was it I had said about no more long days? Well, about that…
Before I could think about catching up with everyone, I had another ford challenge not 15 minutes into the morning when I reached the East Branch of the Pleasant River. My only hope was that this would be a kinder, gentler version of the West Branch ford. Although it was still a froth of white water, it was a far smaller crossing and the only casualty was another soaked pair of socks and shorts to start the day.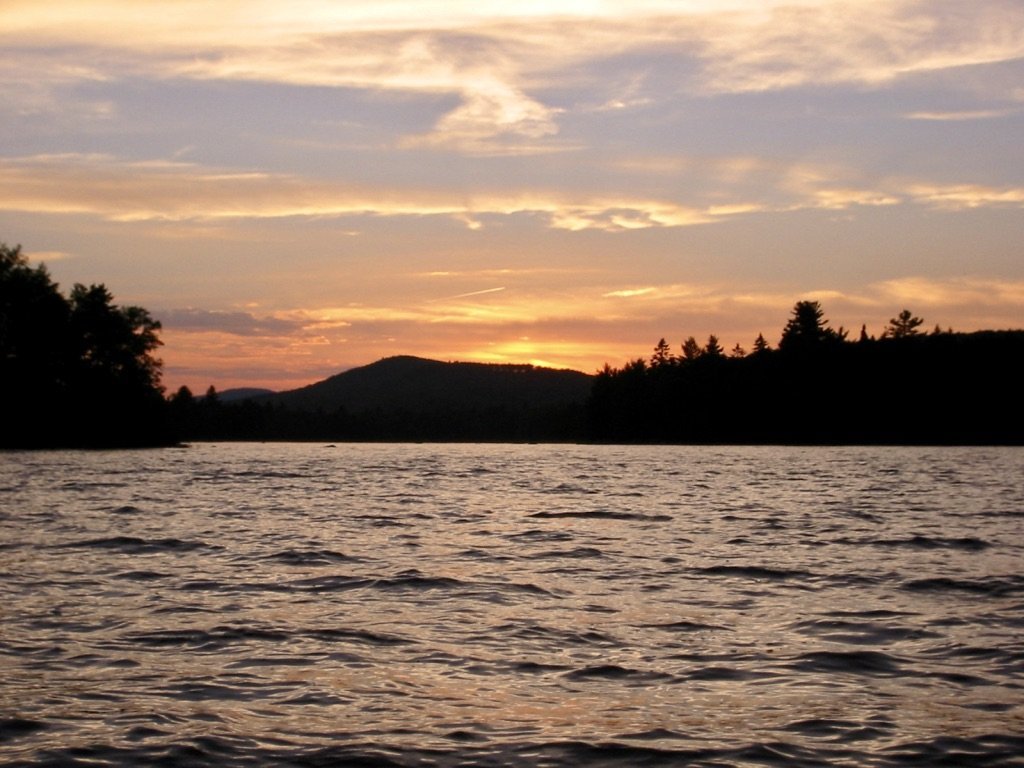 Having climbed over White Cap Mt. yesterday, only a broad expanse of lowland forest now separated me from Katahdin, which meant for a quicker pace and far easier hiking than we'd so far seen in Maine. The day seemed to pass more quickly than usual, owing partly to the fact that I seemed to have the trail all to myself. Each time that I passed running water was a reminder of exactly how much rain had fallen in the past couple of days. The "swimming hole" just a few feet away from the Cooper Brook Falls lean-to that I stopped at for a quick break had whipped itself into a mesmerizing frenzy of churning water. I can hardly imagine what it had been like 36 hours earlier.
Late in the evening, I passed a woman heading southbound who I swear I had met on the Long Trail two years ago and had carried on a brief relationship with shortly afterwards. After exchanging hellos and walking a few steps further, I stopped and turned around, poised to say something more as she walked away but nothing came out. I thought about it the rest of the day, and regretted not risking embarrassment to ask if in fact she was who I remembered.
I arrived at another lean-to and paged through the shelter register to find a note that the Camera Crew had left for me. Sure enough, they were headed a few miles further up the trail to the hostel at White House Landing, which was reachable via a boat ride across a lake. I threw the register down and raced off, knowing that with dusk rapidly approaching, my chances of getting a ride across the lake would soon evaporate.
By the time I turned off the AT onto a side trail towards the lake and finally made it to the dock, it was after 7:00 and as I picked up the airhorn to call for the boat to come get me I wondered whether the end to my AT hike was about to finally come back together the way I had hoped. When I heard the sound of the boat making its way from White House Landing—the only structure of any kind on this remote lake—towards me, I had a feeling it was about to.
Fifteen minutes later, the reunion was on and I couldn't have been happier, not to mention the fact that it was taking place at such an incredible location. The rest of the evening was spent swapping stories of the past 3 days, playing games, and taking a canoe out onto the lake to paddle around beneath a gorgeous sunset with views of the Big K rising in the distance. It was the first time I felt a sense of nostalgia for an experience that, within sight of its conclusion, had entered its final act.