Date: 10/14/21
Miles: 24.2
Total Miles: 230.1
I'm never quite sure. That's the problem. You'd think 10,000 miles of trails would have clarified an answer to what is otherwise a simple question, but here I am. Having taken not one but two zero days in Flagstaff, the question remains: is a day off more likely to rest weary legs or accumulate rust upon them?
In truth, the answer changes in nearly every stop. This early into the hike, legs still fresh, a rest day is a down payment on your future, allowing small problems to heal before they become bigger problems. Later, and especially on very long trails, rest becomes a necessity as your body slowly begins to wear down, its reserves long since consumed.
When we strolled into Flagstaff 3 days ago to allow our strengthening legs to rust for a day or two, the timing could not have been better. When we woke the following morning from the comfort of our motel room, a blanket of white glared back from the window, snowflakes still dancing on a cold, gusty breeze.
We whiled away the time doing our usual town chores and catching up with friends and family, squeezed in among the usual indulgences of all manner of town food. And coffee....lots of coffee. Though the storm had passed, returning a blanket of brilliant blue sky to its rightful place, the now white San Francisco Peaks looming over Flagstaff stood as testament to the cold that had stubbornly remained.
To cap off our two days in town, our friend TipToe, who we'd not seen since the middle of the Pacific Crest Trail in 2016, happened to be in Flagstaff so we met up over lunch and a beer along with her two friends. For a precious hour or two, it was as though none of the past 5 years had passed at all, and it reminded me of how memories can be so reinvigorated just by the appearance of a friendly and familiar face.
The alarm on my wrist buzzed me out of my already semi-consciousness and nudged me towards the bravery of opening one eyelid. Judging 5:30am to be as ridiculous an hour today as it is on every other day, I closed the adventurous eyelid hoping that time might slow to a crawl by virtue of some as-yet-ignored wrinkle in the space-time continuum. A hiker used to early starts I may be, but a morning person I most certainly am not.
After a leisurely morning ritual, complete with one final cup of coffee, we set off from our motel in the heart of Flagstaff and walked along the bike path back to where the AZT sliced its way directly through the city. The crisp cold could hardly match the radiance of the morning sun that we walked directly into. A steady string of trains passed on one side of us while on the other morning commuters steered their way along Route 66. In the back of my mind, I wondered how long it would to take to walk along Route 66 to where it crosses the Continental Divide Trail in Grants, New Mexico and, in the process, bring us full circle back to where we were almost exactly one year ago.
Concrete became pavement and pavement became stone before the sounds of the train, of Route 66, and of the interstate that superseded it began to fade into the background. In exchange, wide open ponderosa pine forest invited us to stroll through it atop a bed of soft needles. For the stretches where ponderosa yielded to open meadows atop a mesa, the snowmelt combined with the soil of the jeep track on which we walked created an exceptionally sticky version of mud. Caking to the bottom of our shoes with each step, in a matter of seconds we had both grown another inch in height before scraping it off to allow the process to begin again.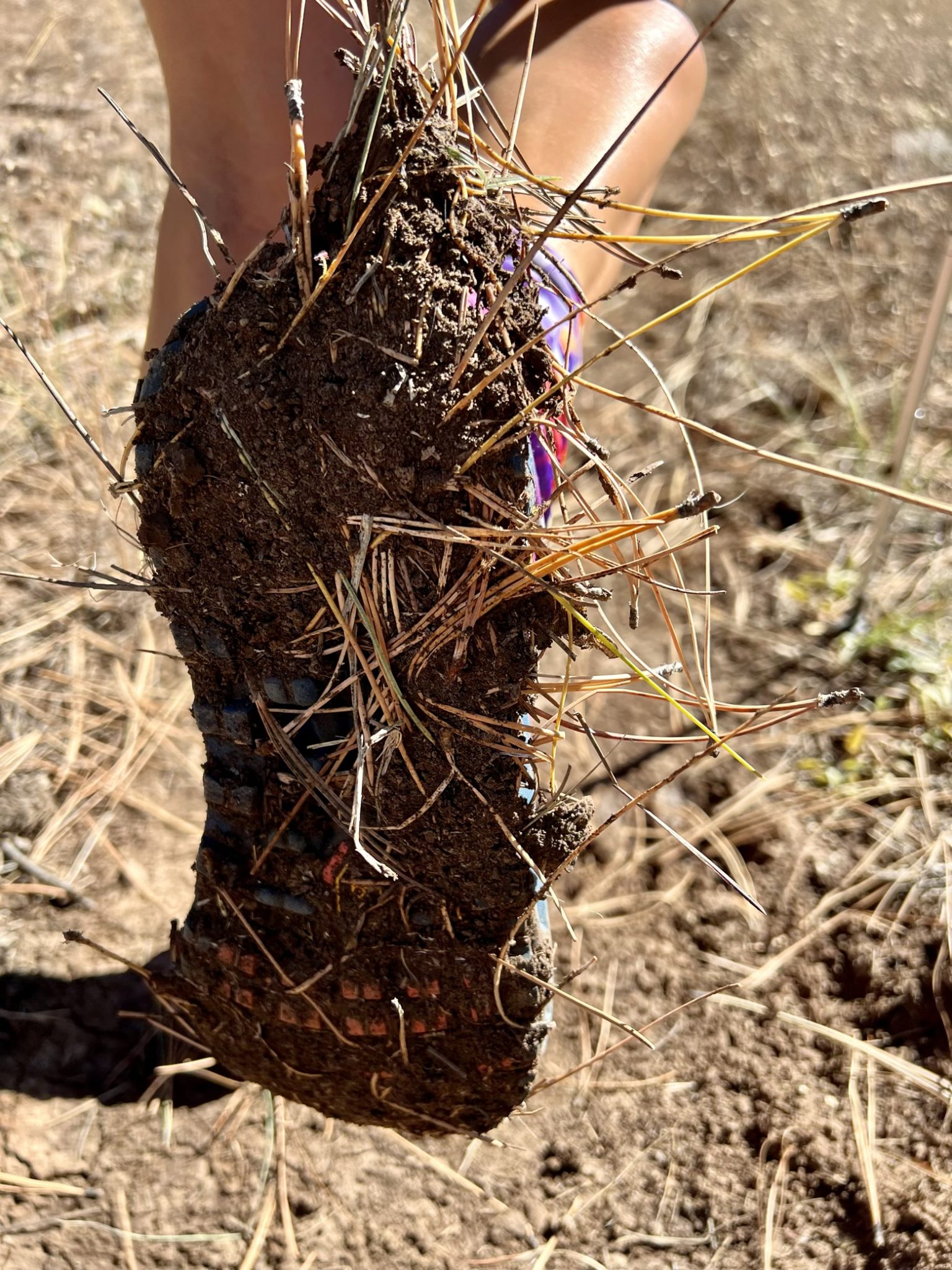 Beyond the mud and beyond the shallow basins filled with tall grass that had "lake" in their name despite showing little sign of ever having been one, the ponderosa forest returned just in time for us to find a home for the night. With perfectly soft bedding and relief from the volcanic stone-laden soil of the trail, there's no better ending to a day than a home among the pines, soon to be awash with moonlight.
Latitude/Longitude: 35.02126,-111.46688