Date: 10/31/20
Miles: 25.0
Total Miles: 2324.2
When I was a kid, Halloween was my fascination. No, obsession. Every year, I'd read the same Halloween-themed books and even dress up in the same Dracula costume. Every....year. There was something that drew me in about the season and about all things macabre, which was surprising considering how much it terrified me. Perhaps it was that childhood fixation on things that are beyond your understanding, or perhaps it was a desire to strip the power from those things that struck such fear in me. Either way, I couldn't get enough.
I think back on how fear of the dark and of the things my mind would create within that darkness could be so paralyzing. And yet, as I grew up and out of that fear, the more I understand how inherently human that experience of fear is: we fear what we do not understand.
Lying here in our tent in the middle of nowhere on a moonlit Halloween night, it's not hard to recall a similar fear that would play out in my mind spending nights in the wilderness even with my Dad sleeping right next to me. It's a fear I imagine many people, even long-since-grown adults, could relate to if they've never spent a night outdoors. But just as I'd outgrown my fear of the scary things of my childhood and come to embrace Halloween for all its spooky fun, so too did my fear of the wilderness slowly recede and give way to an appreciation and love for the outdoors that has lasted ever since. Perhaps we're best defined by the things we move beyond.
Before Halloween could even arrive, we'd already begun to receive our treats—unexpected, serendipitous ones at that. After we'd arrived into the heart of downtown Silver City and checked in to the Palace Hotel, we drifted across the street to the Little Toad Brewery for dinner with our friend Stuart. When it came time to pay the bill, there was none to be paid. As the waitress informed us, a mystery patron had picked up the tab and asked to remain anonymous. Gobsmacked is probably the right word to describe our reaction.
The following morning, a nearly identical experience played out up the street at a cafe where we'd eaten breakfast. At least this time, we had the chance to meet our benefactors and thank them profusely.
Later that evening, our pre-Halloween treats were rounded out by a wonderful dinner out with our new friends Dean and Becky, who refused to let us pay. Guilt was the first thought, but admiration for the collective kindness we'd been the recipients of in the past 24 hours was what really stuck with me.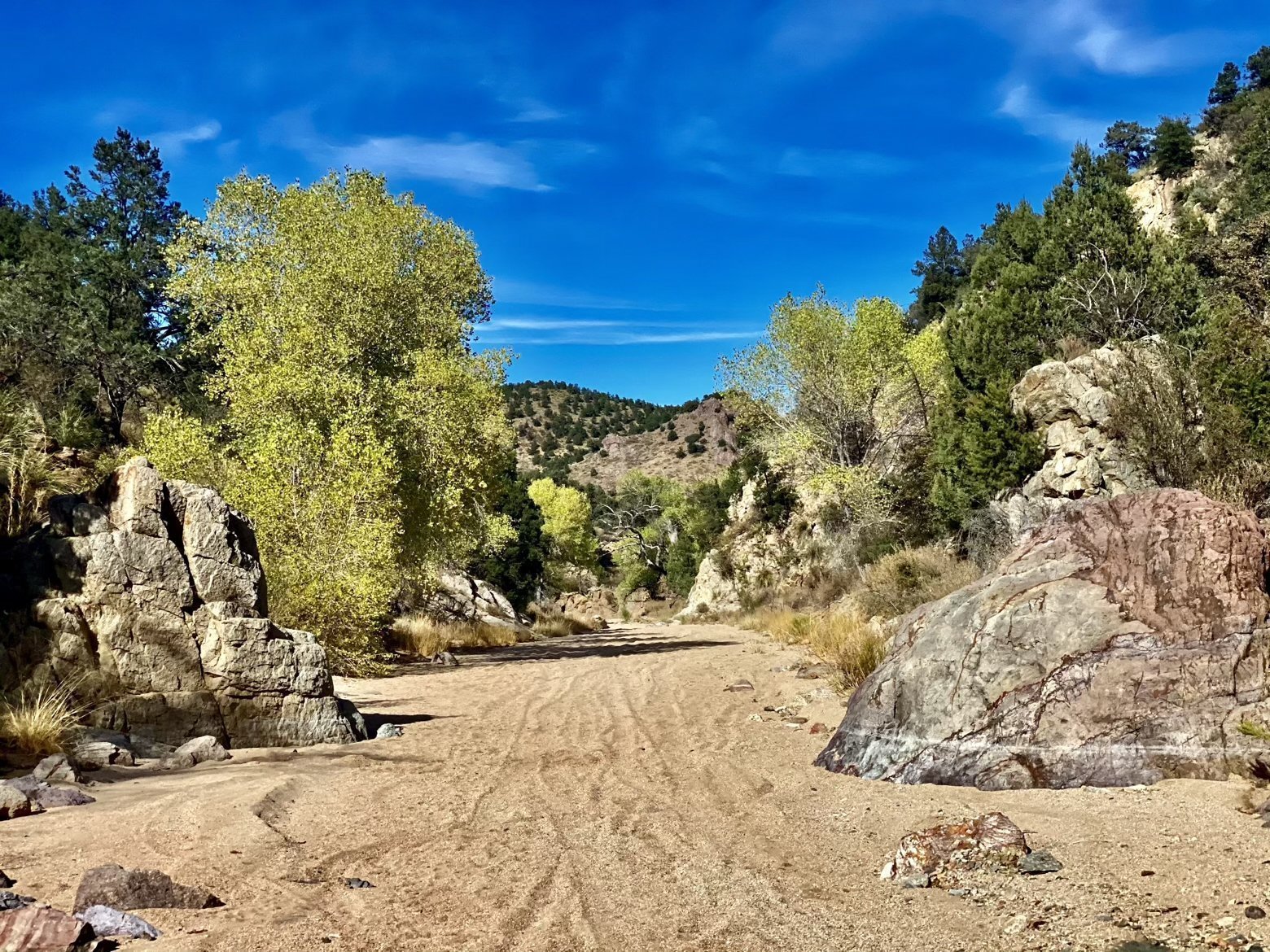 Following all of our good fortune and a final day off, it was time to move on down the trail. The stripe of paved highway that led west from Silver City was our trail for more than a dozen miles, each car waving as it zoomed past. We shed no tears when the trail finally diverted from the asphalt onto a gravel road that became more and more sandy the further we followed it as it snaked ever deeper up a narrowing canyon.
We weren't the only ones following it, apparently. Some of the clearest black bear prints we've seen in all of New Mexico were leading the way like organic trail markers in the sand.
As the sun began to set and the light began to dim, we crossed a small fence line to join a small bunch of friendly cows who were happily grazing on the small tufts of grass scattered among the trees. Beneath the rising moon, we settled in to our home for the night with our cow friends doing the same only 20 feet away. There was only one last thing to do before waving goodbye to yet another day: to celebrate the last day of October with an annual reading of The Legend of Sleepy Hollowbefore drifting off to sleep.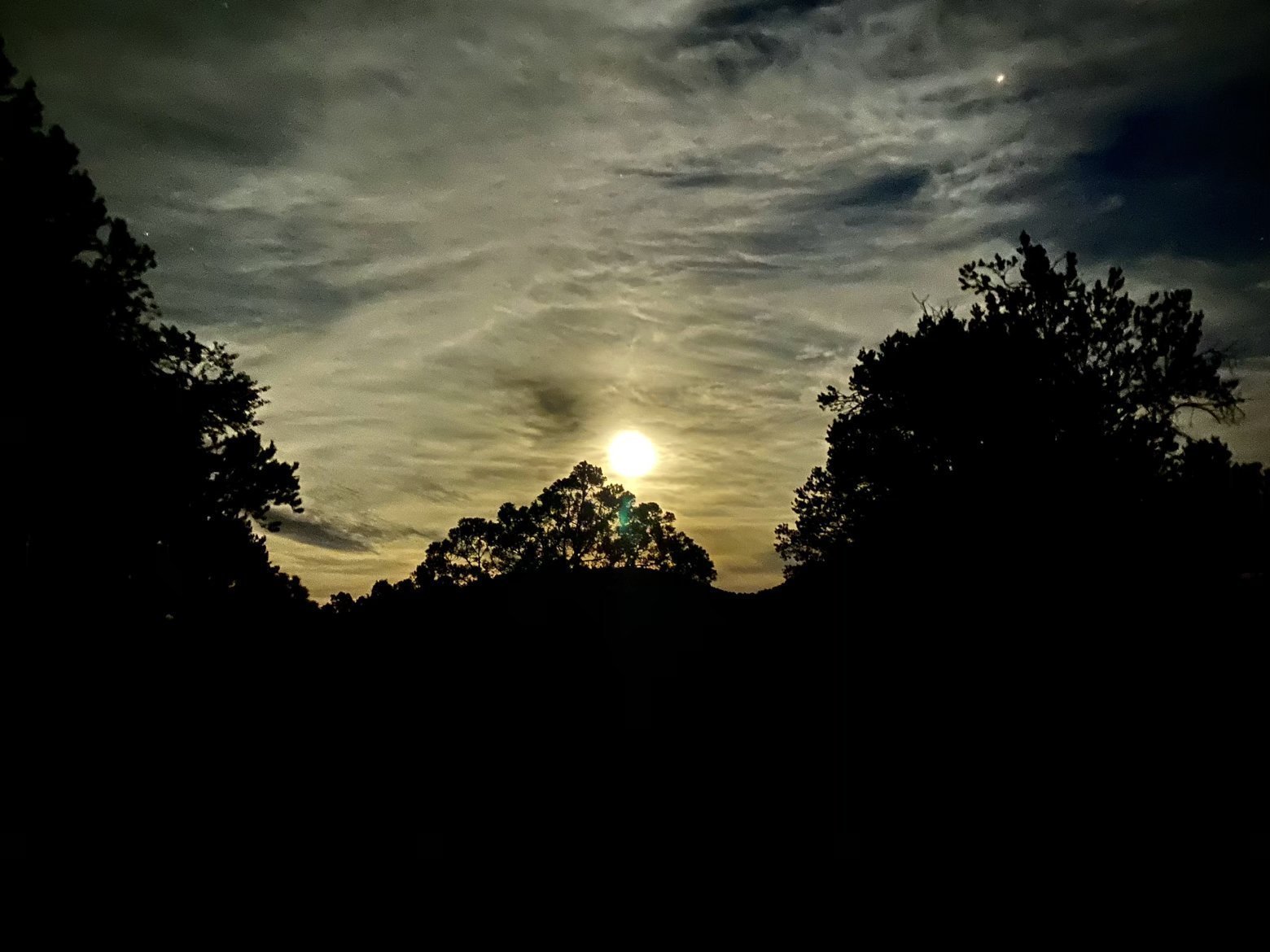 Latitude/Longitude: 32.69432,-108.53165