Date: 7/12/22
Miles: 17.4
Total Miles: 138.6
Morning broke with a chorus of crashing water and overlapping birdsongs, melodies and harmonies, calls and answers. To hear these as the first sounds of morning, and then to open your eyes to the scenery you'd almost forgotten in your dreams, is very nearly the definition of waking up in paradise.
Today's challenge was becoming a familiar one: another lengthy ascent to a pass followed by an equally lengthy decent. This time, it was up to Muir Pass, the fourth high pass of the trail.
Climbing out of Evolution Valley in the early morning, only one side of the valley had been awakened by the sun, making for some unique photographs.
Mountains ringing the edge of Evolution Lake posed in the waiting mirror of the water's surface, the reflection flawed only by the tiny ripples of dozens of fish jumping to catch a mosquito breakfast.
On what is now my third visit to the Evolution Basin, I was finally seeing it in all its beautiful detail. In 2015, a smoky haze from a nearby wildfire in Kings Canyon National Park cast an eerie pall over the entire area. In 2016, the trail was snowbound for miles on either side of Muir Pass, covering even the lakes that would otherwise be on full display. Today, all the mysteries of the past were finally revealed.
A steady stream of fellow hikers flowed in both directions—another twist on visits past—owing to the peak of hiking season we currently find ourselves in. The endearing upside of exchanging even a brief 'hello' with each passerby, was how uniform every one of them was in their amazement at this place we all shared for the day. One look at some of the scenery, and it's easy to see why.
Reaching Muir Pass, complete with its stone emergency shelter—another in a seemingly endless string of homages to Mr. Sierra himself—you get the sense that you're far from skin deep into the wilderness. 13,000-foot mountains tower overhead. Sunlight elicits tiny sparkles from the surface of lakes the color of deep sapphire. And the winding approach from either direction leaves the impression that when you do finally reach the pass, you've not so much arrived as you have discovered this distant place.
The trail eventually called us to follow it further south, revealing another mesmerizing lake, another bubbling stream of rushing water, another citadel of toothy granite keeping watch over it all.
There was even a token patch of lingering snow, and a marmot kind enough to pose for a photograph before diving into his rocky home with a million dollar view.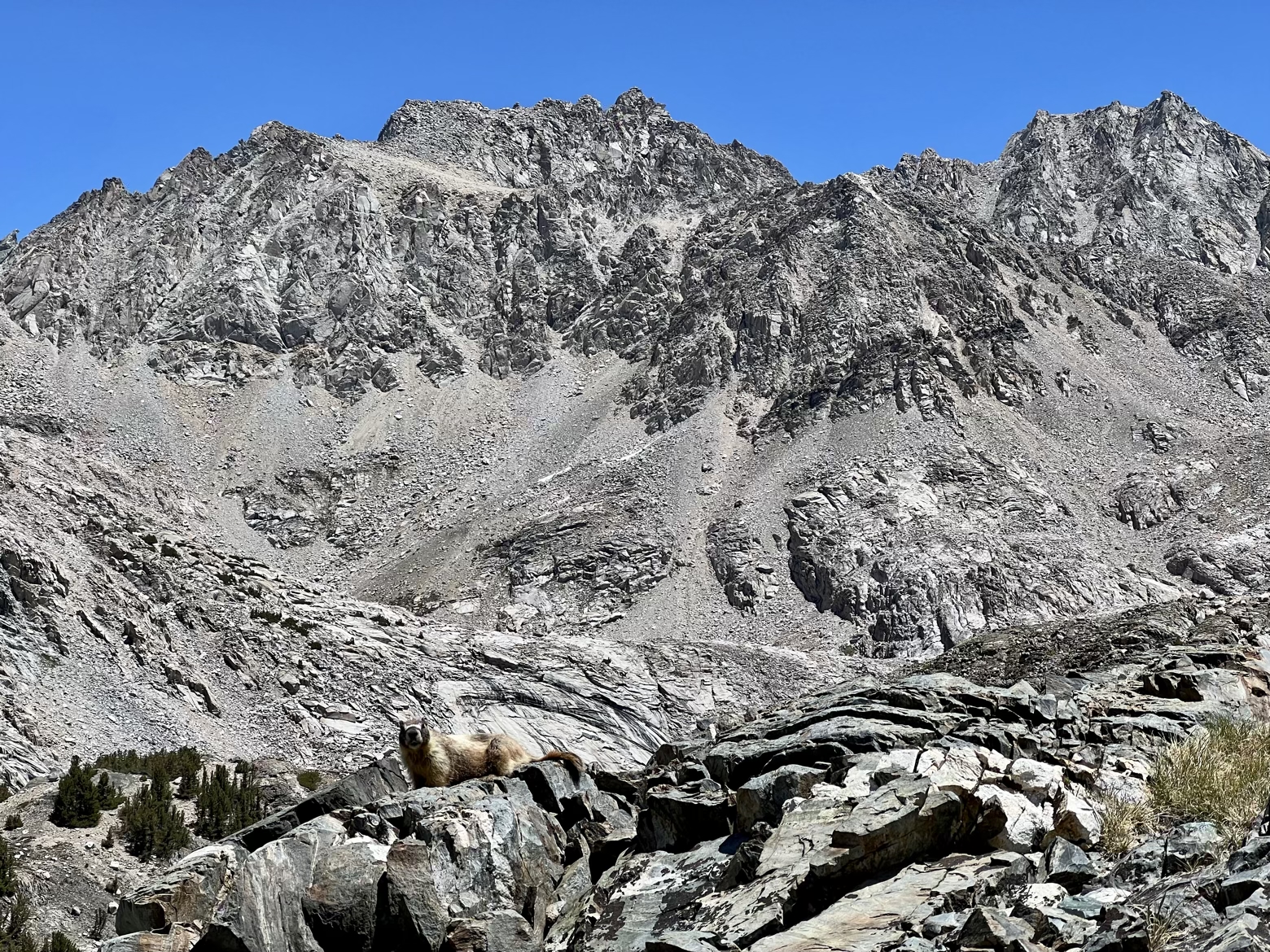 The pass behind us, it drifted further into the rearview mirror and higher into the impossibly blue sky that is a fixture of the High Sierra. Looking off into the distance of the descent that would occupy our afternoon, we wondered what those white tufts of cotton were that had floated into view. Clouds. How easily we forget here.
Latitude/Longitude: 37.09325,-118.57763