Date: 8/12/21
Miles: 16.2
Total Miles: 180.0
It's a habit I ought to break. That's what I told myself hardly an hour into our hike after returning to the trail following a much needed day off. The man who'd delivered us back to the string of white blazes beckoning us ever northward was Rick Swanson. He and his partner Tim own and operate the Swanson Inn, an idyllic Vermont inn just outside the town of Waitsfield that sits a mere 5 miles down the mountain from where the Long Trail crosses Appalachian Gap.
The stay itself had been the definition of restful, but what stuck with me was the affect of Rick as he wished us luck and waved goodbye. From the beginning, Rick—an infectiously jovial sort—paints the picture of someone who makes the conscious choice to see the beauty in the world at every turn. I doubt "fine" or "okay" would even dare to enter his vocabulary. Relentlessly upbeat, optimistic, and choosing happiness as his default state of mind.
And it was exactly that which had me thinking, realizing that I couldn't say the same for myself. With too little attention paid towards gratitude for how good my own lot in life is, I often find my own default state of mind to be littered with "okay"s and "fine"s. Not bad, not great, just kind of floating along. Indifferent. Having known Rick for only 36 hours, I can't fathom him giving himself over to indifference for a single moment, not with so many reasons, big and small, to choose happiness instead.
The theme of indifference wasn't just bouncing around in my head, it was seemingly staring back at me with every step. Our desire to walk on two feet and not on all fours be damned, the trail today was entirely indifferent to our preferences. Slabs of bedrock, tangled mazes of slippery roots, quagmires of mud, and an unrelenting roller coaster of ups and downs weren't sinister or even benign, they just were. And whether our progress was fast or slow, they all remained exactly as they always do: indifferent. On a sunny, hot and very humid day, it was enough to remind me how much worse things could be when the indifference of the mountains combines with the indifference of weather.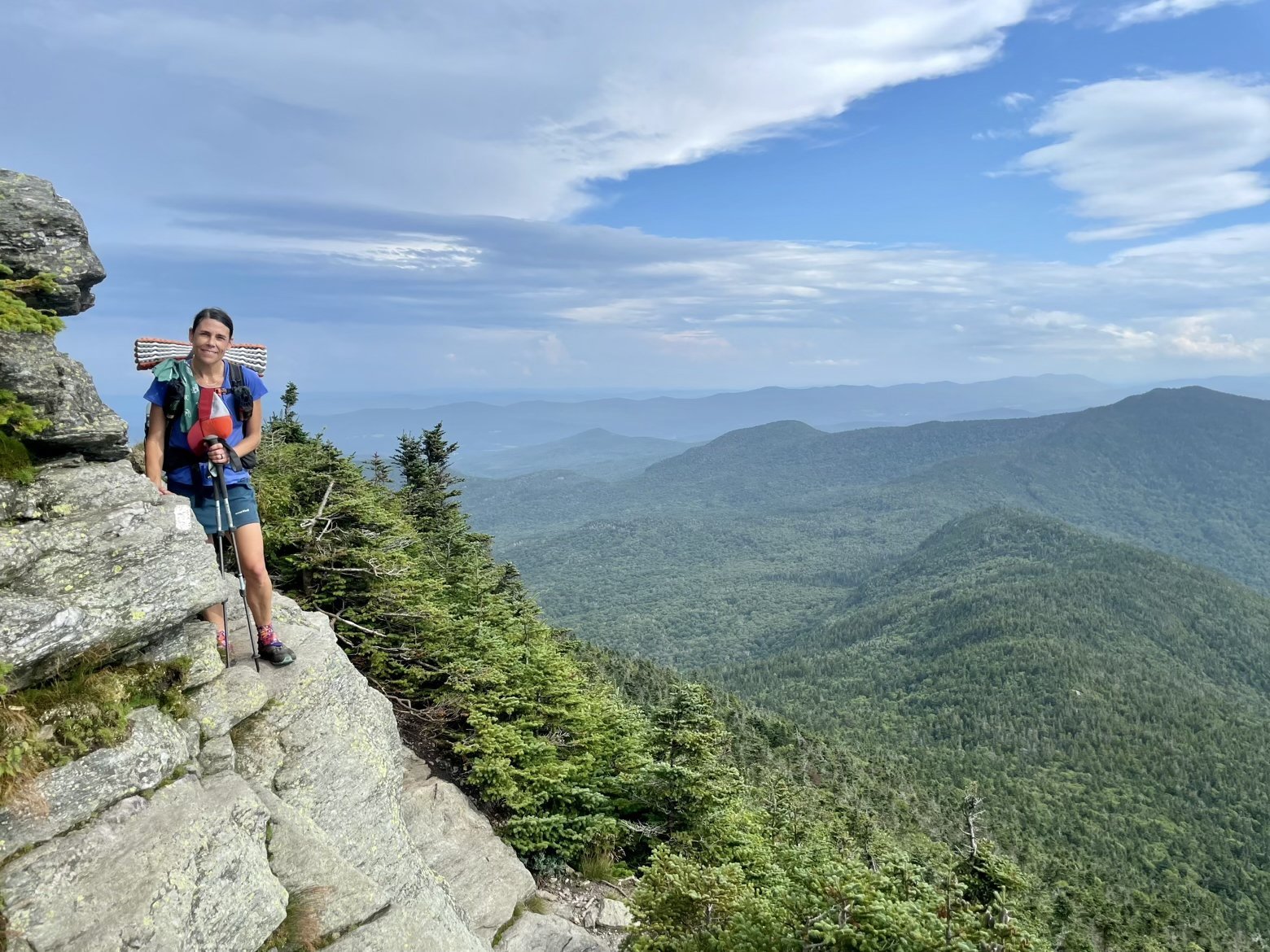 One brutally steep ascent, followed by an equally brutal descent, all over slippery wet slabs of bedrock flecked with bright green dots of moss. That was the cadence of the day. Six and a half hours into the day, we'd managed a mere 10 miles, but felt like our pace had been surprisingly quick given the terrain. There's no racing through sections of trail like today, not when ladders and even a miniature rappel are involved.
But if any bonus had come from the slowed pace it was that the weather that had been indecisive until the early afternoon finally made up its mind to blow off the remaining clouds and let the sun shine for good. The timing couldn't have been better. Ascending one final large climb, we arrived on the summit of Camel's Hump—Vermont's 3rd highest peak—with a merciful breeze and views in all directions. Six people had been enjoying the summit when we arrived but minutes later we had it all to ourselves. I'd like to think it wasn't because of how badly we smelled just one day removed from laundry, but I can't rule it out.
The worst part about reaching the top of Camel's Hump? The nearly 4,000 feet of descent on the Bamforth Ridge standing between you and the lowest point of the entire trail that await you like some sick, twisted consolation prize. Making matters worse, so rolling was the descent that by the time we'd reached a level spot to pitch our tent some 2,500 feet beneath the summit, we'd somehow managed to do another 600 vertical feet of climbing along the way. There, amid the reddening glow of a sunset filtering through the hemlocks, we'd finally reached the end of a day that had begun 12 hours earlier, feeling anything but indifferent towards the prospect of sleep.
Latitude/Longitude: 44.35963,-72.86904