Date: 7/17/16

Miles: 19.1
Total Miles: 1280.1
Some days everything seems to go right, and this was one of those days. Yesterday's good fortune of spending the night at Nancy & Terry's cabin in the woods was perhaps the most relaxing and satisfying surprise of the entire trail thus far and the trend only continued this morning when we were greeted with coffee, pancakes, bacon and eggs for breakfast. By 8:00, Beardoh, Sweet Pea and I had been dropped off back at the trail and were on our way knowing that another road crossing awaited a mere 4 miles away.
With an evening of relaxation so fresh in our memories, it never dawned on us that we would be in for yet another treat in such short order. Yet, there was the famous blue dinner plate just before the road announcing, as always, that "Coppertone is here!" Sweet Pea and Beardoh continue to keep their streak alive, having seen Coppertone at all (six?) of his trail magic stops. Only an hour and a half after our big breakfast, finishing one of Coppertone's trademark root beer floats, this time with cookies 'n cream ice cream, was not a challenge.
It's hard to find fault with any day that begins with so much kindness, and by the time we'd added on perfect temperatures, a steady breeze, and easy terrain, it became nearly impossible.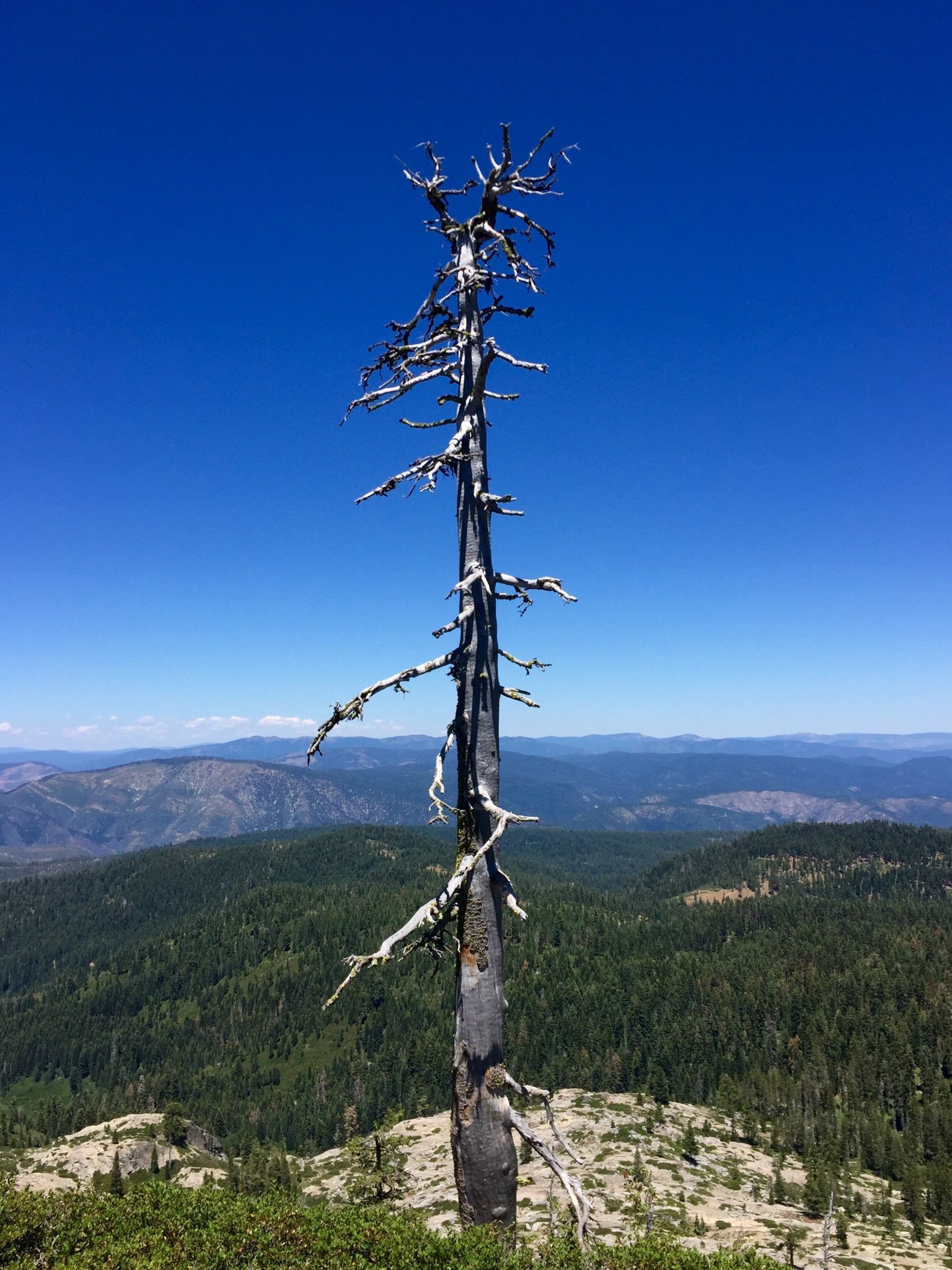 There were wildflowers beginning to bloom in such numbers that the hillsides were cast in shades of purple, yellow, and orange, and stands of dead trees pointed to the sky like gravestones, their trunks now a dignified silver.
The final few miles began our plunge down towards the town of Belden, deep in the river valley below. Camped on the only flat spot for miles around—a 6' x 6' square, at that—it's a good thing that Beardoh and Sweet Pea sleep in hammocks. Tomorrow, it's only a few miles to finish the descent before setting to work on our usual list of resupply and town chores.