Date: 7/11/16

Miles: 15.5
Total Miles: 1164.5
Of the three historical signs I passed this morning commemorating various points of interest around the crossing of Donner Pass, not one of them mentioned the infamous and ill-fated Donner Party. And rather than rehash the gruesome story of their fate in my mind, I stood for a few moments along the now quiet Highway 40, the modern Interstate 80 bustling with the sound of traffic just a few miles to the north, thinking about the significance of this place to those that traveled here in the early-to-mid 1800s. Among stands of trees and mountainsides of broken rock, I can only imagine the hardship endured by those that made it this far in their journey to a new and prosperous life in the American west.
Having had the benefit of traveling along a well-designed though strenuous trail, it's hard to wipe the trails, roads, and signs of human activity from my mind to conceive of how this land would have appeared to a pioneer arriving with a family and a wagon full of all their worldly possessions. Foreboding. Terrifying. Impenetrable. All would be understandable, if not completely accurate. And standing before them is this one final challenge forming the divide between an old life and a new one. I'm fortunate that not nearly so much is riding on my ability to cross this pass. In my case, it's more like the divide that separates my stomach from its next cheeseburger....and fries....and pie and ice cream.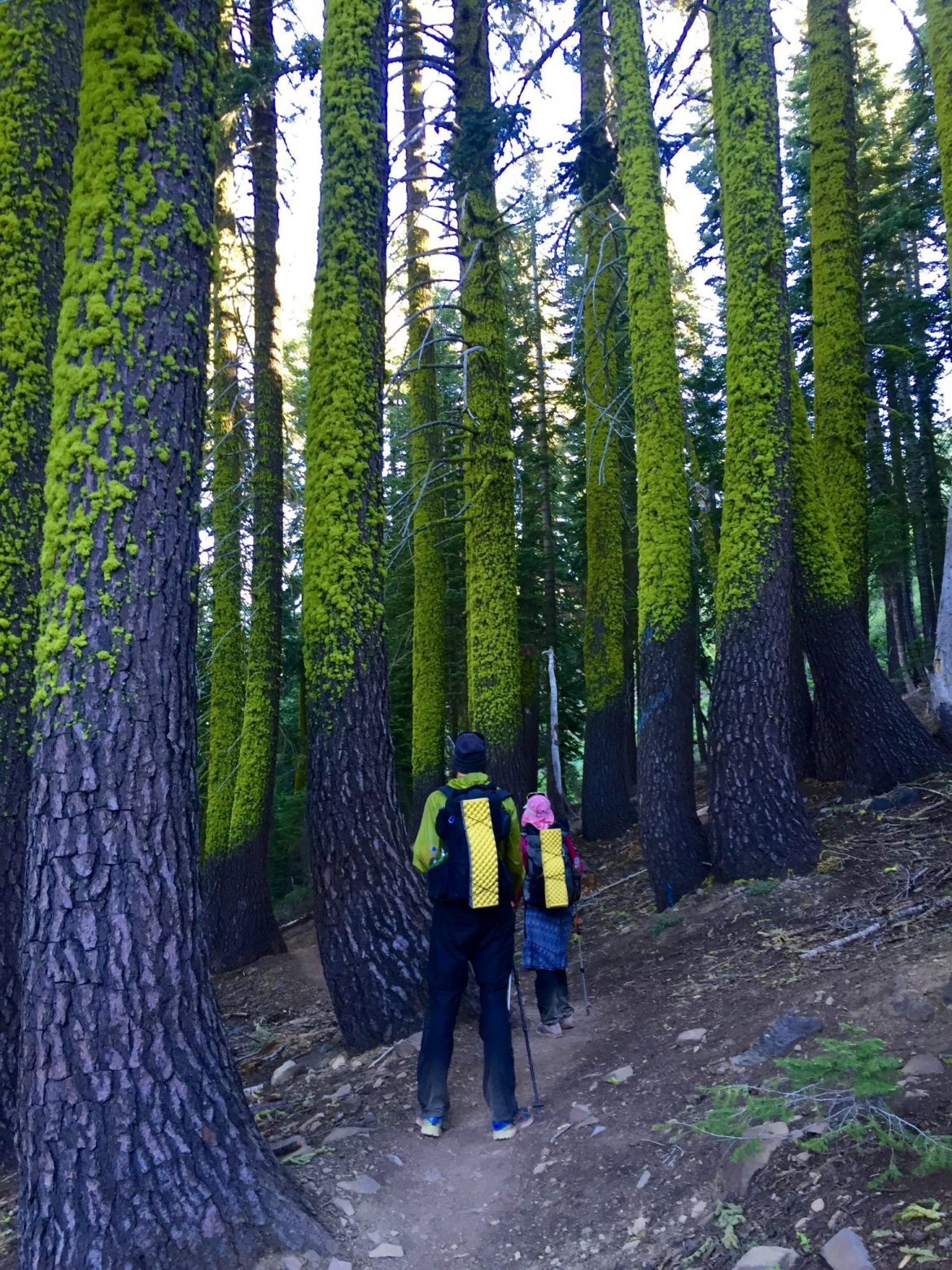 Not far down the road to the west of the pass, we walked to Donner Ski Ranch where all thru-hikers receive a free beer and most are more than happy to follow that up with a healthy order of food from the grill. Beardoh, Sweet Pea, and I were no exception. The upshot to a gluttonous lunch of burgers, fries, fried mozzarella sticks, strawberry rhubarb pie and ice cream is that you've made a small dent in the daily calorie deficit you're constantly running. The downside? Sleepwalking the hours of the early afternoon with a food coma is the price I seem to pay every time.
The occasional pop of color supplied by the emerging wildflowers was enough to snap me back into the land of the living from time to time as the day wore on after such a lengthy and leisurely lunch. At day's end however, I was reminded of that most enjoyable of wilderness challenges that I'm certain we share with those bands of early pioneers: mosquitoes. It's easy to forget them when they haven't been a significant presence for a couple of days, but oh how quickly you can be reminded. Can you count all 19 on just my feet?