Date: 5/23/16

Miles: 23.7
Total Miles: 430.4
So here I am, after all the other hikers have gone to bed, tending to the dwindling campfire on the beginning of what promises to be yet another cold night. It's blogging by firelight rather than headlamp for a change. I can't remember the last time I had a campfire on three consecutive nights on a trail—I don't recall having that many on the entire Appalachian Trail—but everyone agrees that having them these last few nights has been a welcome treat.
Building the habit of writing this blog each evening has given me a chance to think back and reflect on the day in a way that I rarely pause to do at home. I hope it's a habit that I can continue once the trail is over, even if only to take a few minutes to appreciate the highs and lows of each day.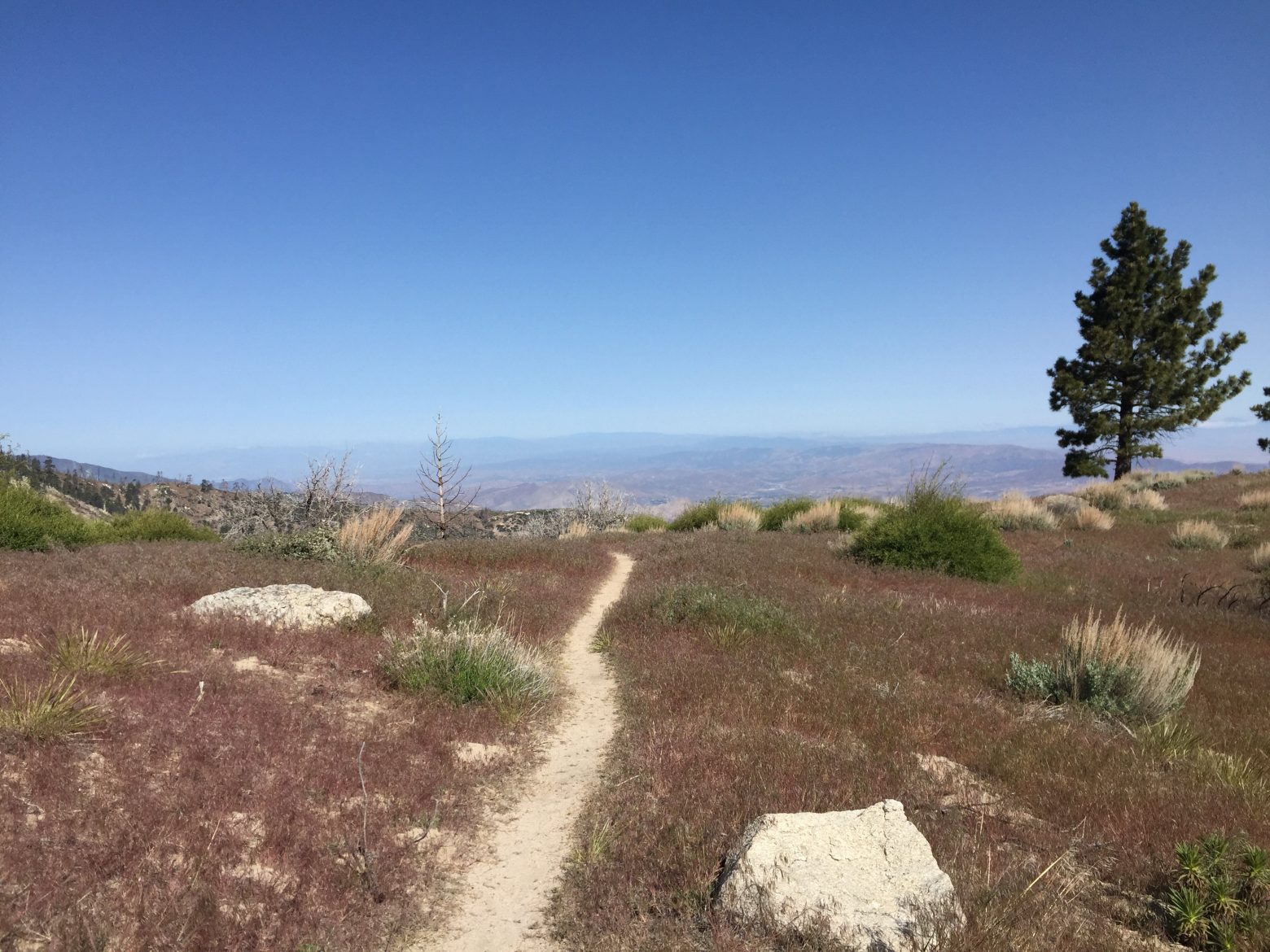 First off, a quick correction regarding poodle dog bush. I posted the wrong photo in my post a few days back. The one below is the actual little bugger. It still looks more like a mini Joshua Tree to me, but these guys were everywhere today and since they stink like pot, you can always smell them before you see them. The trip today took us through one section that has had an alternate for several years simply due to the thickness of poodle dog bush on the PCT following a wildfire several years ago. All reports said the alternate was no longer necessary, but we still had to do the occasional contortion to avoid them.
Around the midpoint of the day, the trail crossed a road with a fire station. Not only was it the last water source for 18 miles, but the paved parking lot was the perfect opportunity to dry out gear from last night's frost.
Just minutes after heading off from the midday break, we stumbled upon a horned lizard that XC managed to pick up. Like a miniature dragon, he was covered in an almost armor-like skin with colors that made for flawless desert camouflage. Unless you detect their movement, you'd stand only a very small chance of seeing one. Docile as he was, he didn't even seem to mind being held for a minute or two.
The upshot of the cold nights has been that the high temperature over the past few days has only been around 50 degrees, making for pleasant walking over what normally would be searing hot trail. Not long after the great horned lizard sighting, we crossed paths with a southbound section hiker who was performing a bit of unconventional trail magic. He asked us our names and hometowns and then gave us a choice of either a small bag of Cheetos or some candy. It's the first time I've ever received trail magic from another hiker in that fashion.
There was one more first this morning. Many people occasionally listen to music while hiking, but in all my trails I never have. As we spread out to hike, I put in my earphones and queued up a couple of songs but since I prefer to be able to hear the sound of the wind, birds, and anything else (including rattlesnakes!) I switched over to an audiobook recording of All the Light We Cannot See. (You know what this means Emily—our little long distance book club for two is underway!) I listened to a couple of chapters as the miles slipped by and I have to say I really enjoyed it—both the story so far and also still being able to hear the sounds of the trail.