Date: 9/14/20
Miles: 21.1
Total Miles: 1440.5
How do you know where you're going? It's a pretty simple (and important) question, and one that's among the most common we hear (perhaps second only to "Have you seen any bears?" Answer: yes). So, here goes—a crash course in finding your way along the CDT, with something to keep both the new school and the old school happy.
When trails are distinct and well traveled, life is good. Think: your local nature path with bright signage. Out here, something like this is about as good as it gets navigation-wise, where it's smooth sailing and your brain switches comfortably into auto-pilot:
On the other hand, remember this one? Layered on top of the navigational challenge of following a trail buried entirely under snow, there's the added fun of deciding how the snow conditions effect your ability to follow the actual route safely...assuming you can find it. If the trail were a high angle exposed traverse rather than a flat snowfield like this one, following the route to a tee may not be the smartest plan.
Of course, there's always the option of just following the local wildlife and hoping they know the right way...
But when all else fails, relying on some helpful tools is probably the best way to go. Things have changed a lot in the realm of orienteering and general navigation with the advent of GPS, and it's hard to beat the ease and speed of decision making it can afford. These days, there's an app for everything and long distance hiking is no exception.
If you're sticking to established long trails, Guthook Guides is the place to go. With GPS tracks for a growing list of major trails both in the US and abroad updated annually and including thousands of waypoints marking everything from water sources to unsigned trail junctions (there are lots!) to town information, it's what every thru-hiker relies on nearly without exception.
As hammockers, we also tend to be particularly interested in whether the area we're targeting for the end of the day is likely to be forested or not. That's where the background map shown on screen comes in handy. See the green blobs on the USGS background layer in the screenshot below? They roughly delineate areas that are treed, making life easy. And since other background layers—such as a satellite map—are available to download for offline use, we can toggle to those for a second opinion when needed.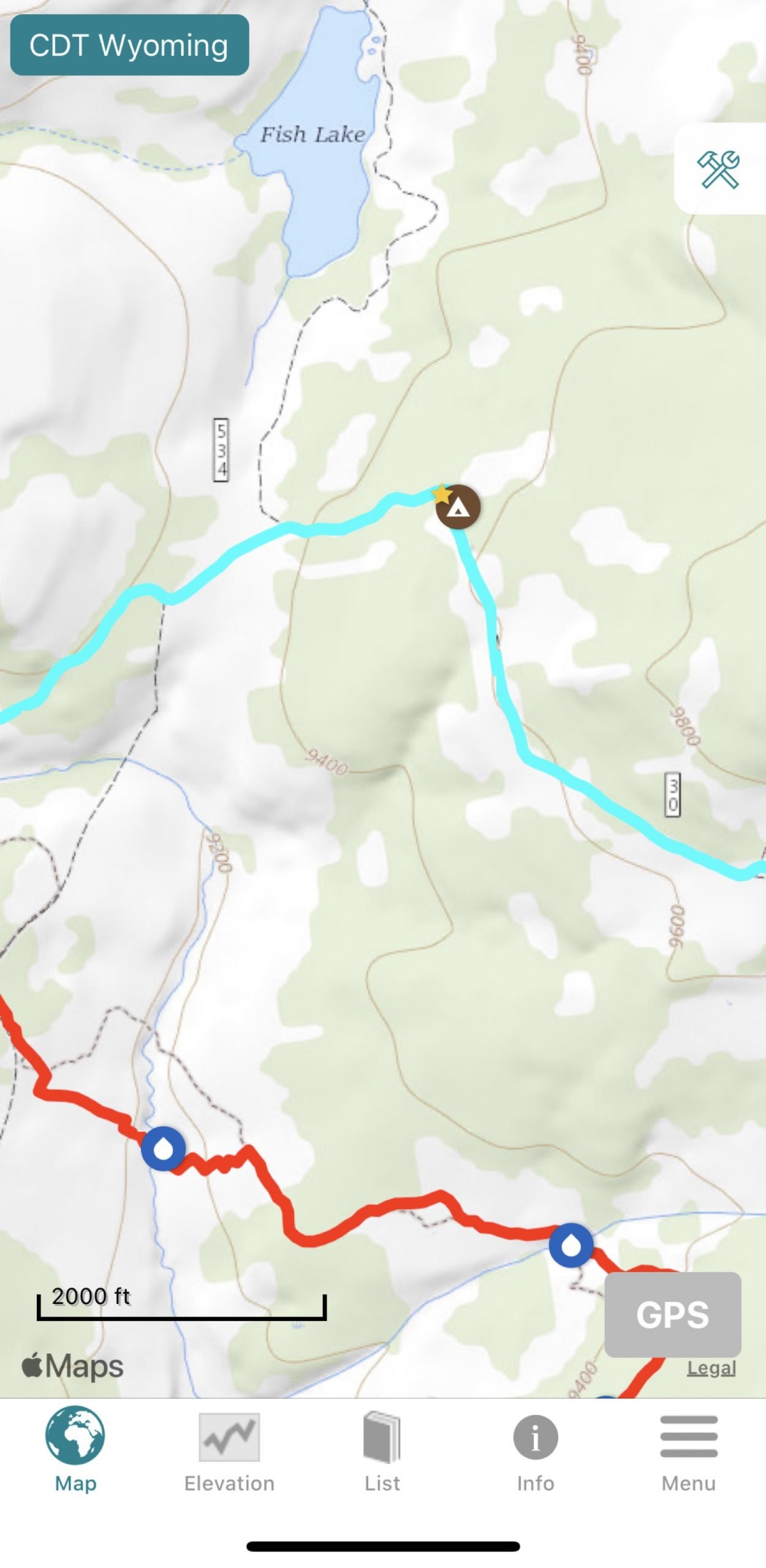 Is it ever wrong? Absolutely. So much of navigation in general is about translating what you see on the map into a mental picture of the landscape around you, or vice versa. To do that requires some basic skills and a lot of experience, but perhaps most importantly a keen awareness to taking in what you see. In our case, that especially means paying attention to whether the green areas on the map match with the real world.
A few examples: at what elevation do the trees tend to disappear? It might be green, but are the contour lines too close together and thus too steep to reasonably hang a hammock? Are the green areas live trees or dead trees (ahem, Colorado)? What kind of trees do I see in the green area—are they all 3" diameter lodgepole pines repopulating a burned area? Good luck hanging from those. And speaking of burns, how do I know if the green shading has been updated to reflect that fire from two years ago? Short answer: you don't.
The second of the three navigational tools we use is another new school app called Gaia GPS. Rather than being specific to long trails, Gaia can be useful for backcountry adventures anywhere, and on this hike it's been particularly useful for off-trail navigation whether on an alternate route or bushwhacking x-country without a trail of any kind. Twenty-four hours ago, we used it for both of those flavors of hiking as we made our way through this spider's web of options:
There's even a handy way to show blue distance markers on existing GPS tracks, and the comforting giant orange arrow always answers the all-important question of "where the hell are we?"
But given my now ripe old age of 40, I still haven't lost the soft spot in my heart for old school map and compass navigation. GPS may be undeniably faster, less complicated, and expose more detailed information at a glance but when iPhone battery wanes it's hard to beat a map. That's where the free CDT mapset, curated by and courtesy of Jonathan Ley, comes in.
We carry this in both digital and paper form, and when paired with a compass it opens up a much broader perspective on the terrain we're passing through including details on potential exit routes should we ever need one. Updated each year, they also contain a wealth of helpful information about the state of certain sections, possible alternates and why you might want to take them.
And somewhere in all that you have to remember to pull your eyes up from the apps, away from the maps, to look up and see what's right in front of you. On route or not, there's some beautiful scenery out there and if you're not going to stop and enjoy it...who will?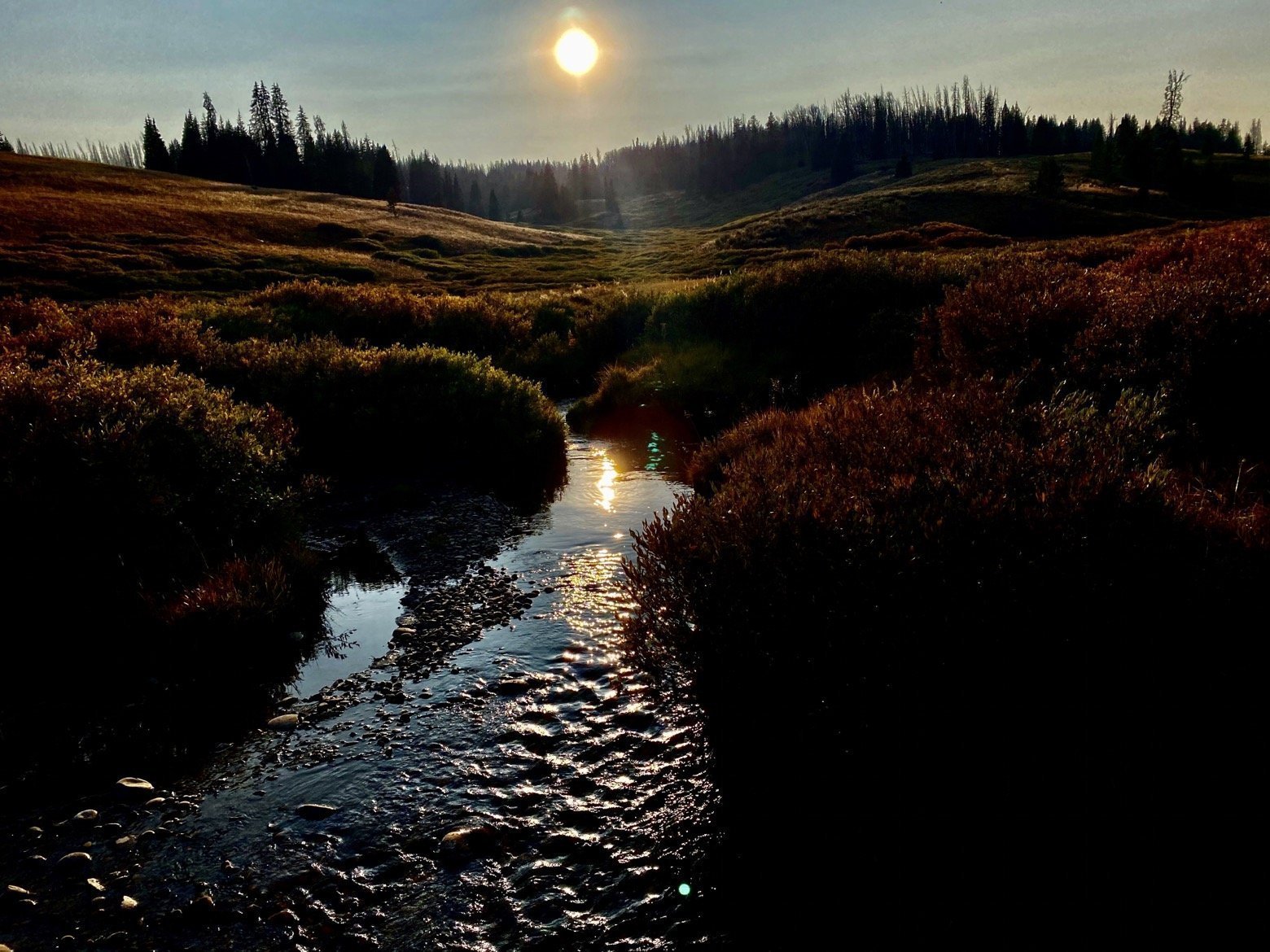 Latitude/Longitude: 43.55237,-109.97415