Date: 8/7/22
Miles: 19.5
Total Miles: 25.0
Close your eyes and picture the Pacific Northwest. Tell me what you see. Gray skies? An unshakeable mist? Maybe bright green sword ferns, super-sized trees, and fountains of Starbucks coffee on every Seattle street corner?
Having lived there for the better part of 20 years, I can say that what's in your mind's eye isn't terribly far off, at least during the winter months. All except for the fountains of Starbucks coffee—that's not a thing, but it certainly should be now that I think about it.
But for as gray and damp as the winter can be, the payoff of living in the Pacific Northwest is that when summer at last arrives, it brings with it predictably sunny skies and blissfully perfect temperatures the envy of anyone who doesn't already live in San Diego.
Several thousand feet higher, the mountain playgrounds that surround the region are much the same, drawing everyone outside as if we're all on a collective and months long outdoor field trip. Natives will tell you it's the bane of living here—wrestling each other for the solitude of wilderness. But the other side that's often overlooked is how that desire to be out in wilderness unites us. The common cause for which many of us moved here in the first place.
Hurtling along the Timberline Trail to where it finally bid adieu to the Pacific Crest Trail, throngs of fellow hikers—thru-hikers, day hikers, and overnight backpackers—filed past, all united by the same tiny ribbon of dusty volcanic ash. With each step, tiny mushroom clouds explode upward as though we're all doing our best Pig Pen impersonation.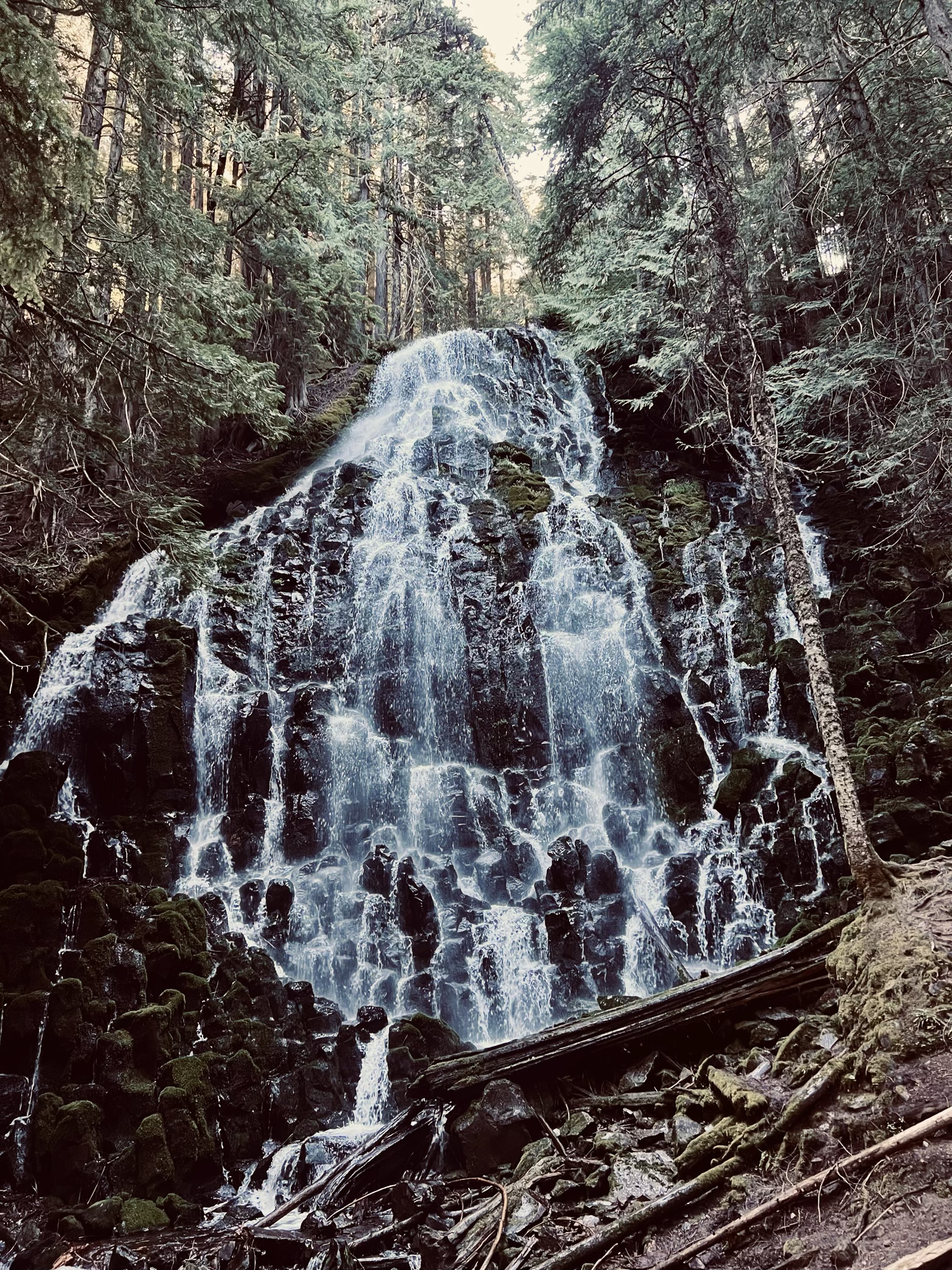 Turning back into a dense stand of trees, the dust relented in favor of a carpet of fir needles leading to a growing roar of white noise. Cascading like some great watery chandelier, Ramona Falls tumbled down a wall of rock nearly the color of black. The dark forest surrounding it had a sort of reverent hush to it that reminded me of sitting in a church on Christmas Eve, as if to align all of your senses to the spectacle of the falls more acutely.
After following the idyllic creek that drains Ramona Falls, we soon were rising on a lengthy series of switchbacks and ultimately onto a forested ridge separating two deep glacial drainages that felt like walking along the edge of an axe blade. Sweeping views of Mount Hood's northwest face and the Sandy Glacier were on full display beneath the overhead sun of high noon.
But it wasn't only the mountain that was now front and center. Vast thickets of trees the color of bone bleached by the sun clashed like an opposing army against the emerald green of the forests surrounding them. Into one former wildfire burn we'd go, only to exit back into the respite of shady green stands and start the cycle anew.
Far in the distance, the faint outlines of familiar giants emerged on the horizon. Often referred to—along with Mount Hood and Mount Jefferson—as the Guardians of the Columbia, Mount Saint Helens, Mount Rainier, and Mount Adams were like sketches of their real life selves. Rising more like Ghosts of the Columbia than Guardians, it was comical how barely visible they appeared considering how incomprehensibly massive they are up close.
Burn areas alternated with meadows filled with dreamscapes of brightly colored wildflowers, some so whimsical they look like they've been torn straight from the pages of Dr. Seuss' The Lorax.
Perhaps the greatest irony of passing through so much forest affected by wildfire is what those forests are juxtaposed with: gushing creeks, fields of snow, and massive glaciers hanging high above. Fire and ice, side by side, one helpless to extinguish the other.
Of course, there's one additional wrinkle to all those glacial creeks, the engines that drive perpetual change in the land that spills down from Mount Hood: crossing them. Carrying so much rock silt in suspension that it colors the water the shade of chocolate milk, it's impossible to see what secrets might be hidden beneath the water's surface. Added to the speed of their raging current, each crossing is an exercise in strategy, and a lesson in how to use trekking poles as an underwater probe. All to make it safely across, poised to do it all over again at the next angry torrent.
Latitude/Longitude: 45.40024,-121.6764