Date: 7/6/18
Miles: 21.3
Total Miles: 55.7
Up the stairs to the fifth floor, a collection of Impressionism, surrealism, and cubism masterpieces adorns the starkly white walls of New York's Museum of Modern Art. Nestled among Monet's famous Water Lilies triptych and Pollock's massive drip painting canvases hangs a work of a very different kind, scarcely larger than a piece of paper. Unassuming in its size if not its content, Salvador Dali's masterpiece The Persistence of Memory is a puzzle of eccentricity at the intersection of dream and reality. Owing to its modest size, standing in front of it is an act of intimacy that invites the viewer to examine its bizarre landscape, melting clocks, and the elasticity of time.
Short of a flight to Manhattan to stand in front of it all over again, no other experience recreates that experience for me quite like being on trail. Pondering my place in time and the constantly changing border between my own dreams and reality is what has kept drawing me out to these places since I was a small child. Admiring the golden hues of morning sunshine on the log I now stepped across, the literal connection to The Persistence of Memory was also obvious—nearly everywhere I looked on this now very familiar trail was a memory as tangible as such things can ever be.
As the dawn of our third day gradually gave way to a blue sky unbroken by clouds, the muscle memory from those past hikes also began to replace the weariness that had clinged to my legs the last two days, like a fever finally beginning to break. Arriving at Indian Henry's Hunting Ground this morning, a vast meadow full of glacier and avalanche lilies, I could hardly wait to enjoy the parade of sights on this stretch of trail as it repeated its sequence of descending to a river crossing and climbing to an incredible alpine garden, each different from the last.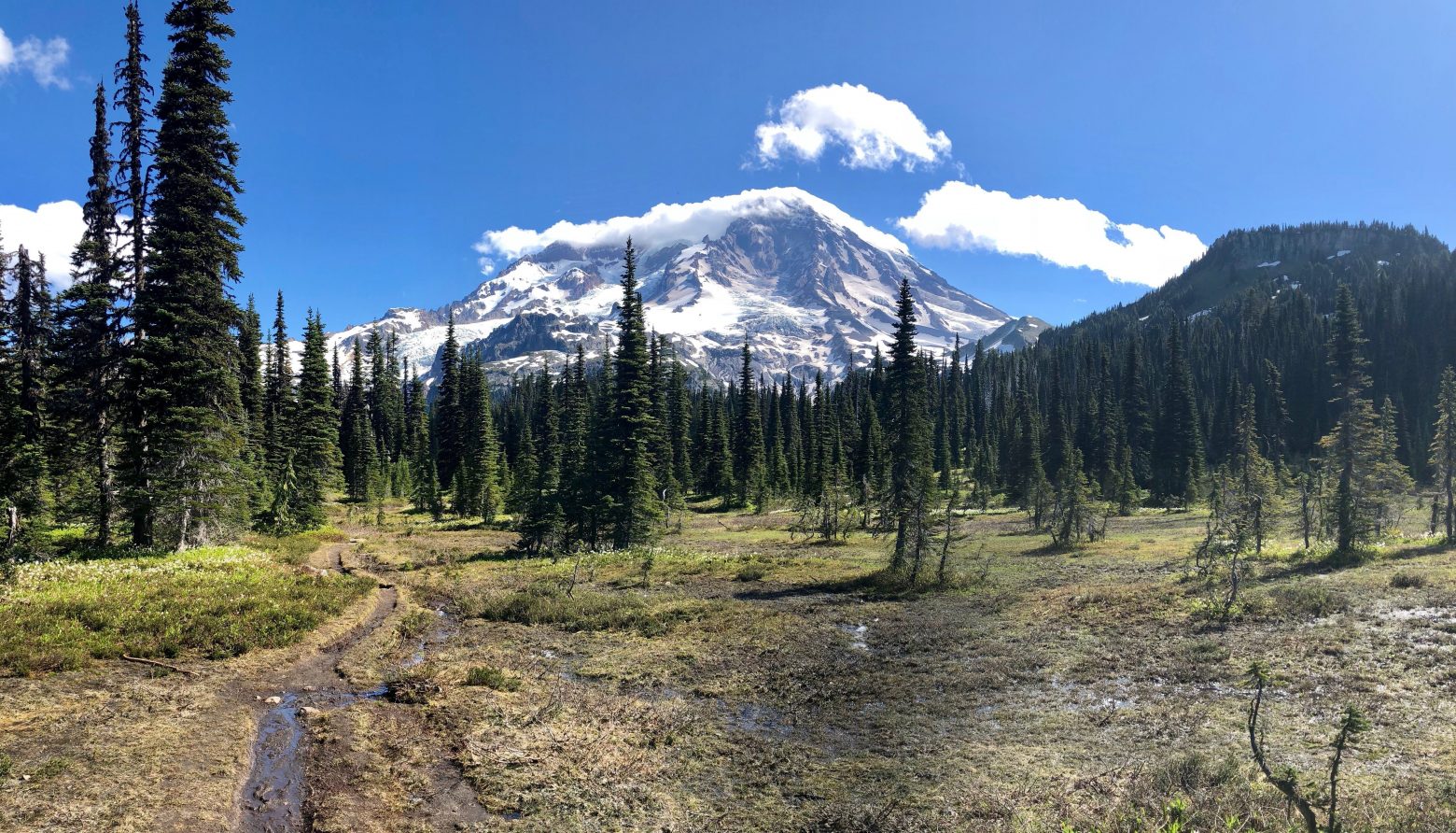 Even the low points aren't lacking for excitement, including the 150-foot long bridge over Tahoma Creek that sails nearly 200 feet above the river below and bounces with every step.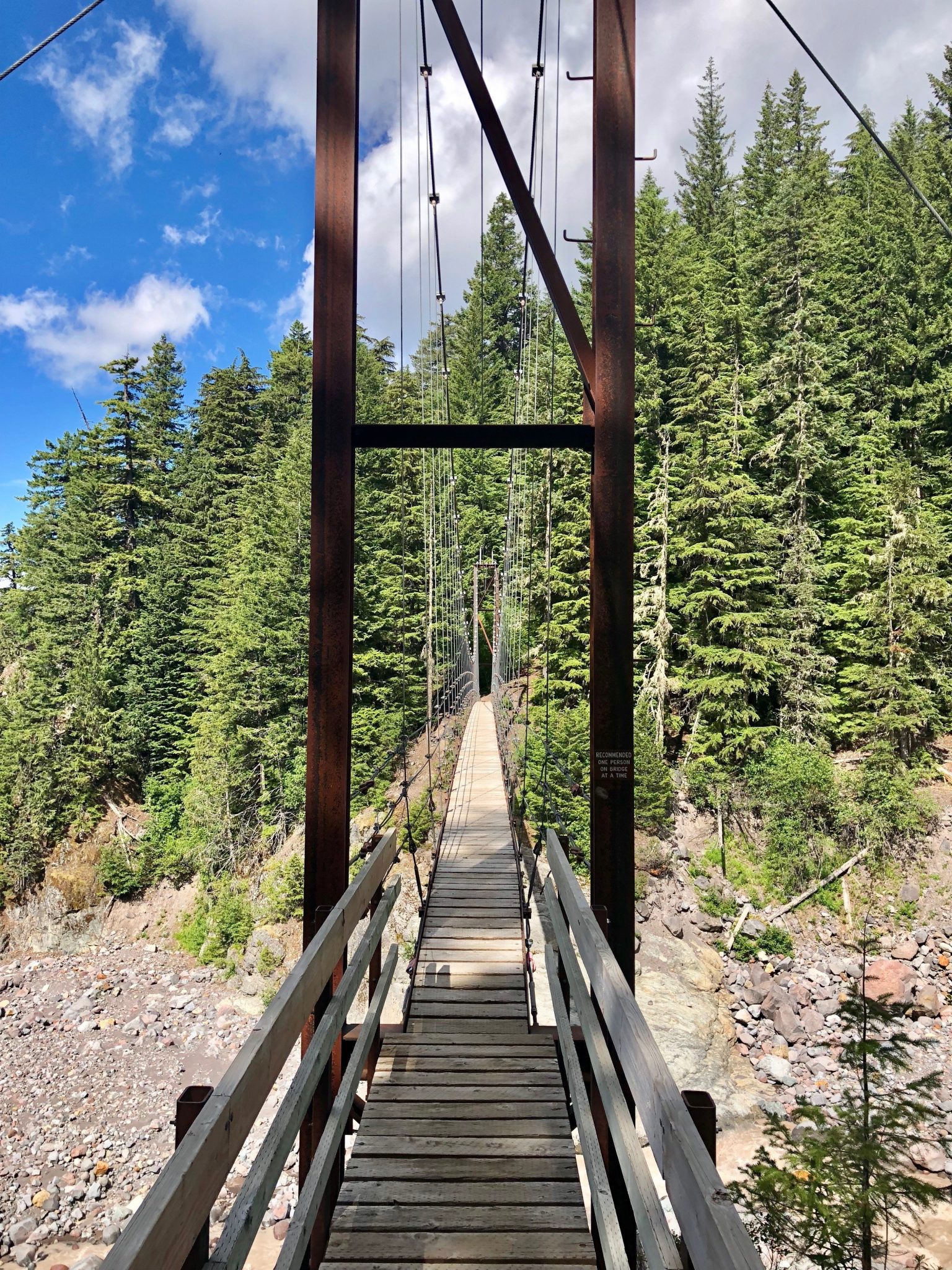 If there was anything that could even partially put a damper on today's nonstop highlight reel of scenery it was the sinus infection that I now seemed to be plagued with. Fortunately, nature's Kleenex is everywhere, complete with rows of trailside firs happily extending branches of soft needles for a "snot-shake."
The second of four climbs today had us leaving behind the trees yet again and entering into a land of glacial moraines—shifting ridges of pulverized rock callously shoved aside with the advance and retreat of the glaciers, not unlike the the waning blue sky above us that had given itself over to the mob of clouds conspiring against it.
Like a game of hide and seek, the summit of Rainier—some 8000+ feet above our heads, even from the crest of Emerald Ridge on which we stood—would alternate between revealing its upper reaches and modestly drawing the clouds back upon itself with each window enhanced by the way in which beams of sunlight and blankets of shadow would tangle themselves together.
Even the marmots seemed to be enjoying the constantly shifting drama of the sky. Not a bad place to call home...
Of course with any good drama comes a climax and a denouement, and the third climb of the day up to Saint Andrews Lake provided the former—in the form of a brief downpour of rain and hail—while the final climb of the day brought the latter—the gentle settling of a cloud ceiling that felt like a damp blanket. The eerie quiet and watching Em and Julie each dissolve into the clouds ahead of me perfectly captured the ghost-like quality of what we now walked through. It's the constantly changing weather like this, created courtesy of the massive pile of rock and ice immediately to our right, that makes every hike of this trail so unique.
Tonight we're settled into camp a stone's throw from the shore of Golden Lakes, a placid collection of small ponds and alpine marshes, and the only place I've now stayed on all three of my Wonderland Trail thru-hikes. Maybe on the fourth time I'll actually see the view...