Date: 7/8/18
Miles: 17.2
Total Miles: 89.8
"This is the part I hate." I can still hear him saying it. The smile on his face minutes later, waving goodbye from the front door, is the truly indelible part. The sweeter half of an otherwise bittersweet memory, as Emily and I pulled down the street heading home to Vermont from our Thanksgiving visit. It was the last time I saw him alive.
It's strange to think of that memory of my Dad now, but it's the only one that haunts me still and somehow manages to bubble its way back into my mind at the end of every trail no matter how long since he's been gone. Far from its morbid overtone, it's really a memory that best reflects the paradox that awaits when each good thing comes to its end—the persistent struggle between reveling in the joy that was and the emptiness of its absence that often follows. Call it the Completion Conundrum.
It's that thought that occupied my mind while sipping coffee and going through the practiced motions of stuffing my backpack for the last time this morning. Today would surely be another festival of sights, but following shortly thereafter would be an unceremonious closing of the car door and the moment when it would all begin to slowly drift into the rear view mirror. Between that moment and now, however, the twinkles of blue sky hiding among the treetops hinted that our fifth and final day would be a grand finale under perfect conditions.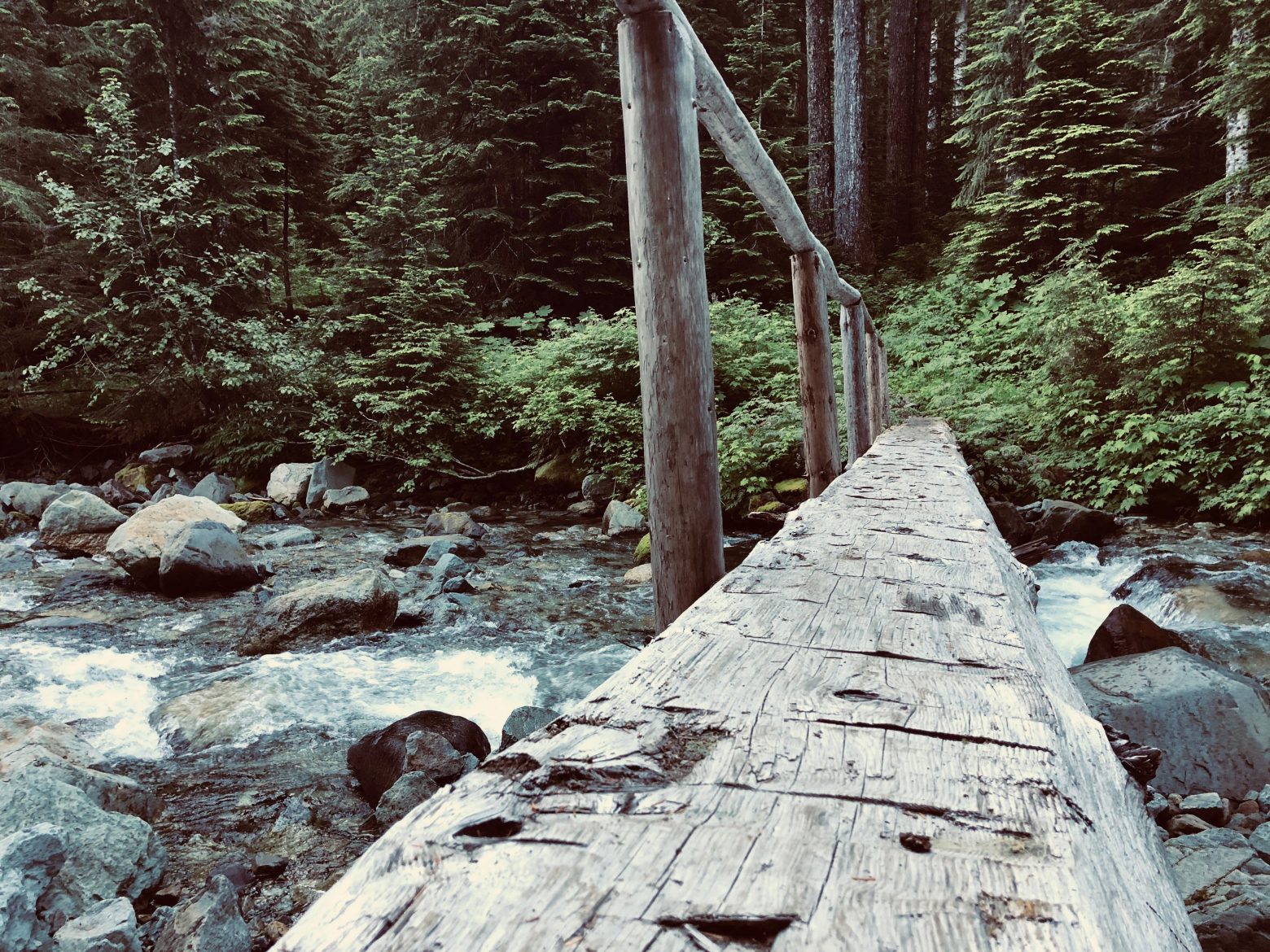 For a few quiet minutes before heading off down the trail, I sat on the log spanning Cataract Creek listening to the white noise of the creek rushing past until Julie and Emily arrived and we strolled the few hundred yards to the Carbon River suspension bridge. Though not nearly as high as the one two days ago, it was the perfect height to examine the froth of chocolate milk flowing beneath it.
On the far shore, the trail made an abrupt right-hand turn pointing us along the north side of the mountain. Climbing up past the rock and dirt covered snout of the Carbon Glacier—the largest, and lowest elevation glacier in the continental U.S.—today was also the day to say our goodbyes to our little traveling companion. 60 miles from where we met him, "Gnomie" had joined us for snack breaks, photo ops, and dinner conversation, each time hopping into Julie's hipbelt pocket as a stowaway until the next stop. He'd seen a large swath of the Wonderland, but it'd come time to find a suitable home—as per his clear instructions—for him to wait amid the woodland for the next traveler to come along and spot him. A man of few words, a man of the trail...
Nestled into a furrow of bark not unlike the one in which we found him, we waved goodbye to our little buddy in a lush narrow vale full of marmot burrows and one awfully fine view.
Like any good long hike, the scenery and experience itself is one thing but who you share it with is the even greater thing. From some of my past hikes where perfect strangers have become lifelong friends, to this one with my wife and our dear friend, there's a layer of richness to even some of the trip's smallest moments that simply wouldn't be there without them to add it.
Whether it's admiring the famed Willis Wall on the north face of Mt. Rainier together....
...pondering the possible consequences of an impromptu ford of Winthrop Creek...
...or watching Julie go for style points on the log crossing...
...it's not exactly a challenge to see why, like the John Muir Trail, I could hike the Wonderland every year and never grow tired of it. There's scarcely any collection of words that a person traveling along this little ribbon of rock, dirt and snow could use to adequately describe it. And just like the friends and loved ones who come into ever finer resolution with each interaction we have with them, so too does my understanding of this trail. With each trip, I appreciate something that I'd been blind to before, some new hidden beauty that was only waiting to be revealed to more practiced eyes.
Of course, whether it's your first thru-hike or 17th, there's no mistaking moments like this on the climb to Skyscraper Pass where it's brought into focus exactly how much of a wonderland this place truly is...
And as we come full circle, past the throngs of visitors at Sunrise and down the pleasant switchbacks to the White River where we began, my thoughts drift back full circle to that memory of my Dad—how much he would've loved the steps I now took. How much he would've loved the post-hike celebratory beer we were now on our way towards too. Wonderland, you never disappoint.