Date: 6/3/16

Miles: 20.7
Total Miles: 638.4
Today marks one month since I set out on the trail from the border of Mexico—it's hard to believe it's gone by so quickly. When my 3:30am alarm went off yet again, I awoke to find that a mouse had taken to using my sandal straps as both a salt lick and a bit of a chew toy during the night despite them being two feet from my head. No major damage.
More than anything, today was a day of suffering. It started innocently enough, walking by headlamp for an hour or so and watching mice, bunnies, and jackrabbits dart across the trail this way and that, but even yesterday evening you could sense that today would be different. In the final few miles of the evening, the character of the trail had changed dramatically and I found myself surrounded by the barren landscape I had expected since leaving Tehachapi. This was going to be hot.
As the temporary predawn cool ceded its control over the thermostat to the menacing sun, the heat began and with it came a breeze more akin to a hair dryer than anything that might bring relief. By 9:30am, I was already cursing the heat that was expected to reach a high of 109 degrees down in the heart of the desert which was now perpetually visible below the trail. But my real vitriol was reserved for the footbed of the trail itself, its tread more closely resembling a narrow ribbon of sand dune at times than the reasonably well compacted path we'd grown accustomed to. It made for tough sledding on some of the unexpectedly steep climbs.
The heat and views into the furnace of the desert below were constant companions. Even climbing nearly to 7000 feet brought little in the way of relief—just a salt-stained and sweat-soaked back.
We at least managed to find a perfect rock overhang for the daily 5-hour siesta. Free of the red ants we were plagued by at our campsite last night, it also faced due east for a perfectly cool and shady nook to rest at during the worst of the heat.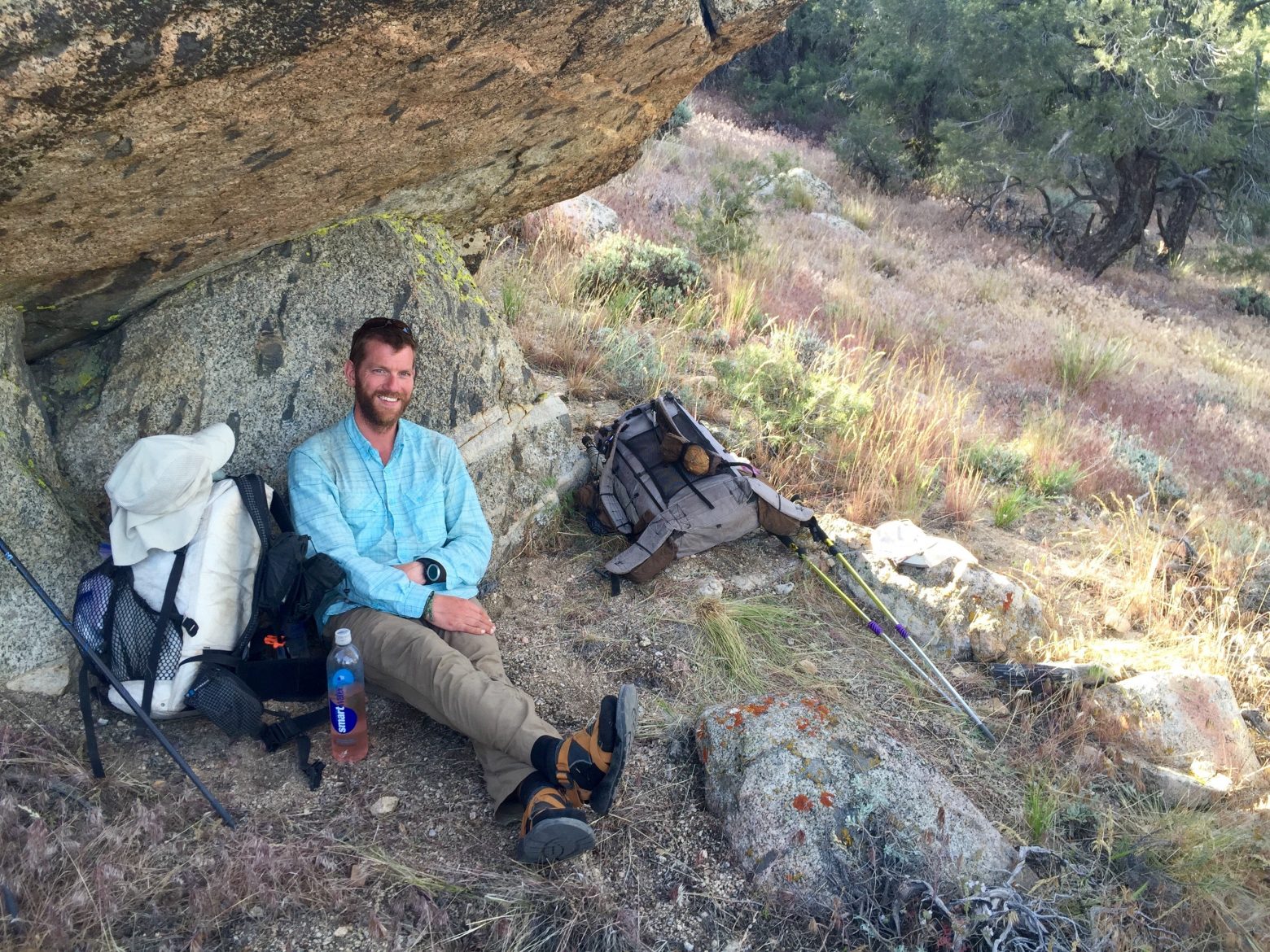 A rumor of a different inferno began percolating its way among the hikers this morning, and at a brief moment with cell service I was able to confirm the worst. Not 30 trail miles ahead, a forest fire north of Walker Pass began to blaze two days ago, closing a 50-mile stretch of trail and blocking the route to Kennedy Meadows. The worst news of all: reports are that the blaze is human caused and with that detail, my frustration at a possible fifth detour grows to anger.