Date: 6/20/16

Miles: 21.1
Total Miles: 874.5
The peaceful morning stroll alongside the roar of Evolution Creek was quickly replaced by an unrelenting tide of tiny intruders out for blood. The southbounders passing us with headnets yesterday were our first clue that it had come time for every hiker's favorite part of summer: bug season. At a break before the initial ascent up to Selden Pass, the mosquitoes were voracious—I counted nine on the knot of muscle on the side of my calf alone. Since I don't carry bug repellent and the forthcoming warm climb negated the possibility of putting on pants, there was only one remaining option: flight. Up the climb I went, and the skeeters slowly abated. Not only that, but the time at altitude seemed to put more energy in my legs as the bottom of the climb began at an elevation—under 8000 feet—that the trail hadn't dipped to for over a week.
Cresting the top of Selden Pass yielded yet more views that by this point you'd think would be unremarkable, but in truth each is like gazing upon any of the works of Monet—similarities between them, to be sure, but each one a masterpiece.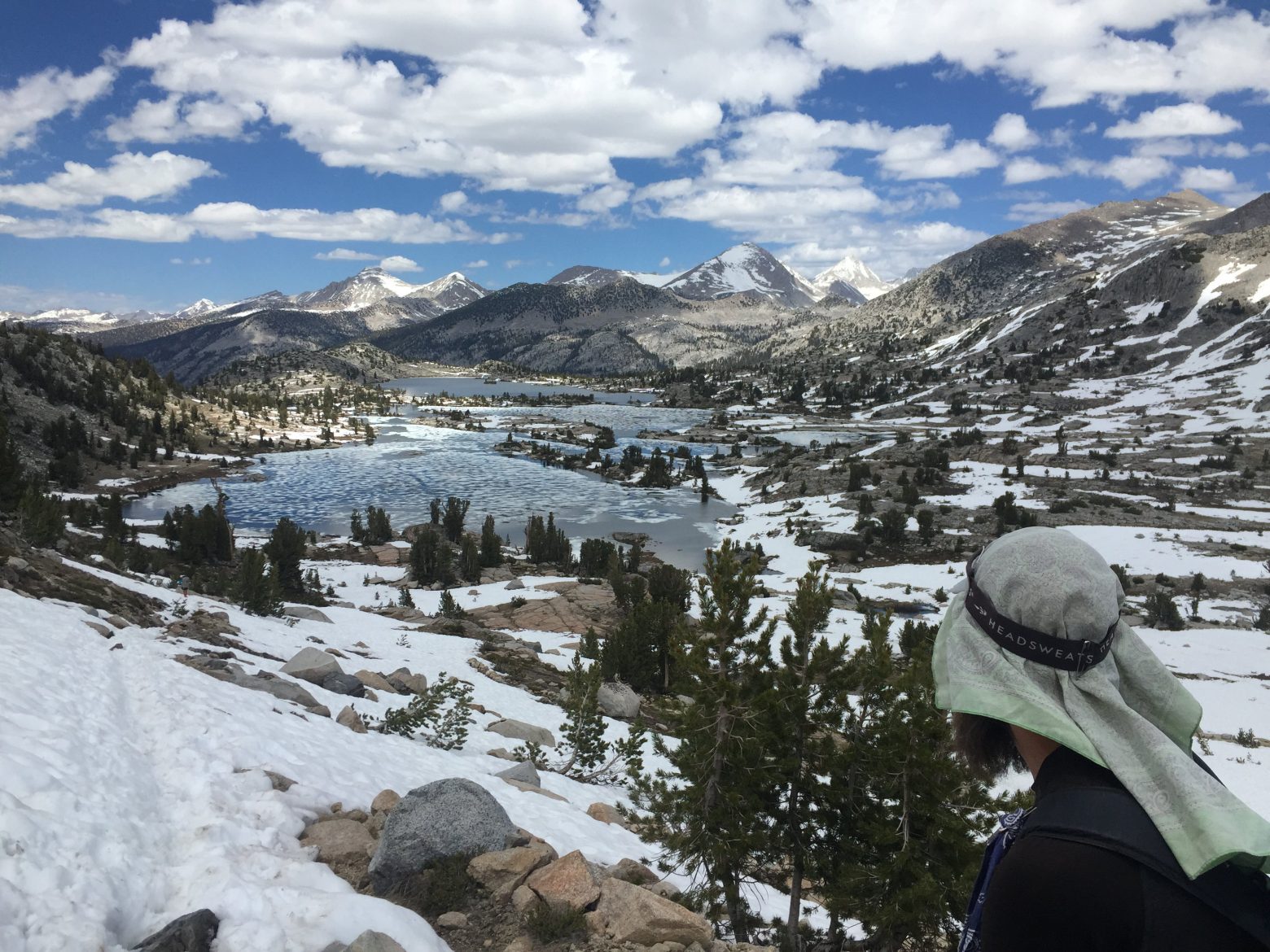 A little over three miles over Selden Pass brought us to Bear Creek, a swift moving ford that was by far the most worrisome of those that we'd encountered since entering the Sierra. Mid-thigh deep and perhaps 40 feet across, the crossing point was easily the most placid stretch in a creek that was tumbling whitewater just a hundred yards both up- and downstream. After crossing back and forth and wading into the creek in two other places to scout alternative crossings, my legs still felt like they were in a washing machine when I stood on solid ground. Ultimately, the six of us linked arms and crossed as one since the water was so much higher on Braveheart, Dreamcatcher, and Sweet Pea.
The ford and another snowy pass behind us, the exhaustion at the break immediately following hung in the air over all of us. The final miles of the evening followed trail that often more closely resembled a raging river than anything else, and another onslaught of mosquitoes was our prize for finally arriving on dryer footing. Once we made camp, it was a game of twister to do everything inside the safety of the tent that I normally do outside of it. Another long, tiring day with new challenges.